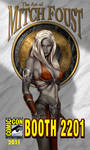 It is about two weeks until Comic Con. Dean Zachary and I will be at Booth 2201, in the small press pavilion. I will have some new art for sale, plus prints and the 2011 Yearbook. The books arrived last week and they look great. If you are going to be at SDCC,please stop by. I will not be taking commissions this year for the convention. I will be working on pages for the King David graphic novel project I've been working on all year. I am now working on the entire book. The other artists have not been able to continue working on the project, so when all is said and done, I'll have 144 pages or so completed.
I apologize to all who I may not have responded to over the last few months. Things have been busy and my responses have spotty at best. If you are inquiring about coloring my work, please do so. Give me credit for drawing the piece and a link back here.
I'd like to thank all of you for the kind words and comments about the work.
They are very much appreciated.
Thanks again!
Mitch