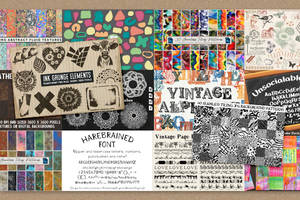 HG Designs Subscriber Area
Lots of high resolution goodies for graphic design including textures, photoshop brushes, seamless patterns and more.
---

Misterpaint Crazy Art Stickers
Description
My new kit of stickers for ArtRage 3.0.7. Studio.
This is a simple preview of the new collections.
The download is available!!!!!
Note: you can use this kit and the feltpen, for an interesting effects.
------------------------------------
Il mio nuovo pacchetto di stickers artistici per artrage 3.0.7 Studio. Questa è una semplice anteprima della nuova collezione. Il download è ora disponibile!!!!
Nota: potete utilizzare questo kit insieme al feltpen per sviluppare interessanti effetti.
BIG preview 1:
[link]
BIG preview 2:
[link]
BIG preview 3:
[link]
NOTE:
1) Open menu Tool/User Content/Open user Content Folder
you must open \Tool Presets\Sticker Spray\ and in this folder create a new folder with this name "Crazy Art" and copy all the files.prs
2) Open menu Tool/User Content/Open user Content Folder
you must open \Stickers\ and in this folder create a new folder with this name "Crazy Art" and copy all the files .stk
NOTA:
1) Aprire il menu Tool/User Content/Open user Content Folder
devi aprire \Tool Presets\Sticker Spray\ e in questa cartella creare una nuova cartella con questo nome "Crazy Art" al suo interno copiare tutti i files.prs
2) Aprire il menu Tool/User Content/Open user Content Folder
devi aprire \Stickers\ e in questa cartella creare una nuova cartella con questo nome "Crazy Art" al suo interno copiare tutti i files .stk