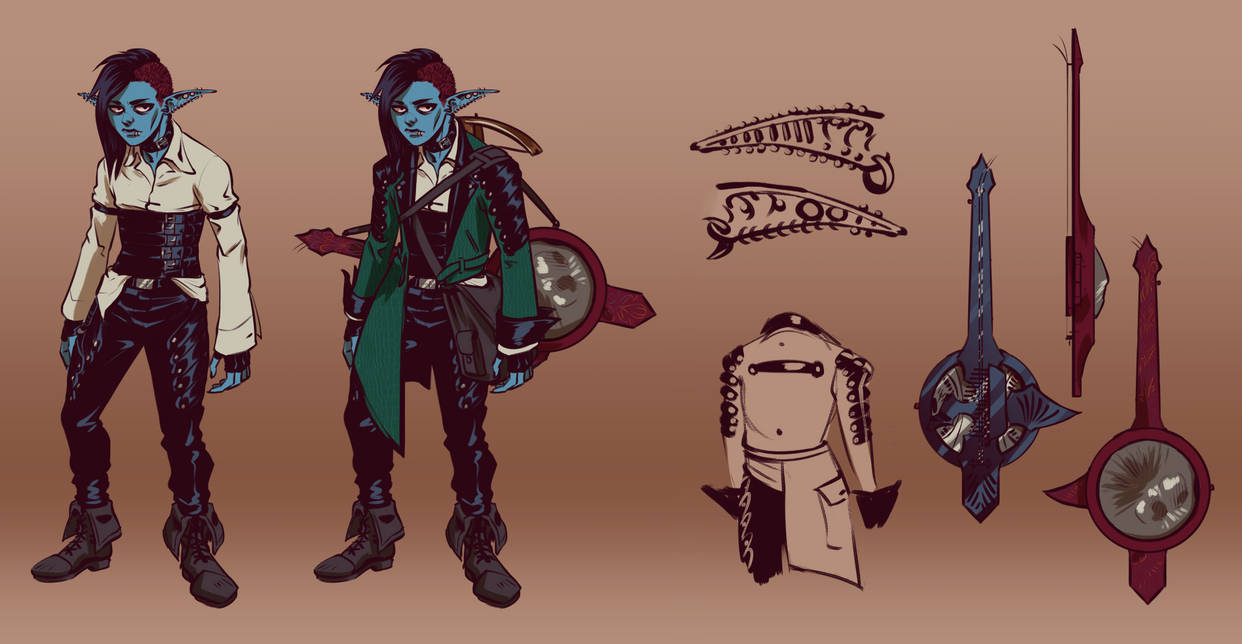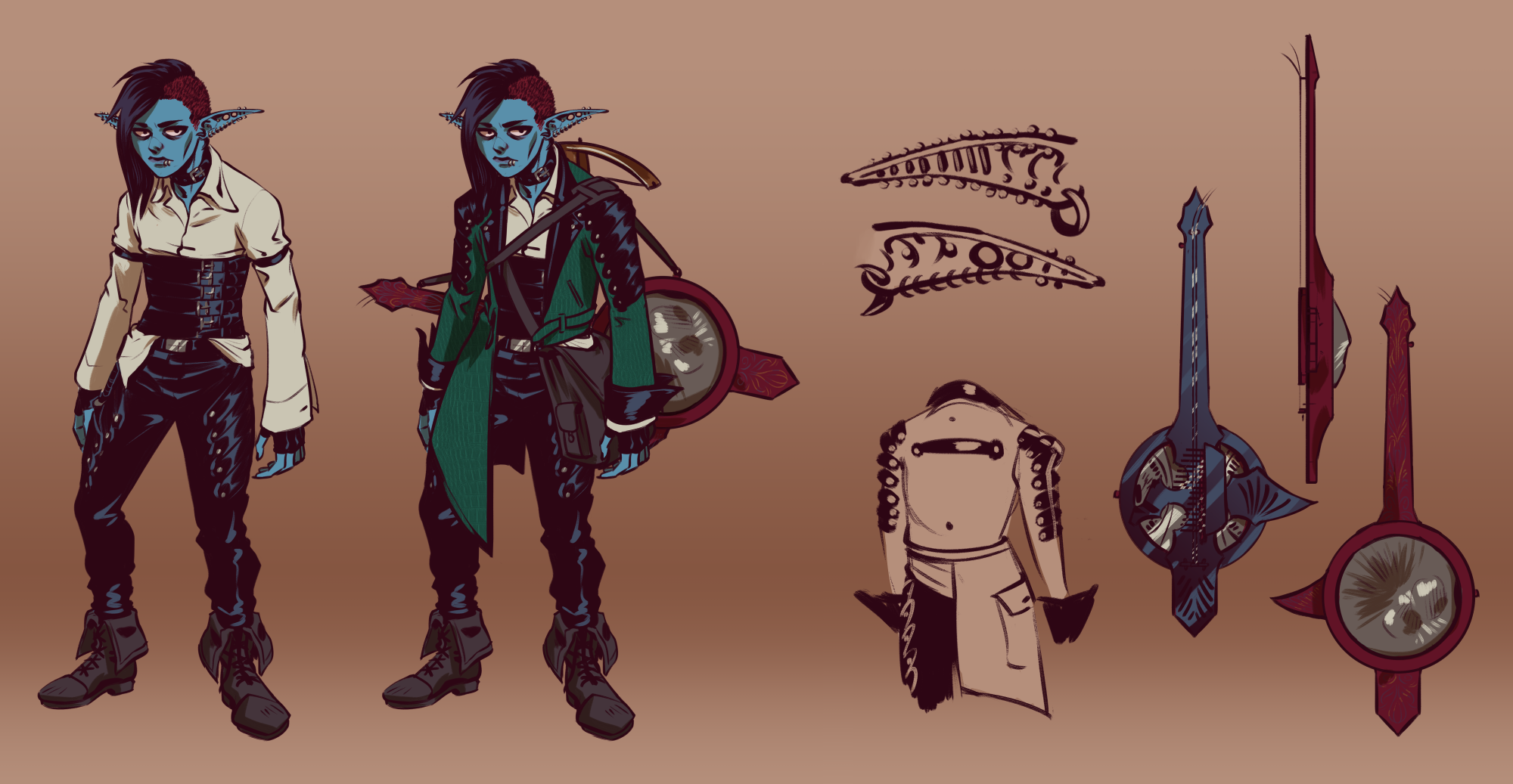 Watch
My terrible D&D character that pretty much stated as a joke but now i'm like... i really like them auhgdsfs
They stated off with a prompt I got from a random generator, "a teifling bard from a religious background that hates music." Ended up in the DM's setting to the race was changed to Rimelander but the rest is there. Ryybyn plays bizarro experimental music that probably barely counts as such. IDK how well the guitar would work, I msotly went for vaguely guitar shaped and suitability as a bludgeoning weapon. I incorporated some odds and ends I found while searching, though. Ryybyn's 5'10" tall.
Only gone through one session yet but I'm looking forward to more.


That random generator sounds like a hoot. XD
I take it by the

face that you are enjoying it thus far?
Reply

Yeah, it's been fun.

Reply

Do you know what edition of the rules you guys are using?

I've found that certain games and versions of games are enjoyable in different ways. I prefer games that let every player have an equal chance to impact gameplay through their actions. Like one guy could swing across the room on a chandelier and escape with the jewels while another would run straight through the wall and break out with a chase scene.
Speaking of which, if your DM ever wants your party to do anything sneaky, like infiltrate a secret organization or escape from an ancient vault, ask him/her to let you decide your actions individually and only share your actions with the DM before seeing how everything unfolds. Everyone comes up with a different strategy and none of them work well together unless you are really lucky.

"Good day, I represent the arms and armor association and I need to make an inspection of your wares."
"Well that's all well and good. Come this way and-"
"HELLO! My, it is a lovely day to buy some cookies in support of righteousness. Each purchase helps a paladin in need."
Meanwhile the thief is sneaking behind him in a box because the player wanted to emulate Snake from Metal Gear.
Reply

We're playing 5th edition. Its everyone's first time playing with this edition, though overall RP experience varies from never player before (me) to very experienced. Our DM's been doing a good job of giving everyone a chance and multiple routes for the story. I think the only mild derailment that happened was that we took a liking to an NPC he gave us - everyone chose Strength has a dump stat so he gave us a slave made of muscle to aid us. But then he wouldn't leave the sinking ship so we freaking went to find the guy that owned him to buy him. while pirates were raiding and everything.
Reply

I've heard 5th is pretty good. I have not played it because once you get invested in one generation it gets really expensive to switch. We spread out the cost so that each person only owned 1-2 books. You bring them all together on game night.
I did know a few guys that owned an entire edition independently. They hauled half a hobby store in their cargo bags.

Haha. That sounds like a natural course of events actually. Be sure not to make the NPC too important or your DM might kill him for drama (sounds like he already tried). That happens a lot.

Are you playing with the alignment system?
Reply

I actually own a bunch of 3.5 edition books because I liked the art and lore so much... predictably, Draconomicon was my fav. xP I think we're all using online resources, I'm not sure if the DM owns the books or not.

YEAH IT SUCKS if the DM wants to get back at us for anything he can do it super easily by killing the NPC. We will cry, we already know this.

We have alignments on our character sheets but they haven't come up for anything yet, so I don't know really.
Reply

Book art is the reason why I own the left side of my bookshelf. If I get hooked on a game I'll go out and buy their concept art books. Dark Horse publishing makes some of my favorites.
Online is great too. That's what we always used for Pathfinder.

You know your DM is trying to kill off a character when your next adventure takes you to a house enchanted by a crazed wizard so that everything in the house has a chance to explode on touch. Our DM didn't balance puzzles for an extra character so he had to cull the poor NPC.

Alignment in D&D is either absolute or irrelevant depending on your group. The rules say that it should be absolute, but humans like to make choices. I'd say 90% of all players in games take Chaotic-Something or Neutral-Something so that they are not locked into certain decisions, which essentially means you disregard alignment entirely.
Reply