Ever wondered how that deviant you admire got to where they are and jumped the walls your still looking at?
Get to know
has been created to get that need-to-know information out of that inspiring deviant you've always admired. From the first steps, to challenges they have overcome, what the future holds and friendly advice along the way.
Today I shall be interviewing the amazingly talented
nikosalpha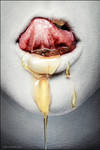 ---
Can you tell us about yourself and how you ended up in the fashion industry?
I started photography as a hobby in 2004. I got lucky enough to have some work opportunities in the very same year. I don't consider myself inside the fashion industry yet, but I am really working on it.

+

What was one of the biggest challenges you had to overcome when starting out?
I was always attracted and challenged by technology itself, but that was not the hard part. The hard part, was to leave my room and go out to chase something or someone to take photos of.

+

What would you like to see more of in the fashion world, and why?
I like when people try everything, even not good ideas. This is what art is about after all, trying to be different in every aspect. You can never achieve something if you just wait for the great idea. So the things I enjoy mostly are the ones that I cannot achieve, occasions when people create by heart and not by thought, when they really express themselves.



Would you believe where you are now is the final accomplishment or are your eyes set on a bigger goals?
I don't think I will ever be satisfied with my position in photography. Everything changes continuously, so you will have to keep up with it all the time. I am not talking about changes in trends, what I am talking about is adapting to new ways.

+

Do you find social networking a big plus in the industry, if so why?
For me, it is the most important part of my work relations. Whatever I've done so far was through social networking, 95% of it. You can communicate with a lot more people than you can in the "real" world. Plus, for visual artists, it is a platform where you can showcase your work; it is not just words anymore.

+

What is your favourite photograph you've shot and the story behind it? (inspirations, desires etc)
I don't have a certain one that I can say it is my favourite. I have certain styles that I enjoy more though, those are both my inspiration and desire, which are close-ups of feminine details, perfectly illustrated. Lips, backs, eyes, breasts, expressions.

:thumb71581365:

Who/What inspires you?
Just walking outside is enough. Watching advertisements, observing people or even visiting a place. Of course following various artworks could not be undermined, whatever those are, music, cinema, photography or painting, but what I want to say is that my main inspiration is the every day life.

+

For people starting out in the fashion industry, what would be the best advice you could give to them?
Shooting all the time and sharing the results. Whatever you have in your mind, don't think that doesn't worth it, just go and take photos of it. You never know how it will turn out to be. Plus, you get to exercise your mind.

+

On average, how does your normal day go prior to setting up a shoot?
Charging the equipment overnight. Starting early in the morning, only to find out that all the preparation needed will take ages so you will be late anyway. The time that make-up needs is my important minutes of thinking about the shooting though. You find yourself minutes before the actual concert, and you are the maestro. You might not have all the work by yourself, but you have to synchronise everything and be creative at the same time. So those minutes are the ones that everybody else is busy, and you can think.



Did you find when starting up in the industry you had to earn a lot of trust from all creatives? (makeup artists, stylists, clients)
Yes, of course. Everybody wants to work with people that are worth working with. At those situations, your only weapon is your portfolio.

+

What's the story/message behind your photography?
There is no story behind my work. I just like capturing the beauty. Beauty that is obvious and beauty that is hidden. So, someone could say that my message could be to try and see the beautiful side of things, of people.

+

Do you have a favourite shoot atmosphere, as in being in a studio or on location with your personal work?
I enjoy both a lot. Studio has all the light in your hands to control it, but you start from zero, empty page. Location has a story already, but you have to play along with the conditions given and make the best out of it.


---



Be sure to check out nikosalpha gallery for a complete collection of all his photography. If you have any future recommendations of people you'd like to be interviewed or any questions you would of liked to ask, please send me a note titled 'Get to know interviews'.