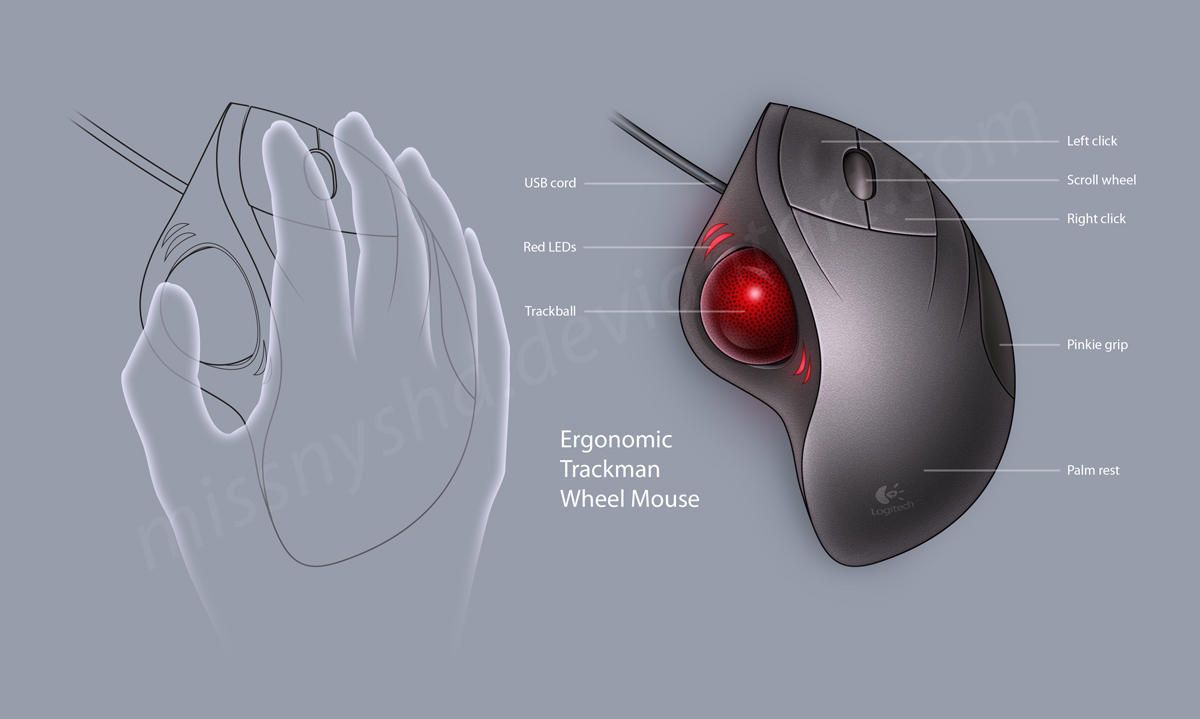 Watch
Assignment in my digital art class at CSUMB's Science Illustration graduate program.
This time it's a technical drawing of a man-made object, so I chose my favorite mouse - my Logitech trackman. <3 I'm so disappointed the newer models lack the nifty LEDs and feel so cheaply made in comparison. This one of mine works just fine and still has great response. It's been used so much the paint on the palm portion has worn away though... But I didn't draw that because I wanted it shiny new again!

Lineart made in Illustrator and the rest colored and composed in Photoshop...using this mouse! (No tablet used!) I had to take lots and lots of reference photos of it, and that's my hand I traced on top of it as well lol. Minimal painting was required - most of it is gradients, layer styles, and assorted vector masks.

The dots on the trackball were painted by hand though, and then the spherize filter used to give them dimension. I used a coquille paper texture on the body and warped an existing Logitech logo onto it as well.
Art copyright me. For display only. Please do not use without my permission.

I want to use this as the icon for mah group x)
Awesome work mate!

Reply

Sure go ahead! (Hopefully with credits somewhere)

Glad you like it! Let me know if you want an unwatermarked version.
Reply

Looks like a product out of a sci-fi movie...This is one stylish mouse~
Reply

This looks awsome.. Love the lines and detail.. The hightlights are just perfect.. Looks just like the real thing.. And I totally agree.. I've had my 5button (mouse wheel is also a button) Trackball since 2000 and it's still going strong..
Reply

Thanks!

And yeah, the old models were so well made! I have a newer one, and its trackball response is clunkier physically and less responsive on the screen. @__@
Reply

Wow, this is impressive! Looks so amazingly real!
Reply

IT LOOKS SO ALIVE! O.o

Lol, my friend has a mouse like this so the first time I used it, it was hella weird. But when I got used to it, it was awesome. XD
Reply

XDXDXD Lulz yeah I prefer using it more than a typical mouse, because it's stationary (just thumb moves) and more comfortable to me that way. I also use it to vector when I want steadier control than a tablet.

Reply

Haha, yeah, your thumb's doing pretty much all the work. But I gotta admit I got so used to working with the tablet that I don't even vector anything without it, mouse (the ordinary one I have) just feels too unsteady and unbalanced. XD
Reply