Chanda' Closed Species by me so don't make your own
more info: sta.sh/023dzwkzgtbw


15 hr left! thank you for every bidding;///;
so i decided to add both of an extra chibi and bust shot
and here a chibi from me!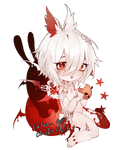 I got this special cutest extra from the amazing zoriM7 !!! djshkfsjdh thank you so much;////;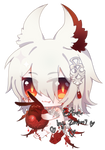 hello guys!! long time no see dklgsjk spooky season is here and i dont want to miss it XD
i still play around with the vampire theme same as the last year and i think it look good? I love this design so much and hope you guys will think so too ;///;
!! traits for Chanda 34
: owner:

Chanda Broken type(rare)
- ฺBroken type is a normal Chanda who can't turn to the
eclipse type and broken.
There are cracks all over the body. and they have
2 pair wings.
jewelry decorate(at armor): uncommon
high complexity wings part: rare
Small wings: rare
2 pair wing: special(Broken type)

bat wings: special(Halloween)
elemental fragment : special(blood)
everything else is common


SB: $50
min: $5
AB: N/A

over $350+ : you got the character as is+chibi(front view) or bust shot
over $600+ : +custom outfit+ request minor edit if needed
over $???+ : there'll be more TT// before bidding you have to agree with Adoptable TOS

payment plans
only allow if bid over $300 with a down payment at least
$150 and should be paid within 1 month.
please note me
beforehand/or before the auction end. to discuss. thank you very much.
The auction will close after SB in 3 days (Japan time GMT+9)
thank you for looking ;///;


social media
-
twitter
-
toyhouse
Image details
Image size
1700x2500px 1.41 MB