Update: 11/8/15


If you're on the waiting list, I just wanted to let you know that I'm taking a little break from pixeling and will get back to them very very soon! I apologize
(it's very time consuming and I just need day or two, please understand)



If you are already have a slot, I'll finish yours up a.s.a.p.

Thank you so much!

----
Hi There!
Welcome to my pixel commission journal!~
I will be separating pixels from my art commission journals
it's easier this way for me.
----



Rules!



1. Simply comment below, no need to send a note c:

2. Please...do not rush me and send me millions of comments on when it'll get done.
I have a life outside my dA, I also work and wanna take a tiny break from time to time.

3. REMINDER: These are pixels! Which means everything is not going to be detailed and 100%
especially icons...no icon is 100%, no matter how detailed it is!
DO NOT, get on me about something not being accurate as if it was a drawing

4. I would much rather you paying first before I start anyone's commissions
you can blame the butt-heads in the past... = n =;

5. There are slots for each section, be specific on what you're commissioning

6. One. thing. at. a. time....pretty please?



7. Please send all the references...I can't do anything without a reference
and I refuse to search your gallery for it


----

You will be marked as:

or

Adorable Chibi Kins Icons

15


You can choose the color of the heart.
1. OPEN
2.OPEN
3. OPEN
4. OPEN



Please credit me in your signature for your icons.







Little Darling Faces Icons




40


1. OPEN
2. OPEN
3. OPEN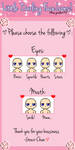 Pick One eye graphic


Pick one mouth



Please credit me in your signature for your icons.






Adorable Squadrons

**Points Vary**


A team of 2 is 30


A team of 3 is 45


A team of 4 is 60


A team of 5 is 75


A team of 6 is 90


A team of 7 is 105


A team of 8 is 120



(I'll never do a team over 8...don't even ask lol)



I'll also give you a "HTML code" for you to paste them on your page
since the preview image is gonna make it funky if you use the thumbnail.

1.


2.


Waiting List




1.


2.

+


3.


4.
5.