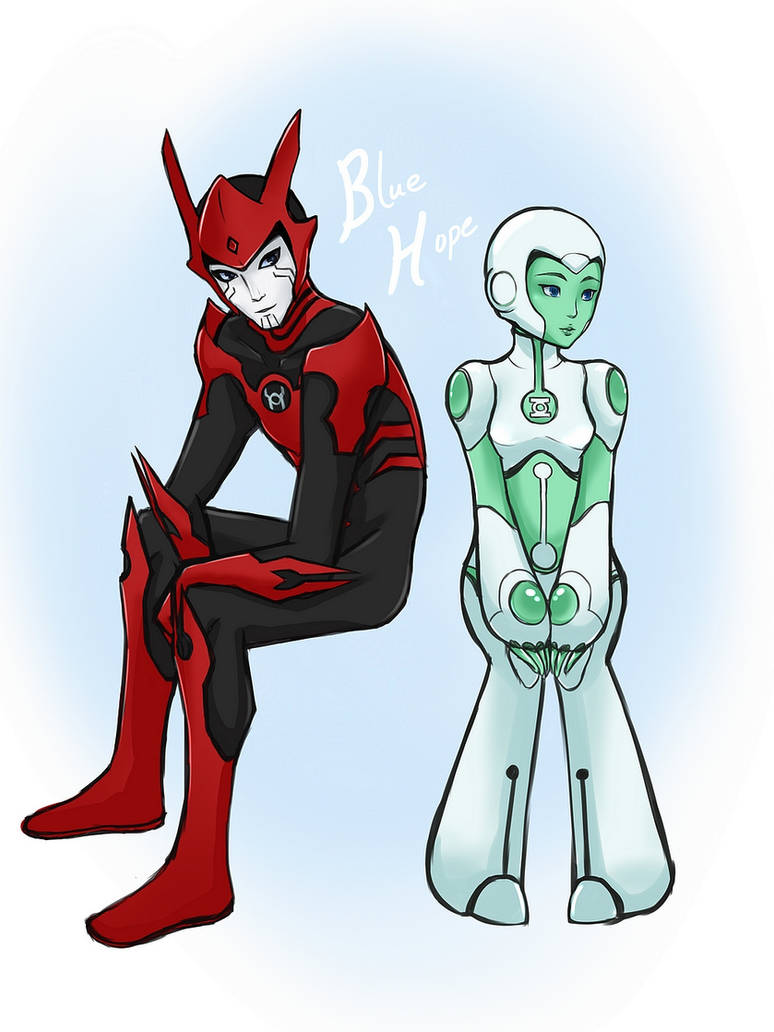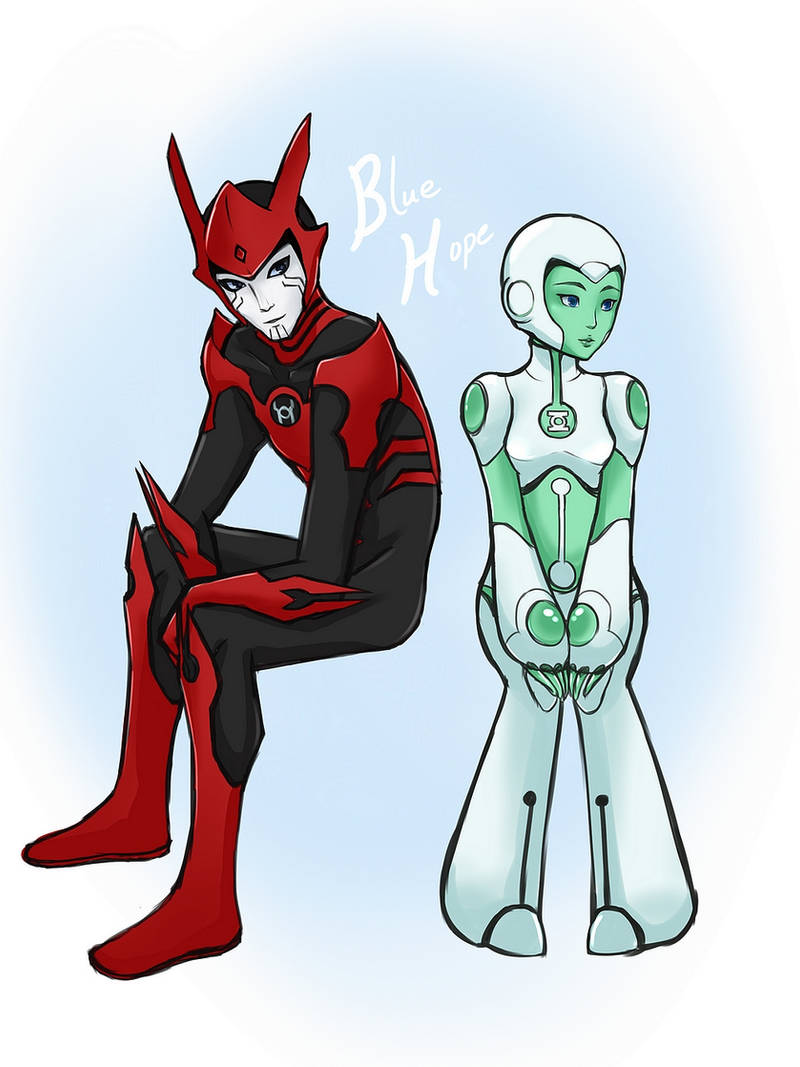 Watch
I imagine Razer would secretly steal glances at Aya whenever they "spend time together". Aya would be analyzing something and Razer would just… watch her.
and omfg razer is soo hard to drawwwj bsdjfbkjsdbfjsdgfdg
Drew this pretty fastttt after watching the last episode of GLTAS (Prisoner of Sinestro). ;u; So sad... the last scene.
I also meant to draw something for Blue Hope as well but... i just mushed the two together. I'm gonna try drawing something for GLTAS per episide! *A*9
You all should watch Green Lantern: The Animated Series and enjoy its gloryyyy~!
The animation mighttt throw you off at first, but don't judge series by its looks! It's pretty great and you will fall in love with the characters! +__+
Sorry haven't uploaded anything as of late. Kinda on an art hiatus. xD I've been doing other things... but GLTAS makes me want to draw more!
More WIPS and art progress here: mischibious.tumblr.com
SIGN THE PETITION TO BRING BACK GLTAS!!!
[link]

Reply

Waaaah! They killed off Aya in the latest episode!
Reply

Wow, you're still actually drawing stuff! XD lol J/k.
Good to see something from you finally! I still need to watch this show...
Reply

aww yis gltas! <3 this is super adorable mischi, I think it's so like him to just steal glances! I think you did a cool job drawing razer ! :>
I agree, I love this show so much, it's become one of my recent obsessions! <3 so glad I took a chance and watched it!
Reply

YESS MOAR FELLOW GLTAS FANSSS ;u; <3 Thank you so muchh Q_Q /sob sob
Yahh i'm super glad my friend introduced the series to me ;__; i would've never imagined this series would be sooo GOOD.

AGHHH I'M SO EXCITED FOR THE NEXT EPISODES. I hear it's gonna be epic! ;A; The next two episodes are titled Loss and Cold Fury. It sounds.... TRAUMATIC. /CLINGS
Reply

HNGGGh I know what you mean!! I just love alot of things in this show, the characters, the interactions,
the amazing pacing, and epic scenarios! also love how one can still enjoy this show even if someone
isnt that knowledgeble in the GL universe.

I'm so very excited for the new episodes too! <33 I'm sort of guessing something is going to happen to Aya in
either of those eps;; judging the the clips in the trailer!
Reply

YESSSS. All of that!! ;u; The characters are so likeable~ and I love how scenes in each episode can really influence how you feel +__+ Like that... possessed Razer scene. Oh my god, I was so extremely uncomfortable... I was literally squirming in my chair and shrieking in pain. I was never into Green Lantern before, but now i'm actually quite interested! *A* And I just discovered this week that the director of GLTAS actually talks to fans on tumblr. Apparently he's know as "The Great Ceiling Giancarlo". This fandom is so great. ;A;
AHHH. Indeedd ;A; Tho I hear that... someone somehow leaked a spoiler clip of the upcoming episode~ so i'm gonna try to avoid looking at tumblr's GLTAS tags now. ;__; BUT. The preview trailers are up now!
[link]
oh my god i'm so excited. ZOX IS BACK! (I oddly like him. >u>; )
Reply

omg yeah that part that was intensely awkward and creepy! just love how it was all fluffy razaya moments
in the blue hope episode then suddenly creepy+sad razaya scene in the next! good to know, at least most
fans didn't think it was romantic!
OH I do follow Giancarlo volpe too : D I love the fact the creators do interact with the fans! do you follow
[link]
too?
he's part of the team too and he shows the writer's board in the recent episodes! and I love his explanations too,
he certainly did mention that part about Razer and how the scene was supposed to go differently!
it's best to be careful when seeing gltas posts, I do recall somebody did post alot of info about the upcoming episodes back then!
fortunately they got called out by mr. volpe (and other gltas fans) before I could see them in my dashboard the next morning.
Reply

AGHHH some fans though.. they somehow really enjoyed that scene. >_>; when i first saw the preview for that, I was so confused!

YESSS. I doooo~! I like looking at his pics of the writer's board. OuO I wonder when they make the episodes though. Do they make the episodes like months ahead? or like... a couple of weeks? o_o I wonder how long it takes them to make an episode.

Huh oAo I wonder if the people who post that stuff work for gltas somehow. o__O Because how on earth did they dig up all that stuff??

Youuu should draw some GLTAS tooo +__+ Offer them as tribute to the great ceiling giancarlooo~! /shot
Reply

aaa I actually drew aya back then but I'm itching to draw another fanart soon! <33
woops I didn't watch the preview trailer you linked btw!! I don't usually watch the teaser to keep me surprised haha

hnggh I'm not really familiar with how production works, but maybe they split the number of episodes and do the first half and then do the next?
and I'm not sure how getting the info happens, it did occur with LoK too when somebody leaked the episodes! (a inside job maybe?)
it's just sad though, I think leaking episodes earlier than the release date, sort of spoils the whole thing and I think it hurts the people who make the shows.

Reply

AWWW, how adorable! I love Razer's little smile. XD I wish he'd show that more often. And ASDFJHGHQWEUDFF! The last scene was
so
sad!

Haha, are the magically float-sitting? Cause that's awesome!
Reply

His genuine smiles should be rare and never to be seen by others!!! +A+ AGHHH.


Hahaha yeahh, I didn't want to draw chairs or benches or whatever... >_>; I was lazy to be honest. Kinda did this super rushed. OTL;
Reply

Hahaha! XD

Rushed? This is better than how it would look if I worked on it for like... a month. xD
Reply

Aw, these two are so cute! I've only watched the first season has season 2 even started yet?
Reply

how was the last scene of the episode sad?
Reply

Because Aya realized that it wasn't really Razer that "wanted to spend time with her". ;___; It makes me sad!!
Reply

...i think she was already aware of that after he left.
Reply

Yeahh. But it was just sad that she brought it up and Razer was like "oh..."
Aya's feelings were hurt. Because in that episode, all she wanted was to spend time with Razer but he keeps pushing her away. And when he does show interest, it wasn't really him. Ofc she realized that already when she was weirded out by how different he was acting. But basically, when he actually puts effort to show interest in hanging out with her, it wasn't actually him. It's sad on aya's part because she really wanted to spend time with the real razer, not the creepy possessed one.

Basically, the last scene just made me sadly mostly because Aya's feelings were hurt and I just really like Aya. ;__;
Reply

i really like aya too. she's the reason i watch green lantern in the first place. and i don't mean to be insensitive but she'll get over it. (hopefully)
as for razer, i really don't know whats going through his mind, i wasn't surprised that he's pushing aya away and kinda avoiding her. (i mean hey, in the same situation i would do the same to my own crush-if i had one-thats just typical anti-social, loner behavior. i would know)
Reply

Buuuuut, Razer seemed to show some kind of emotion in that last scene as well, as Aya was walking away. There's hope for those two yet.

Reply

ofc ofc ;u; Razer probably felt bad even though he doesn't remember or know what he did exactly. He needs to stop pushing Aya away~ QAQ But I think the upcoming episode is going to be epic! <3
Reply

Somehow, it just doesn't work with Razer smiling.

Reply

I'm sure if he saw himself smiling, he'd prolly slam his head into the wall with embarassment. xD
Reply