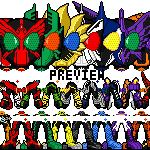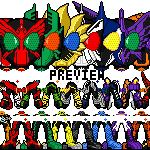 Watch
MAKE YOUR OWN... KAMEN RIDER OOO!!!
(NEW FLASH VERSION:
[link]
)
Download ---->
This is a work in progress, I will regularly update this to include new body parts as I make them. Remember to

so you get the updates.
UPDATE:
07/09/10 Kuwagata head added.
08/09/10 Sai head and Zou legs added.
31/09/10 Minor medal colour correction (Kuwagata and Lion).
25/10/10 Kuwagata and Lion heads made more accurate.
18/11/10 Shachi head and Unagi arms added.
30/11/10 Tako legs added.
23/12/10 Taka, Kujaku and Condor body parts added.
03/04/11 Putera, Toraicera, Tyrano, Panda, Imagin and Shocker body parts added.
26/06/11 Cobra, Kame, Wani and Kangaroo body parts added.
INSTRUCTIONS:
1. Download the file (.psd).
2. Open with Photoshop or any other .psd compatable program.
3. Each head, arms and legs are on separate named layers.
4. Create a new composition (I recommend at least 60x115).
5. Copy the OOO Driver to the new composition.
6. Choose which head, arms and legs you want, and copy them into the new composition.
7. Line up the medals on the belt, and voila! you have made your own Kamen Rider OOO!
Tips:
ctrl + right click = select a layer under your mouse (easier than using the layers toolbox)
ctrl + arrow keys = nudge in any direction by one pixel (for the lining up of parts)
ctrl + e = merge layer down (for the finished product)
Character © Toei Co., Ltd.
Template © Haruka/Miralupa (me).
Make your own... Kamen Rider © Haruka/Miralupa (me).
Give credit if used. I will hunt you down and write a very strongly worded letter telling you to stop if you don't.
Check out my gallery
[link]
for more Kamen Riders.

can you add super tatoba combo into this file?

Reply

Reply

Reply

yo tryed ur make a rider thing and stuff not matching up may be me but cant get the Putera legs to mach up with Shocker legs when linning them up. is it me or the art? can u help me im geting peved at it...
Reply

That should help, if it doesn't let me know

Reply

I'm waiting for the dino parts to appear. I already made the whole 125 forms of the first 15 cores. DAMN!! I'm lucky he won't use all that cores... right?

In other order, did you note what a tragic coincidence? The 28th ep. of OOO, which is also the 1000th episode of the franchise, was destined to be transmitted last Sunday Morning (late Saturday for us) but got delayed a week for the tremors and tsunamis, so it moved to this day (April 3), which is actually the date when the 1st Episode of the franchise (Kamen Rider: "The Mysterious Spider Man"; April 3, 1971) making it also the 40th anniversary episode. That's more mysterious than the coincidences/connections between the deaths of Lincoln and Kennedy.
Reply

Reply

shouldn't u put tajadoru yet
Reply

I really wish I had a program that could run this, you wouldn't be able to just make it a flash program or something could you?
Reply

As of right now, I don't know how to program in Flash (though it probably wouldn't be too difficult). If I have some time in the future, I might make it (probably after all forms are known).
I'm pretty sure there is a free image editing program (GIMP) that can open .psd files,
[link]
(list of all programs that can open a .psd).
Reply

When will you have a DL link up?
Reply

The download button is on the right, next to the favourite button. It should be under the advert.
Reply