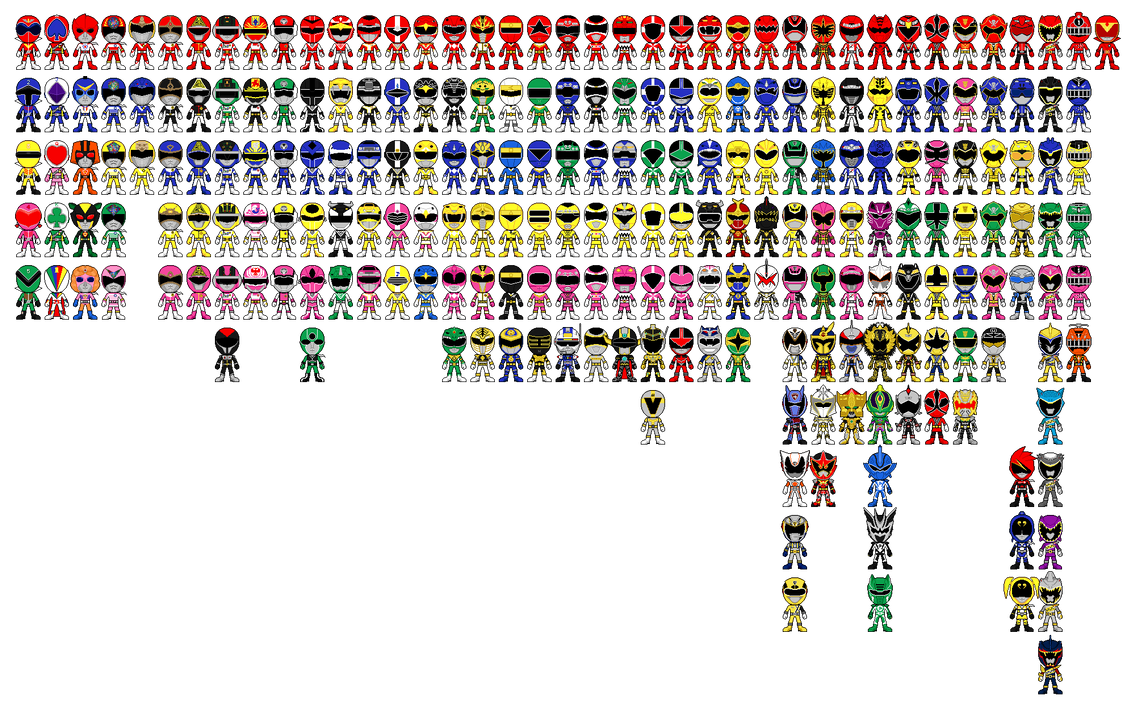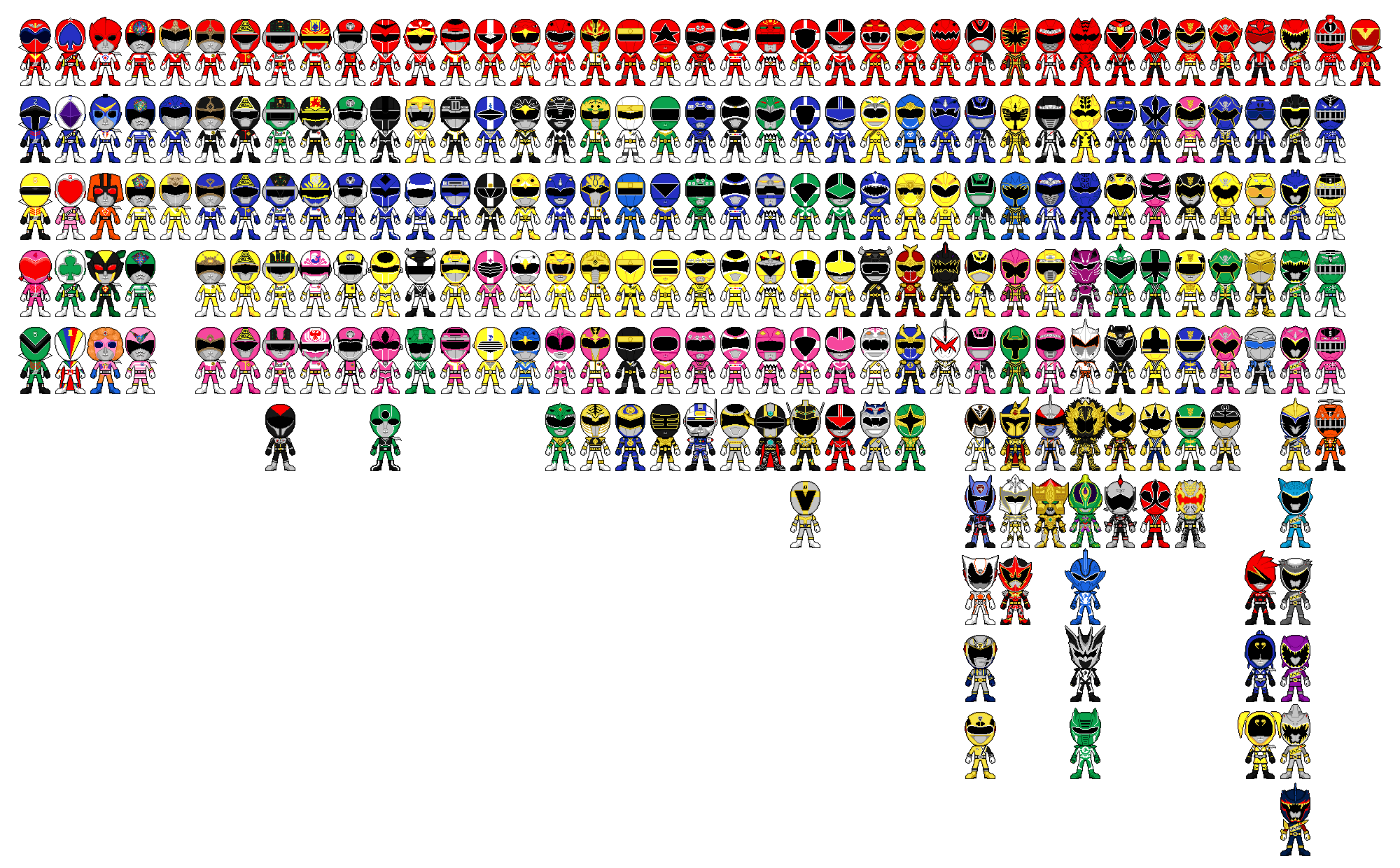 Watch
COMPLETELY FINISHED!
All Rangers from Super Sentai (so far), including all the extra heroes Gokaiger counts as rangers.

Each one took me more or less around an hour, the harder ones taking maybe 2. I calculate that being around 250+ hours work.

If you see any mistakes, please put it in the comments.

From left to right, by row:

Himitsu Sentai Goranger
J.A.K.Q. Dengekitai
Battle Fever J
Denshi Sentai Denjiman
Taiyou Sentai Sun Vulcan
Dai Sentai Goggle-V
Kagaku Sentai Dynaman
Choudenshi Bioman
Dengeki Sentai Changeman
Choushinsei Flashman
Hikari Sentai Maskman
Choujyuu Sentai Liveman
Kousoku Sentai Turboranger
Chikyuu Sentai Fiveman
Choujin Sentai Jetman
Kyouryuu Sentai Zyuuranger/Mighty Morphin Power Rangers
Gosei Sentai Dairanger
Ninja Sentai Kakuranger/Mighty Morphin Alien Rangers
Chouriki Sentai Ohranger/Power Rangers Zeo
Gekisou Sentai Carranger/Power Rangers Turbo
Denji Sentai Megaranger/Power Rangers In Space
Seijyuu Sentai Gingaman/Power Rangers Lost Galaxy
Kyuukyuu Sentai GoGoFive/Power Rangers Lightspeed Rescue
Mirai Sentai Timeranger/Power Rangers Time Force
Hyakujyuu Sentai Gaoranger/Power Rangers Wild Force
Ninpuu Sentai Hurricaneger/Power Rangers Ninja Storm
Bakuryuu Sentai Abaranger/Power Rangers Dino Thunder
Tokusou Sentai Dekaranger/Power Rangers SPD
Mahou Sentai Magiranger/Power Rangers Mystic Force
GoGo Sentai Boukenger/Power Rangers Operation Overdrive
Jyuuken Sentai Gekiranger/Power Rangers Jungle Fury
Engine Sentai Go-onger/Power Rangers RPM
Samurai Sentai Shinkenger/Power Rangers Samurai
Tensou Sentai Goseiger/Power Rangers Megaforce
Kaizoku Sentai Gokaiger/Power Rangers Super Megaforce
Tokumei Sentai Go-Busters (and Hikonin Sentai Akibaranger)
Zyuden Sentai Kyoryuger/Power Rangers Dino Charge
Ressha Sentai ToQger
Akared

Notes:
-Gosei Green is just a palette swap of Gosei Blue. If any new pictures appear I will update him.
-DekaGold is probably a little off, but given that she appeared for 1 second and most of her pictures are low quality, there isn't much I can do about that.
-Power Rangers-only rangers (i.e. Titanium Ranger and Spirit Rangers) are included, but they are at the bottom of their column.

Please ask permission first if you want to use any character.

All characters are © Toei Co., Ltd.