It would be a cheerless world if we took everything seriously. If you love something, you should be able to laugh at it as well, and that is also true to our fandom.

- wolfanita's gallery can supply you with your daily dose of Hobbit/ LotR / Silmarillion humour, and I invited her to tell us something more about herself and her inspiration in this interview.



1. Hello! For the beginning, could you tell us something about yourself?
Hello, my real name is Anita, I live in Berlin (the German one) and I think there's nothing more spectacular to tell about me.

2. When did you read Tolkien's books for the first time, and what impression did they leave in you?
When I was a little child, my brother read The Hobbit, that was my first contact with a book from Tolkien, but the cover was so horrible, with a cross-eyed Smaug and a pale dancing Bilbo wearing a top hat, that I thought a Hobbit was something creepy like a hobgoblin or so and didn't want to read it.
Much later in 2001 I thought I should really read the LotR book before the movie was released. I was nineteen or twenty and I remember that my first impression after a few pages was: Dang, I should have read the Hobbit first!
Shortly after watching the first movie I finally overcame my childhood trauma and read the Hobbit as well. The Silmarillion and the Unfinished Tales followed the same year, I think.
I reread all of them at least one time since (Hobbit and LotR much more often) cause I think Tolkien's books need to be reread to be really appreciated. Cause after reading them the first time, none of the books had left a big positive impression. I indeed thought especially the Silmarillion was horrible to read. I recently reread it and it was like a whole new book for me.
3. How extensive is your knowledge of Middle-earth? Do you consider yourself Tolkien expert?
I wouldn't call myself an expert, but I'm not clueless either. I have no real memory for places or dates but I'm good at names and, well, personal stuff, though I still tend to confuse all those elves starting with "Fin-".

4. When the movies came out, many of the inner pictures of characters and scenes in the mind of the readers have been replaced by actors and settings from the movie. You also use movie versions of the characters in your comics. Is it because of this, or because they are more recognizeable to the wide audience?
I admit it is almost impossible not to have the movies' faces in mind when I read LotR today; they quite burned in after I watched the movies so many times. I also really love the movies' designs of the costumes, races and equipment.
But indeed I draw the characters like they look in the movies because I'm actually meaning the movies, not the book. If I would mock a scene from the book, I wouldn't draw the characters like they look in the movie, if you understand what I mean.

5. Now, could you tell us something about you and art? Are you a professional artist, or is art just your hobby? When did you start doing it, and who or what influenced your style?
I'd say I'm a self-taught professional who's not earning much money (yet). Drawing and writing is definitely too important for me to be called a hobby. I always drew and I always made up stories, I can't remember a time I didn't.
I taught myself how to draw with the Disney movies. My Disney 'primal experience' was The Little Mermaid, I was quite obsessed like may little girls then.
But I guess it really went 'click' when I watched Hercules. I loved the weird style and humour and the myths; which resulted in my first comic and my rediscovered enthusiasm for inventing stories (I had quite lost that for a while). And I noticed that people really liked my humour.
A bit later I was also heavily influenced by the Scrooge McDuck comics by Don Rosa. As far as I know he is widely unknown in the US, so let me tell you that he drew hilarious little details in his pictures (what I adopted somehow…).
6. You are a writer, as well. Could you tell us something about your books, "The Witchhunter Chronicles"? Are you working on some new book right now?
The books are fantasy, but with races more based on mythology plus my special kind of humour, so I am mocking clichés a lot.
The books are written in German, but German publishers don't seem to want them (yet), or if the lectors wanted it, the publishing house didn't, so if any English translators with some spare time are reading this, contact me (no, honestly, please do), so I can offer it to the English speaking publishers (or at least an excerpt).
Since all this try-to-publish business is so frustrating, I'm stuck now for some time just before the finale of the third Witchhunter book, so I decided it might help if I write something else before; the book version of one of the comics I drew ten years ago.
It's called "Sword and Feather", and the story is settled in the same world as the Witchhunters, but many years later. There is much more humour and less dark elements in it.
I hope I'll have more success with this book and since it's also written in a different style, maybe I will even be able to translate at least a passage for the DA members so they can proof for themselves if it is good or not.
7. Your tagline says "unable to make serious art". Is humor an integral part of your life and view of the fandom?
I'm a very sensitive, pensive person (you can imagine my schooldays) and without the ability of laughing though everything is just horrible, I would've been lost long ago.
Black humour is often misunderstood. For me real humour always results from something sad to make it bearable.
But cynical, stupid humour, like the German "Schadenfreude", is something completely different which I indeed loathe.
When I draw fan art, I guess it's the same principle like lovers teasing each other; mocking to show affection. But I try to keep a certain amount of respect though (as you also should when you're teasing your sweetheart). And fans without any humour easily become fan-atics, don't they?

8. How do you find inspiration for the comics? Is it during reading books or watching movies, or later, when thinking about them? (Are you even able to read/watch without thinking about possible funny scenes?)
I honestly tell you, I have no idea where that stuff comes from. It just goes boing! and the idea is in my head, at any time. I can do some aimed thinking to get ideas, too, but most of the time they come unasked and when they like.
Yes, I can; actually there are many things I really like and read/watched a lot of times but no gag ever appeared in my mind.

9. Do you have some drawing or writing tips and tricks you would like to share with other artists?
Hm, I'm not sure if it will be a help for anybody, but my personal writing technique is to imagine the scene before my mind's eye and describe then what I see in words that sound how the things I see look like.

Drawing: Don't try to draw like other people, find your own style, draw how and what you like to draw, not how others think you should be drawing, those are your pictures, not theirs (unless they paid you for it, but I guess you get the general idea).
Try to tell a story in every picture, then you will know how it has to look.

10. Could you give us a link or thumbnail from your gallery of- a Tolkien related picture you are most proud of?
Can't tell you why, but I'm really happy with this one: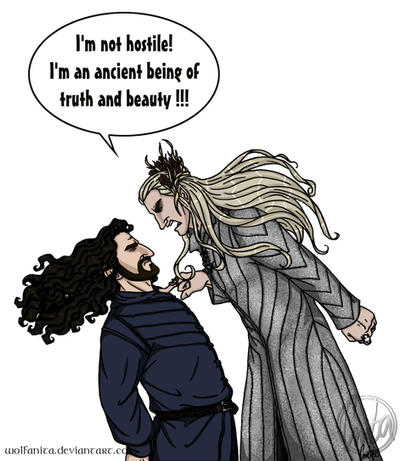 - a picture from other fandom or original picture you are most proud of?
It's the best (and one of the last) oil paintings I made: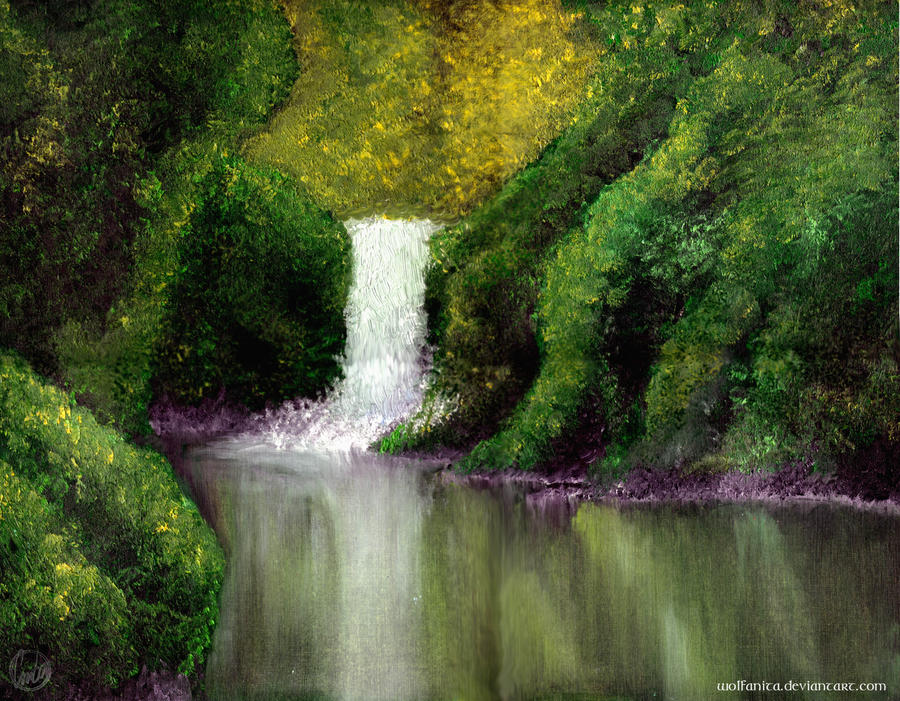 - a picture that fits your current mood?
Don't ask...: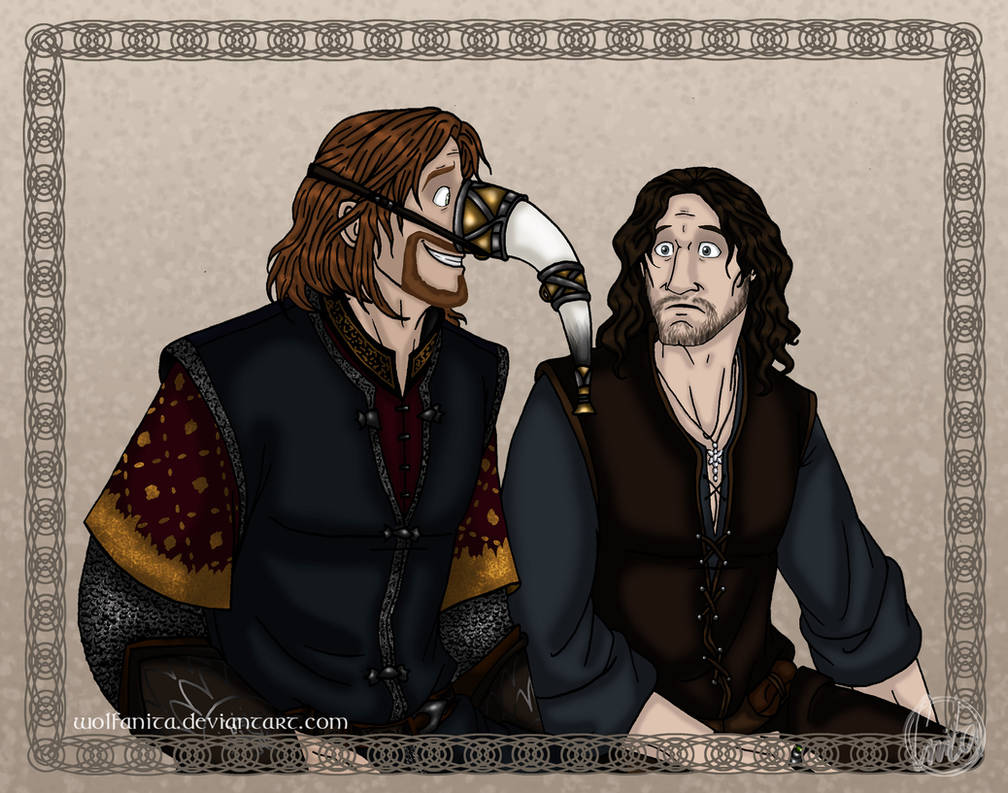 - a picture that was hardest to paint?
It was hell:

- any other picture you would like to share with us and why?
My making-of in addition to the drawing tips question:


11. What key people in your life, (on or off of dA) have been inspirations to you, or has supported you, as an artist? You can also tell us why, if you want.
It might sound a bit ingrate, but I never had the feeling that my creativity or inspiration was ever bound to people, including myself. It's just there, support or not, even if nobody would like what I made with it - though maybe then it would drive me mad and I would cut off an ear or so…

12. Is there some artist(s) at dA you know, who doesn't have as much attention as they would deserve? If yes, could you give us some thumbnails from their gallery?
Most people whose pictures I really like already have enough attention, I think (maybe they'd think otherwise, who knows). But look at my favourites; all of those deserve attention in my opinion, if you want to say it that way.

13. Is there something else you would like to tell to the fans of Tolkien and your art?
I am still surprised that my art caused so many positive reactions; that anybody except me actually laughs about it or likes the style it's drawn in.
Compliment to the Tolkien fans especially, I would not have thought that so many of you had so much sense of humour.

No, seriously:
To draw really makes me happy, and when I then get comments like that one of my pictures made you happy, too, what can I say, that's great.

Thank you very much for taking the time to answer my questions!Previous talks:

with Gold-Seven
fav.me/d6aprnx

with steamey
fav.me/d6bx1lc

with ekukanova
fav.me/d6dzooz

with Tulikoura
fav.me/d6gqc7f

with AbePapakhian
fav.me/d6l0qap

with kimberly80
fav.me/d6nt0jo

with jankolas
fav.me/d6o41tp

with jgilronan
fav.me/d720ty2

with ebe-kastein
fav.me/d7432vw

with MatsumotoSensei
fav.me/d76jc7r

with TurnerMohan
fav.me/d78r8wr

with ullakko
fav.me/d79rfcc

with batwinged-squirrel
fav.me/d7aoebk