- spiegelscherben is the author of the "Silmarillion - The Good Parts Version" comics, but more than that, she is also a Tolkien artist and roleplayer. We talked about her art, humour and inspiration.

1. Hello! For the beginning, could you tell us something about yourself?
Hello! I'm a geek girl who lives behind a computer keyboard in Sweden. Computer programmer by day, artist and writer by night (well when not stuck in RP anyway!).
2. When did you read Tolkien's books for the first time, and what impression did they leave in you?
I read The Hobbit for the first time when I was about 11, I suppose. I read LOTR at 14, but I preferred the Hobbit for a long time - I preferred the flawed, pithy Elves over the overly perfect ones from LotR I suppose. But it's also a case of "first book wins" I guess. I appreciate both now.

3. How extensive is your knowledge of Middle-earth? Do you consider yourself Tolkien expert?
I certainly don't consider myself a Tolkien expert! Except for the Hobbit and LOTR/Silmarillion books, I've been learning most about the history of M-E since I started role-playing in the Lord of the Rings Online (LOTRO) MMO. Most of my knowledge was acquired sitting with Wiki open in another tab feverishly checking that I wouldn't say anything wrong while RPing! But then, I also seem to have a talent for learning and retaining useless trivia... so by now I guess I know quite a bit of the history of M-E.
4. When the movies came out, many of the inner pictures of characters and scenes in the mind of the readers have been replaced by actors and settings from the movie. Did it happen to you as well? Did you try to prevent it?
I think I will always retain my own picture of how Strider looks over the pretty Aragorn in the movies. That's not to say I didn't like the actors or the films - it's just not always my own vision of how things went down.

5. Now, could you tell us something about you and art? Are you a professional artist, or is art just your hobby? When did you start doing it, and who or what influenced your style?
I've been doing art for a long time, but never very professionally. I enjoy writing and drawing comics and have been doing my own serials off and on since high school. Apart from comics, I suppose my style is equally influenced by classical art and modern illustration (not that I consider myself being as great as either of those!).
6. You are an author of the "Silmarillion - The Good Parts Version". How did you get the idea for it, and how do you choose which parts are the good parts?
"The good parts version" is a reference to the Princess Bride - the book/movie is supposed to be the "good parts version" of a rather long and boring book hiding a good story. I have been thinking that the Silmarillion needed a short and concise (and humorous!) version for a long time, and at some point I ran across the Hetalia manga/anime in which countries are represented as persons. I just knew our Elves needed the same treatment!
Later I saw Scandinavia and the World (which I recommend heartily if you do not know it already!), and I can't deny that the look of the comic influenced the final look of my comic as well. But the first comics and character sketches are actually from before I knew SatW.
7. Is humour and fun an important part of your life?
Absolutely! I take a lot of inspiration from the old saying that a fool might criticise a king where the wise may not. Humour is important for dealing with both serious situations and everyday life. You should be able to make fun of yourself and even the things you take seriously.
8. You have several original characters in Middle-earth. One of them, Nimlith, even writes her own notebook... Could you tell us more about your characters, your writing and roleplaying?
Absolutely! I have a bunch of characters (to go into detail in all of those would be a bit too much even for this column...) but Nimlith is my main and favourite character, as my many drawings and paintings of her show.
Nimlith is a Nandor born in the Second Age who has lived in the Greenwood all her life as a healer. As it seemed like war was approaching though, she decided to leave her home in favour of spreading peace and harmony among the Free Peoples. She works to improve relationships and bring hope to all Free Peoples in the dark times that she knows are approaching.
(More can be seen and read on her Laurelinarchives page:
laurelinarchives.org/profile/1…
)
9. What art technique is your favourite? Do you rather keep to the art techniques and styles you are familiar with, or do you experiment with new ones as well?
I am working with many different techniques, but I find that I keep coming back to comics and ink drawings. It comes easiest to me. At the moment I am trying to teach myself watercolours, which are quite counter-intuitive for me! (I have no patience to let my paint dry... aargh!)

10. Do you have some tips and tricks you would like to share with the other artists?
Read about art and look at art every day in your life! I always make a point to go to art galleries and exhibitions in every city I visit. You can learn a lot from the masters, even if you do not paint in the same style as they do!
I'd make a point about doing a little bit of art every day as well, but I've not been too good at it myself recently...

11. Could you give us a link or thumbnail from your gallery of- a Tolkien illustration you are most proud of?

- a picture from other fandom or original picture you are most proud of?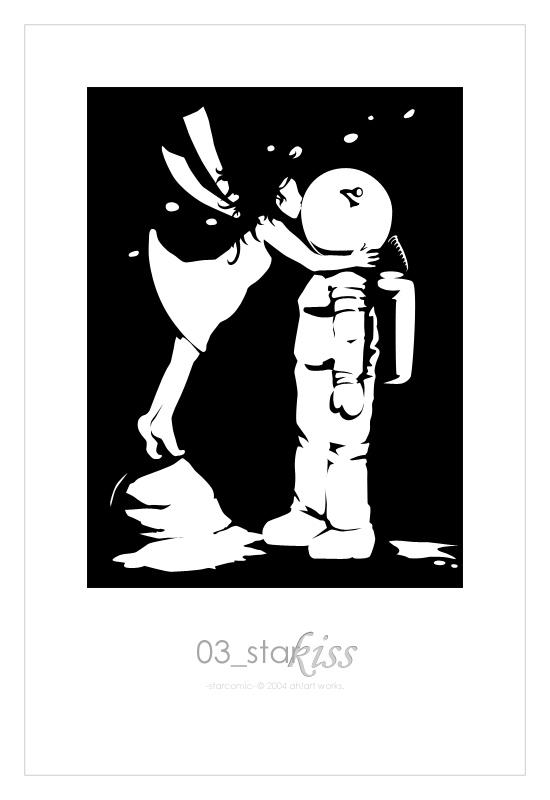 An oldie but a goodie. Maybe I'll revisit it some day now that I've gotten my hand in with vector art.
- a picture that fits your current mood?
I've been a bit stressed recently. But now, vacation!

- a picture that was hardest to paint?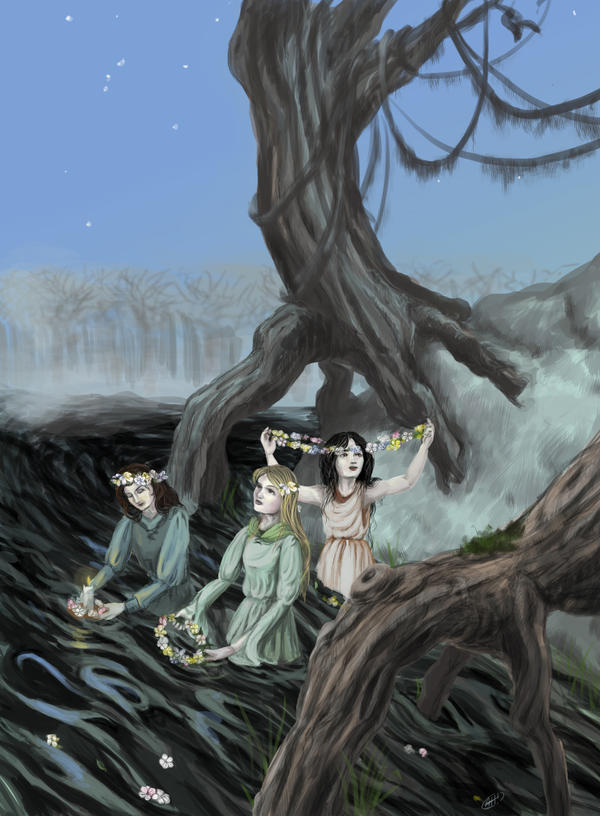 - this is probably the picture that took the single most time to paint. I changed the size of the picture several times and had to amend. Digital painting is really straining to my wrist, so I am quite happy that I got this one as far as I did before I declared it "done".
- any other picture you would like to share with us and why?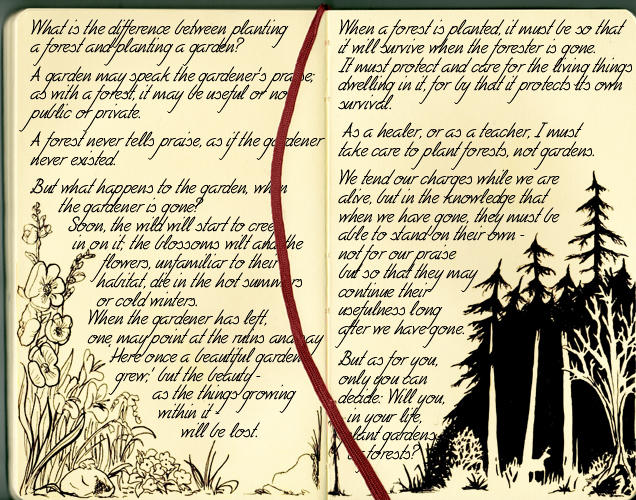 A little inspirational story courtesy of Nimlith, who is much wiser than her player.
12. What key people in your life, (on or off of dA) have been inspirations to you, or has supported you, as an artist? You can also tell us why, if you want.
I come from an artsy family, so it was obvious I would also be interested in art. My boyfriend is very patient when it comes to my "I just have to finish this, I'm in the zoooone!"-cries. And of course the many artists and writers I knew over the years, from Elfwood to dA and on.
13. Is there some artist(s) at dA you know, who doesn't have as much attention as they would deserve? If yes, could you give us some thumbnails from their gallery?
I believe Ursula Vernon

has quite enough attention now, being a Hugo-winning comic book author and generally awesome person, but if you don't know her yet, you should definitely check out her gallery! (and books. And comics.)
And while I'm at it, humon

, the creator of Scandinavia and the World, definitely deserves mention as well.
<da:thumb id="136568235"/> <da:thumb id="172636603"/> <da:thumb id="164915268"/>


14. Is there something else you would like to tell to the fans of Tolkien and your art?
I've rarely seen such a prolific and nice fan community as the Tolkien fans. Keep being awesome!

Thank you very much for your time and answers!Previous talks:

with Gold-Seven
fav.me/d6aprnx

with steamey
fav.me/d6bx1lc

with ekukanova
fav.me/d6dzooz

with Tulikoura
fav.me/d6gqc7f

with AbePapakhian
fav.me/d6l0qap

with kimberly80
fav.me/d6nt0jo

with jankolas
fav.me/d6o41tp

with jgilronan
fav.me/d720ty2

with ebe-kastein
fav.me/d7432vw

with MatsumotoSensei
fav.me/d76jc7r

with TurnerMohan
fav.me/d78r8wr

with ullakko
fav.me/d79rfcc

with batwinged-squirrel
fav.me/d7aoebk

with wolfanita
fav.me/d7awlf3

with marisoly
fav.me/d7awlg4

with kaijukid
fav.me/d7n5duj

with faQy
fav.me/d7ox700

with hitogata / kittykatkanie
fav.me/d7qsais