This time I bring you a talk with

- jubah. You can search her gallery for pictures of some well known, but also some rarely (if ever) seen Tolkien's characters. She gives them face, personality, and feelings in her illustrations.


1. Hello! For the beginning, could you tell us something about yourself?
Okay hahaha
My name is Juliana, I live in Brazil, I'm a history major

2. When did you read Tolkien's books for the first time, and what impression did they leave in you?

A very strong impression of beauty and art. I saw a lot of my own ideals regarding art in that book, and it has always been a strong influence even during the times I all but forgot about them.
3. How extensive is your knowledge of Middle-earth? Do you consider yourself Tolkien expert?
Not at all, I still confuse stuff and get some details wrong hahaha. My knowledge is more focused on the tale of the children of Húrin!

4. When the movies came out, many of the inner pictures of characters and scenes in the mind of the readers have been replaced by actors and settings from the movie. Did it happen to you as well? Did you try to prevent it?
It sort of happened for Aragorn, the Hobbits and Gimli especially, and Treebeard. I didn't have much trouble with it to be honest! My biggest problem was that before the release of the first Hobbit movie, some leaked photos of Richard Armitage's costuming and make up reminded me way too much of Túrin, so I had to change my design for that guy a little. Outside that, no big deal, thankfully

5. Now, could you tell us something about you and art? Are you a professional artist, or is art just your hobby? When did you start doing it, and who or what influenced your style?
Art is a hobby! I have been drawing ever since I'm a kid hahaha I've always loved it. When I was 12 I started studying art in an informal setting with mixed artistic influences and a focus on anatomy (that didn't mean that much in the end, but still...), and I haven't stopped. I have never looked at it professionally though, which might explain why the growth happens so slowly... but I just love drawing too much, and I am a terribly whimsical and irresponsible person, so I really feel like I wouldn't be able to deal with art professionally. I'd rather treasure this little freedom I have.
I have been influenced a lot by classic renaissance artists and modern graphic artists, but I'm not sure I could exactly pinpoint a list of influences hahahaha, I'm sorry! It really is a big, chaotic mix


6. You are known for illustrating characters from Middle-earth that are rarely seen in other pictures. How do you choose which scenes and characters to illustrate, and does their uniqueness also play a factor in it?
Mostly I try to focus on a particular feeling or symbol or theme, until I get so emotional I must draw in order to process it better. My style is pretty simple, but usually the feeling I portray isn't.
I think the uniqueness of the characters get my interest. I also like looking at a story from different points of view, so it gives me joy to try and look at a character or at a situation from different perspectives... which naturally ends up making me pay more attention than usual to characters who are otherwise not explored by the narrative... at least that's what I think happens hahaha

7. Often we know very little about the characters you illustrate, like several of the Edain of the First Age and kings and queens of Númenor that have no stories centered on them. Do you imagine the personality of the character when you paint them?

Yes hahahaha always! Though sometimes I play with different potential personalities. But usually, the feeling a character might be having is more important to me than their personalities. So sometimes my starting point is imagining the different reactions a character might have to a situation, and from that point, I start developing a personality.
8. You often upload many pictures at once. How fast do you actually paint? Do you paint so often/quickly to keep up with the many ideas you have?
Sadly no! I don't usually have a lot of time for painting and drawing because of work and social life. That makes me sad.
But the reasons why I upload so much at once are two: first, because I tend to upload my art on my tumblr website first, so sometimes I forget to post some stuff here. Second, because usually when I finish a drawing I like to keep it around before posting.... I like being able to have time to develop it or correct it or look at it again after a few days, to be sure that was what I wanted to do at all, or if I missed something.... etc
9. What art technique is your favourite? Do you rather keep to the art techniques and styles you are familiar with, or do you experiment with new ones as well?
I prefer traditional media, but sadly because of my lack of time and appropriate space, I have since long been resorting to digital art (which I also love, of course!). I always experiment, but I wish I had more time and discipline to actually learn new things properly instead of just playing with them!
10. Do you have some tips and tricks you would like to share with the other artists?
The tip that helps me the most is to keep flipping the image horizontally to check if it really is proportional, and maybe taking a few days off a work, so when you look at it again you are no longer so "accostumed" to it, and can see the mistakes more clearly....
Another thing that helps is trying to come to terms with criticism, because that is one thing that can help you a lot! I sometimes ask closer friends to take a look at a picture and tell me something that bothers them about it. Like, I ask them specifically not to praise it, just find something they would change if they could. It doesn't mean I always follow their criticism, but it is good to hear how other people perceive your work, and compare what they think are your weak points vs. what YOU think are your weak points. At least I think that helps me!

11. Could you give us a link or thumbnail from your gallery of


- a Tolkien illustration you are most proud of?
hhhhmmmm
WHAT A HARD QUESTION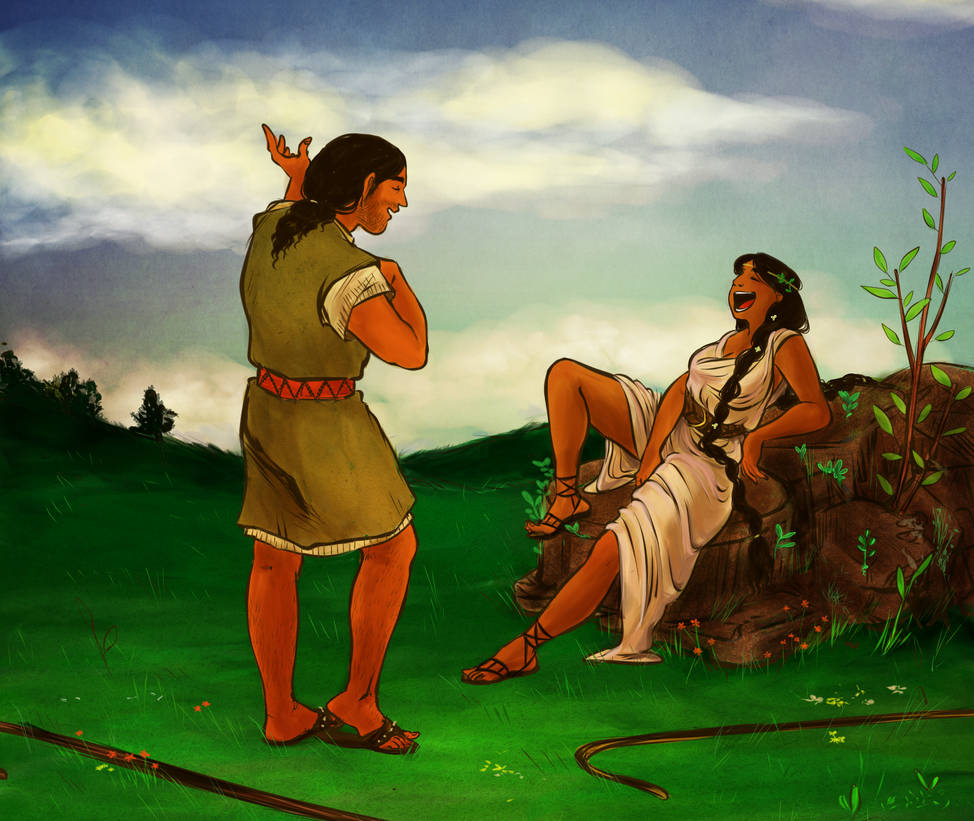 - a picture from other fandom or original picture you are most proud of?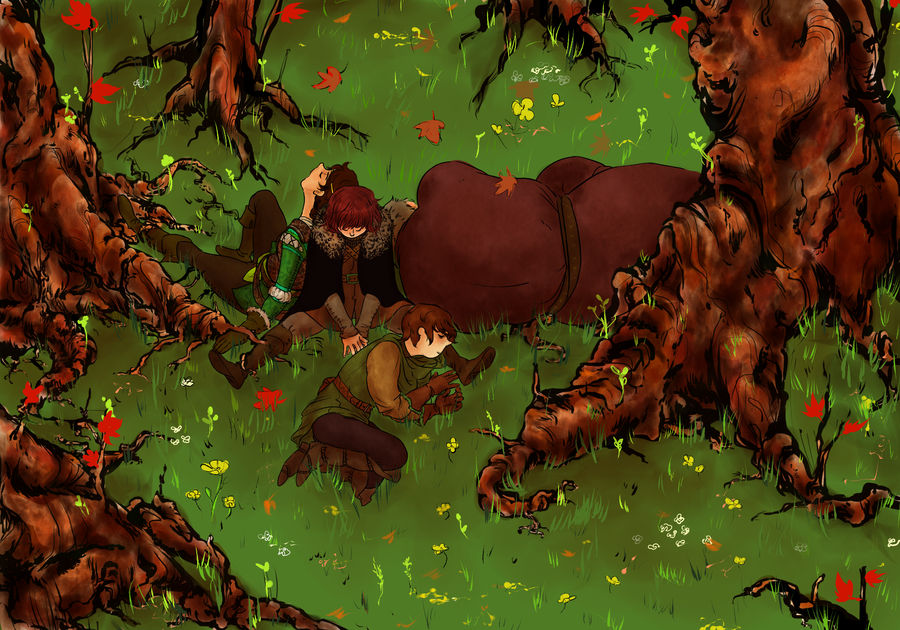 - a picture that fits your current mood?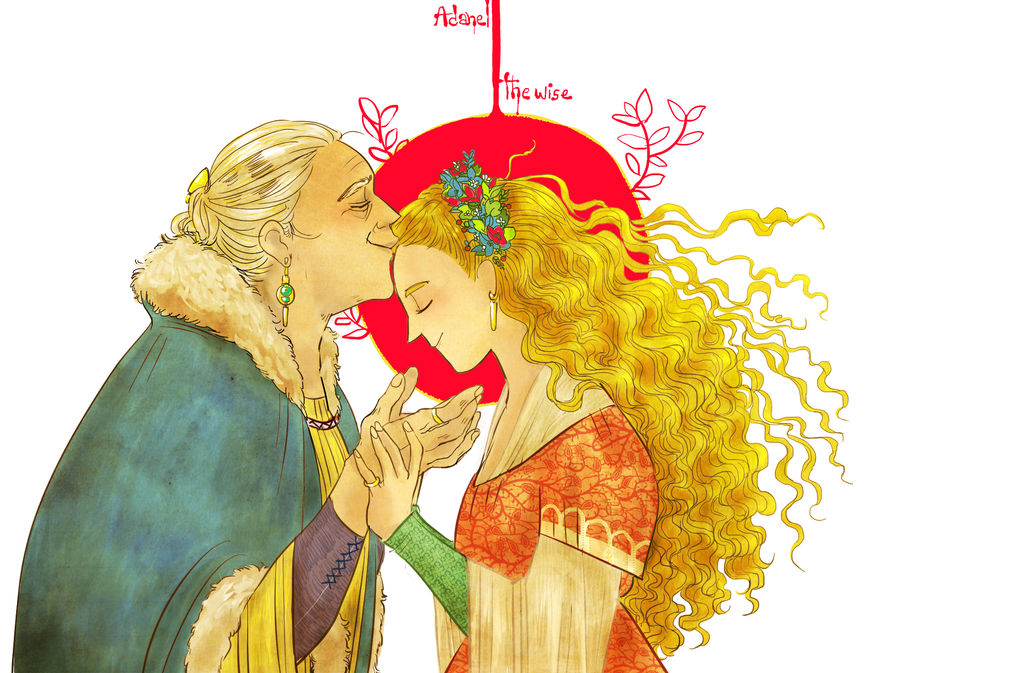 - a picture that was hardest to paint?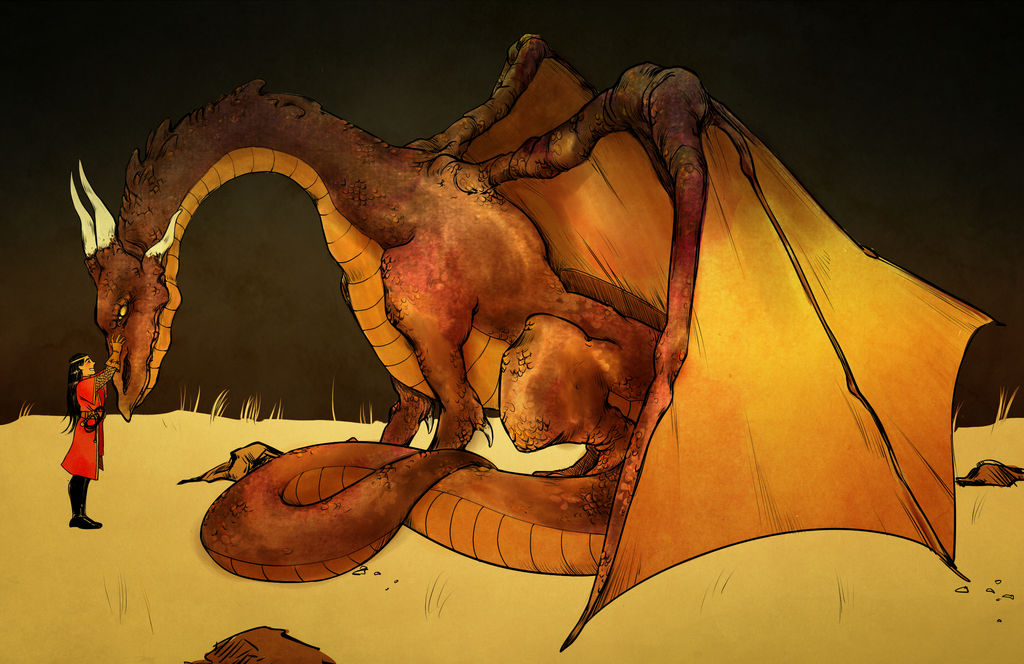 - any other picture you would like to share with us and why?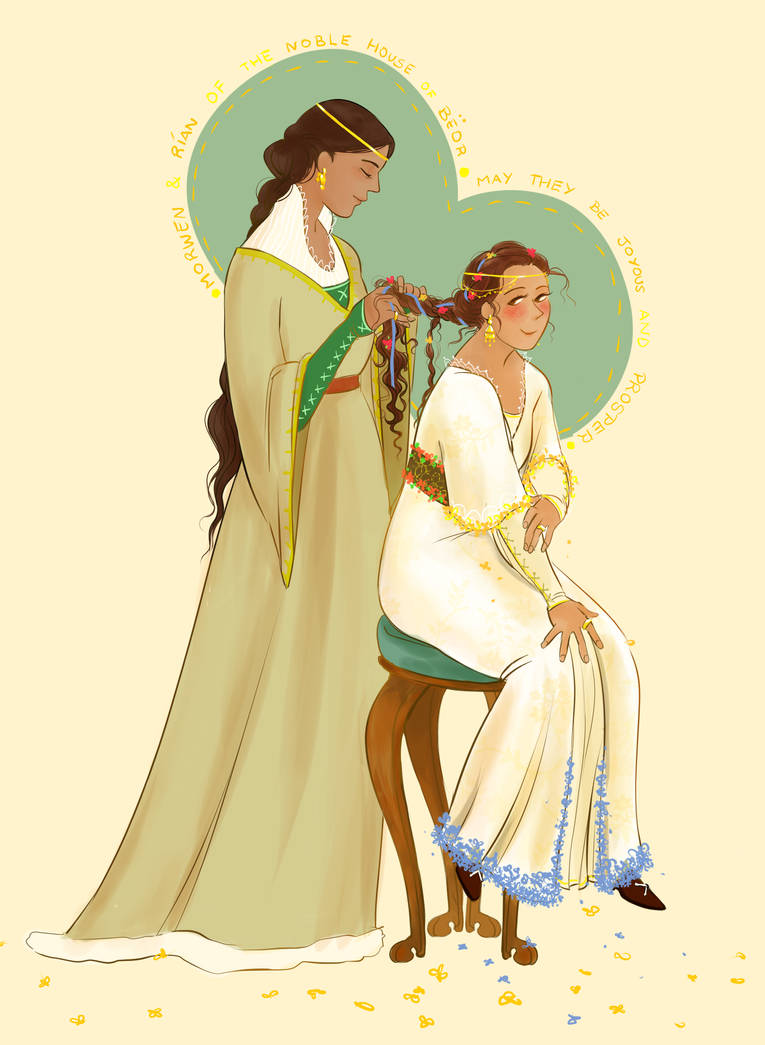 This is a picture of two of my favorite characters, made to one of my most beloved friends, and based on a piece of writing of hers that I love very much. So it is a picture full of love for me, and I hope it can help other people also love these characters


12. What key people in your life, (on or off of dA) have been inspirations to you, or has supported you, as an artist? You can also tell us why, if you want.
Aaah I have never allowed IRL people to support me because of my mortifying shyness regarding my art.... it is sad to say this! I have been more open lately though. But I think my biggest suport has always come from my IRL artist friends, and my internet friends who share similar interests when it comes to obscure characters hahahaah. It is nice to see other people engaging with your work, even when it is not praise. I am going to specially mention my fellow artist

, who has always been encouraging as a fellow artist, even when my pictures didn't even have a decent resolution.
I hope it doesn't come off weird, but I also feel like I have been my biggest inspiration, in a sense? When I was younger and even more unsatisfied with my skills, I had a conversation with myself, and I realized that, regardless of whether I ever became an actual artist or not, regardless of whether my art was relevant to other people or not, I would always love drawing, and I would always draw. I just really enjoy it. So when I was feeling down or hating my own production, I told myself it was alright, and that I was allowed to enjoy myself, regardless of the quality of what i did or if people approved or not. So I think it is important for an artist to learn to respect themselves because of this.
13. Is there some artist(s) at dA you know, who doesn't have as much attention as they would deserve? If yes, could you give us some thumbnails from their gallery?
Sadly I haven't been looking for new artists on Devianart lately, so I don't really know if this artist is getting the attention they deserve, but I really like what and how

chooses to portray from Tolkien's works!
I think it is a great atmospheric job and I love looking at the details and at the geography of what is portrayed in their art!

14. Is there something else you would like to tell to the fans of Tolkien and your art?
Thank you!! Honestly, it really is amazing to know other people enjoy my art, or the things I chose to portray!! I am always the happiest when I know something I did was also enjoyable or interesting for others, so, again, thank you very much!
Thank you for your time and answers!
Complete list of talks: