A Hobbit and a friend of Ents - that's how the talented artists

- greensap introduces himself. Before reading his answers to my questions, you can take a look at a few pictures from his gallery: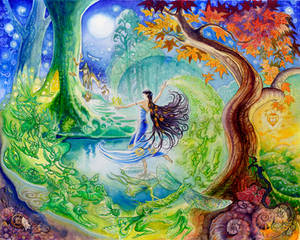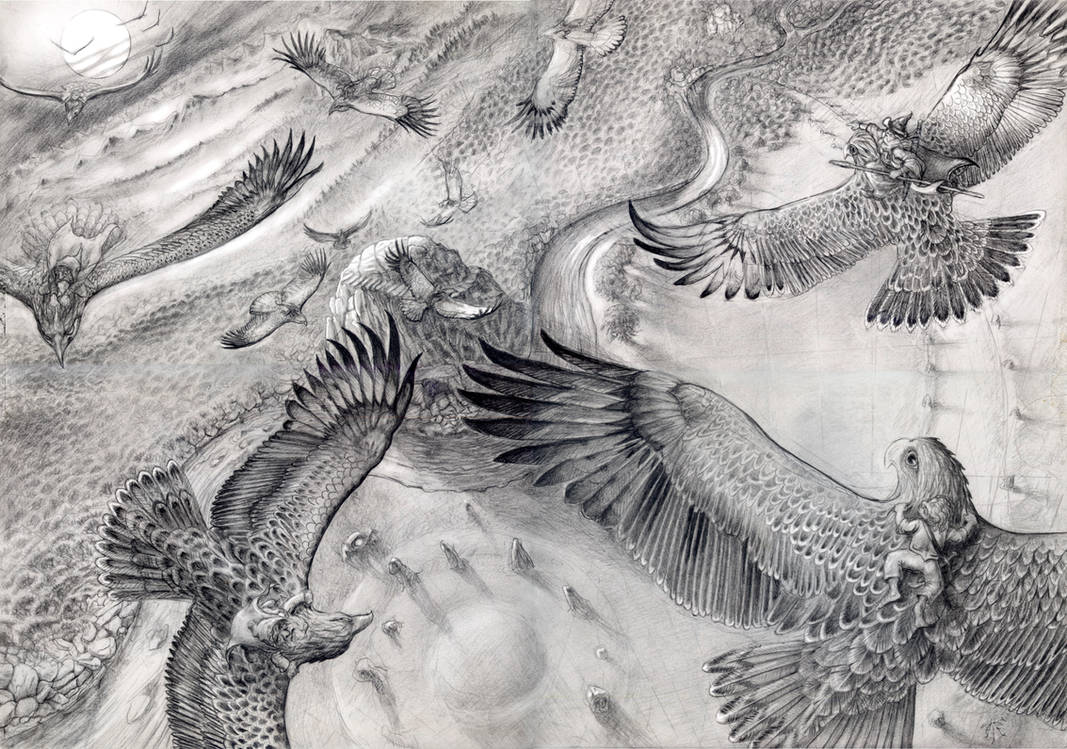 1. Hello! For the beginning, could you tell us something about yourself?
My name is Terry Ernest, I come from a long line of hobbits. Born and bred in the village of Pinhoe in the Shire of Devon, England, we 'ave a saying down 'ere in devon :
Devon born,
Devon bred,
Strong in the arm,
Thick in the head... ha!

2. When did you read Tolkien's books for the first time, and what impression did they leave in you?
I was about seventeen when I first started to read the Hobbit. After the first chapter I almost put the book down, thinking it was more suited for my younger bother or sisters, but decided to persevere for three chapters ... and then I was hooked.
I went on to read "Lord of the Rings" , and never wanted the books to end.
Some part of my heart, will always remain in middle earth.
3. How extensive is your knowledge of Middle-earth? Do you consider yourself Tolkien expert?
Although I've read all the books several times, I don't have a great depth of knowledge, I'm very dyslexic and really struggle with language ... (thank god for the spell checker ha!) . I'm very slow when it comes to reading, and will sometimes reread though a paragraph, so I can really see the story in my mind eye in a visual way.

4. When the movies came out, many of the inner pictures of characters and scenes in the mind of the readers have been replaced by actors and settings from the movie. Did it happen to you as well? Did you try to prevent it?
Yes unfortunately that's inevitable to some extent, and in some cases the movie coincided with the my own concept of the scene's and characters. There are still some characters that I retain in my imagination, and still a few more that needs to be developed, Jackson won't be the last word, where Mr Tolkien work is concerned ... There will be other versions of the hobbit and lord of the Rings, and hopefully closer to Mr Tolkien's narrative, probably by then, we will all be able to experience the movie in an immersive interactive way...
5. Now, could you tell us something about you and art? Are you a professional artist, or is art just your hobby? When did you start doing it, and who or what influenced your style?

I like to think my artwork is close to being professional, but my attitude is far from being professional. Originally started Drawing around 13 years old, went on and spent three years at exeter collage of art.
My influences came from the mainstream of the great Artists through out history, and of course the daddy of all fantasy, Frank Frazetta.
I'm an admirer of the artist Stephanie pui-mun Law... I live in hope that some of her professionalism and work ethic will magically be spirited into me, and
my Artwork. Alan Lee and John Howe are the two Tolkien artists I respect, the former, only lives about 10 miles away, as the crow flys, and draws his inspiration from the same well as I do, Dartmoor.

6. How do you choose which scenes and characters to illustrate?
We'll I originally started with conceptual drawings of the most difficult characters to visualise , like Gollum, and Bilbo. Mr Tolkien renders wonderful images in your mind when you read his literature. Gandalf was a must, and Treebeard, and oh so many wonderful scene's and characters ... The movie is pale reflection in comparison to his Books.
7. What art technique is your favourite? Do you rather keep to the art techniques and styles you are familiar with, or do you experiment with new ones as well?
Oils, acrylics, carving, 3d modelling via light wave, crayons, modelling with plastercine, my favourite has always been gouache, and watercolour.
Experimenting with art has alway been near to my heart.
8. In several of your drawings, you make perspective an efficient tool to make the picture interesting. Do you use a geometric approach to get it right, or draw it just from your imagination?
First I read the the part of the story I want to illustrate , and then can visualise several pictures in my mind, as with "from the frying pan into the fire" the only way to get the whole narrative into one picture, was to either to see the scene lying on ones back on the ground, or from a birds eye view looking down. To be able create this you need to have some fundamental knowledge of perspective. I'm certainly not an expert in using perspective, but I know enough to get by.
Composition for me, is always best when I let it flow naturally. I will use rulers, and compass, or any round object lying around, if the composition needs be. No matter how hard or impossible the picture that my mind conjures up, I will attempt it ...
and usually full flat on my face ...ha!
9. Do you have some tips and tricks you would like to share with the other artists?
I do my precious, but there mine, all mine! ... Don't trust anyone with the name of Baggins, ha! ...
always leave the viewer with some mystery, about your painting, because if you tell everything about your work you leave nothing for the imagination.
Use the online free university "utube" you can learn anything you need to know about creating Artwork .

10. Could you give us a link or thumbnail from your gallery of- a Tolkien illustration you are most proud of?- a picture from other fandom or original picture you are most proud of?- a picture that fits your current mood?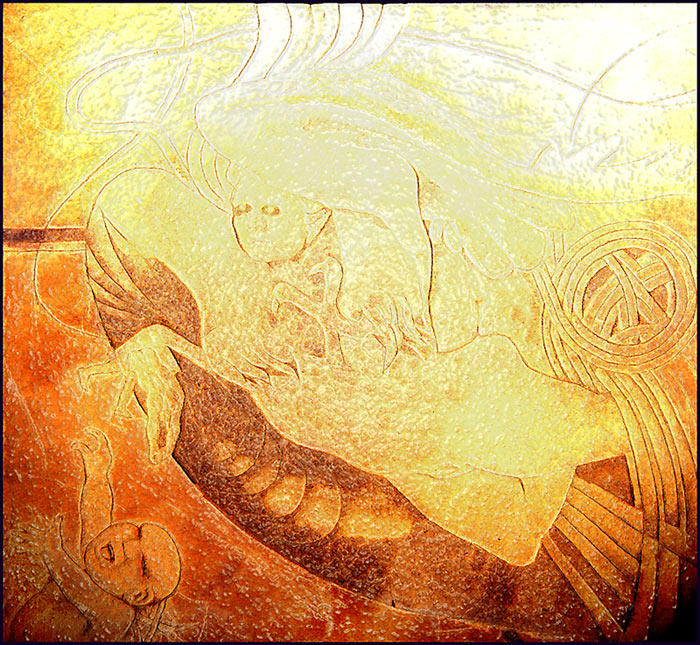 - a picture that was hardest to paint?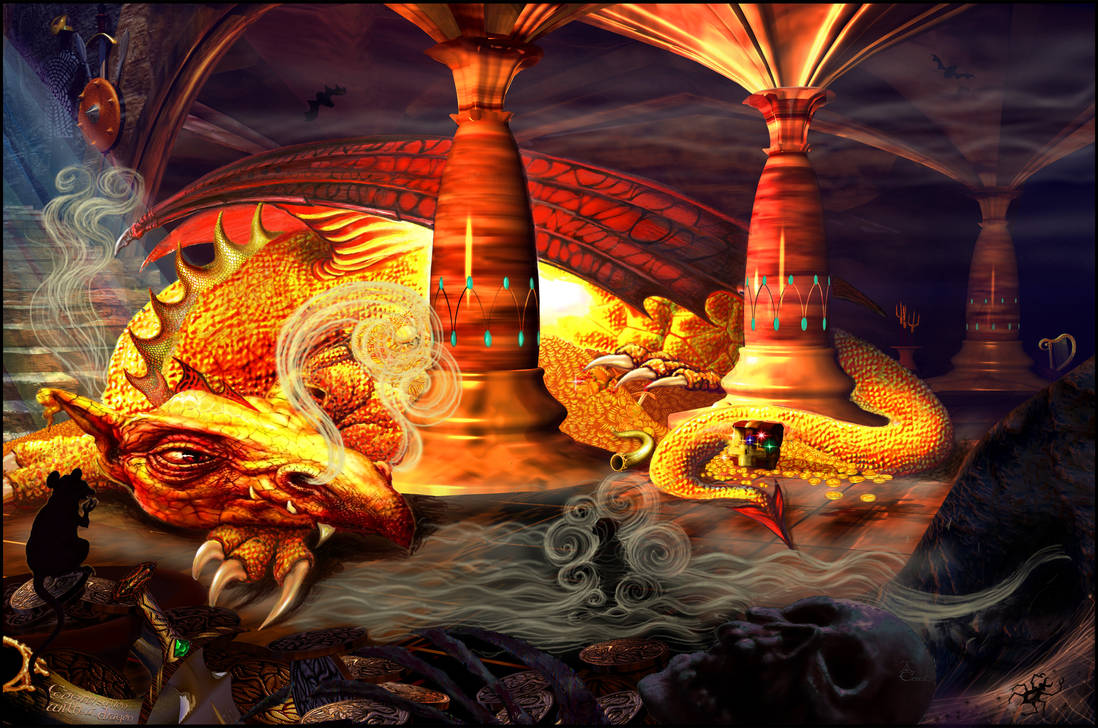 - any other picture you would like to share with us and why?
MirachRavaia

11. What key people in your life, (on or off of dA) have been inspirations to you, or has supported you, as an artist? You can also tell us why, if you want.
To be honest
MirachRavaia
has been great support here on DA to me, and many others in a true elven fashion.
I've been inspired by Steph Law ... I stepped into her fae world seams like yesterday in late 98 and now it's 2014 ... The old tales are true about stepping into magical fairy dance ...


12. Is there some artist(s) at dA you know, who doesn't have as much attention as they would deserve? If yes, could you give us some thumbnails from their gallery?
This is one flame that I flutter around.
Swallow her superb imagery in her poetry

-
tsubame-33

13. Is there something else you would like to tell to the fans of Tolkien and your art?
Only to those of you, who are movie fans, and have never read the Mr Tolkien's Books ... Do be kind to yourself, and read the Hobbit and the trilogy, there's so much more to middle Earth ... Love & light ...

Thank you very much for your time and answers!Previous talks:

with Gold-Seven
fav.me/d6aprnx

with steamey
fav.me/d6bx1lc

with ekukanova
fav.me/d6dzooz

with Tulikoura
fav.me/d6gqc7f

with AbePapakhian
fav.me/d6l0qap

with kimberly80
fav.me/d6nt0jo

with jankolas
fav.me/d6o41tp

with jgilronan
fav.me/d720ty2

with ebe-kastein
fav.me/d7432vw

with MatsumotoSensei
fav.me/d76jc7r

with TurnerMohan
fav.me/d78r8wr

with ullakko
fav.me/d79rfcc

with batwinged-squirrel
fav.me/d7aoebk

with wolfanita
fav.me/d7awlf3

with marisoly
fav.me/d7awlg4

with kaijukid
fav.me/d7n5duj

with faQy
fav.me/d7ox700

with hitogata / kittykatkanie
fav.me/d7qsais

with spiegelscherben
fav.me/d7r6bdi

with The-Black-Panther
fav.me/d7r8jjz

with SceithAilm
fav.me/d7vtf2s

with Candra
Talks with Tolkien artists: Candra

with evankart
Talks with Tolkien artists: evankart