- evankart is a talented korean artists whom I had the pleasure to interview for the latest issue of "Talks with Tolkien artists". After feasting your eyes on her pictures here you can read her answers about Tolkien and art, and if you want more, go check her gallery!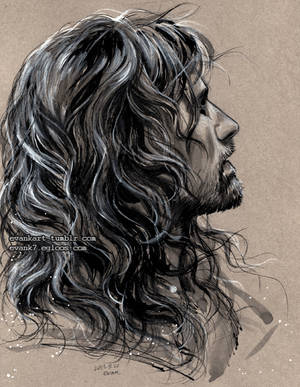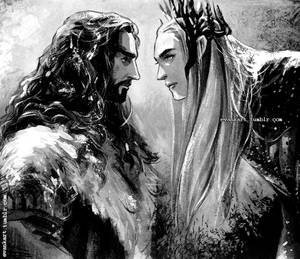 1. Hello! For the beginning, could you tell us something about yourself?
Hello, call me 'evan'. I'm from S. Korea, a professional comicbook artist and also art teacher. English is not my first language but I will try to answer the questions in earnest

2. When did you read Tolkien's books for the first time, and what impression did they leave in you?
It was the greatest story I've ever read. I didn't like the genre of Fantasy novel and still don't like it except Tolkien's works. But when I met Middle-earth for the first time I loved the questions about moral law and choices of fascinating characters. Also, Tolkien was a great visual artist. He described the his world very well, every scene could be imagined easily.

3. How extensive is your knowledge of Middle-earth? Do you consider yourself Tolkien expert?
No I don't. I just have read 'LOTR', 'the Silmarilion', 'the Hobbit' and 'Children of Hurin'. Other books haven't been translated into Korean yet. Also sometimes I am confused about the time-line of the stories or character's name, and the names of places.  

4. Now, could you tell us something about you and art? Are you a professional artist, or is art just your hobby? When did you start doing it, and who or what influenced your style?
I'm a professional artist

I was 13 when I went to my first artclass. My drawing style was influenced by my mother and sister. They are also professional visual artists and a calligrapher. I majored western art in university but their oriental art style and tools always gives me some inspiration.
5. Alright, I will ask it directly: how is it possible that the characters in your drawings look so real, and yet 150% more hot than in reality?

Ah really? I didn't intend to draw them more hotter than reality. Maybe it because I picked some pictures which they look very hot


6. How do you choose which scenes and characters to illustrate?
There are some points what I would draw. Like a beautiful scenery of Mirkwood, Thorin's hair, Thranduil's face...It depends on inspiration I get day by day.
7. What art technique is your favourite? Do you rather keep to the art techniques and styles you are familiar with, or do you experiment with new ones as well?
I prefer to draw with traditional tools like paper, pencil, ink, brushes, watercolor. But I'm trying to be familiar with CG drawing recently.
8. Could you give us a link or thumbnail from your gallery of
- a Tolkien illustration you are most proud of?- a picture from other fandom or original picture you are most proud of?- a picture that fits your current mood?- a picture that was hardest to paint?- any other picture you would like to share with us and why?
evankart.tumblr.com/post/98237…
Recently I'm trying to draw a story of a drifter who is walking across middle earth. I will keep drawing this until end of the journey.
11. Is there some artist(s) at dA you know, who doesn't have as much attention as they would deserve? If yes, could you give us some thumbnails from their gallery?12. Is there something else you would like to tell to the fans of Tolkien and your art?
Always thank you for watching my drawings! I'm looking forward to see the third hobbit movie and will love Tolkien's world for a long time. I hope you guys will be there with me

-----------------------------------------------Thanks!! Have a good day!!

Thank you as well for your time and answers!Previous talks:

with Gold-Seven
fav.me/d6aprnx

with steamey
fav.me/d6bx1lc

with ekukanova
fav.me/d6dzooz

with Tulikoura
fav.me/d6gqc7f

with AbePapakhian
fav.me/d6l0qap

with kimberly80
fav.me/d6nt0jo

with jankolas
fav.me/d6o41tp

with jgilronan
fav.me/d720ty2

with ebe-kastein
fav.me/d7432vw

with MatsumotoSensei
fav.me/d76jc7r

with TurnerMohan
fav.me/d78r8wr

with ullakko
fav.me/d79rfcc

with batwinged-squirrel
fav.me/d7aoebk

with wolfanita
fav.me/d7awlf3

with marisoly
fav.me/d7awlg4

with kaijukid
fav.me/d7n5duj

with faQy
fav.me/d7ox700

with hitogata / kittykatkanie
fav.me/d7qsais

with spiegelscherben
fav.me/d7r6bdi

with The-Black-Panther
fav.me/d7r8jjz

with SceithAilm
fav.me/d7vtf2s

with Candra
Talks with Tolkien artists: Candra