- dieroteiris is a minimalist - her pictures tells stories with just a few lines. She also has Dwarves and dragons wandering the walls of her flat! Take a look at her gallery - you can find her Tolkien-related pictures in three folders: The Hobbit, Mightiest and Fairest of all F-Elves'

and Tolkien - Other. Here are just a few examples:

Hello! For the beginning, could you tell us something about yourself?
Hullo,
I'm Claudia aka Die Rote Iris. I'm around 30ish and I'm living in the south of Germany. My hometown is in the vicinity of Munich which some of you maybe know.

I'm an amateur artist, I've been drawing ever since ... kindergarten. But I'm also a dietician and a gardener. Currently I'm working for the 'Deutsches Museum München', which includes a lot of commuting and a lot of reading.

I'm a big Fantasy and Science Fiction fan, but I'm also in love with nature, minimalism and art nouveau, which I think you can tell from looking at my pictures.
What brought you to deviatArt and what has been your experience with it?

I've known deviantArt for man years before I joined. But it was always something other people did.

Also I was quite sensitive about my English skills.
But someday around 2014 - I had just started a new job and everything felt like new beginnings - I joined. Without any long planing or wanting to. Just did.

My overall experience is very positive. I've discovered a great many amazing artists, made a few new friends and rediscovered some old ones.

I love the diversity here on deviantArt. There really is something for everybody - be it traditional watercolour city scapes or digitally rendered space ships. Also I'm delighted about how geeky everybody here is!
How did you enter Tolkien's world for the first time, and what impression did it leave in you?

I kind of stumbled upon Tolkien by accident. I was part of a group that dressed up and went to renaissance fairs where I met my future husband and his peer group of fantasy nerds. They were all huge Tolkien fans (still are) and organised monthly Tolkien moots and the like.

Obviously I felt compelled to read the books. I confess I struggled with them at first. They seemed slow, outdated and went on and on - with this stupid ring still not destroyed ... But someday it was like the flick of a switch and something changed. Suddenly there was this complex and rich world before me with so much to discover, so much detail, so much history ...
And the parts that seemed slow before are now my favourites!
Today I'm a member of the German Tolkien Society (
www.tolkiengesellschaft.de
) and try to make a habit of reading the books every other Christmas.
So did your interest in Tolkien become scholarly as well, like it happens to many fans who delve into the world too deeply?
Just a tiny little bit, but not really.

Though I have friends who immersed themselves deeply into Tolkien's world an can tell you the exact details of the evolution of the elves or quote Tolkien's letters from heart. I've also attended some Tolkien conferences and found them extremely fascinating.
For myself I'm interested in cuisine, farming, plant life and the climate of various regions of Tolkien's world. I like to think about what the are growing and eating in the different regions of middle earth and try to match them to cuisines in our world.
What about the movies? Did they influence your imagination of Middle-earth and Tolkien's characters?
Not much I hope!
To be honest I'm not really a fan of the movies (especially the Hobbit-trilogy - I didn't even watch the last one of those).

True, after the 2001 middle earth just looked like New Zealand for a while.

But I think I've managed to keep that influence for myself to a minimum.
Luckily there are many great Tolkien artist out there who inspire me and help me form my own pictures about the middle earth in my head.
Who are the most inspiring Tolkien artists to you, then?
Well, there's Tolkien himself of course! I especially love his drawings of Mirkwood.
I really like Cor Blok (his minimalistic style), Ruth Lacon (the colourful, stylised paintings), the pictures of Queen Margrethe II of Denmark, Rodney Matthews (his insect inspired pictures are sooo strange), German artist Anke Eissmann, old illustrators like Pauline Baynes and Horus Engels and of course the great Alan Lee!

Honorary mentions to the brothers Hildebrand (I don't really like their pictures, but they are so ... strange...), John Bauer (not a Tolkien artist but a huge inspiration of mine) and Paul Kidby (also not a Tolkien artist).
How do you choose which scenes and characters to illustrate in your minimalistic style? Do the topics have to be suitable for the style, or would you be able to depict any topic in it?
I mostly rely on gut feeling when choosing scenes to draw. My subconscious and I have a fairly good relationship and from time to time it comes up with an idea for me to draw. It's convenient that way.
When I was illustrating 'The Silmarillion' it was not that easy because my goal was to do at least one drawing per chapter. As a result some of the pictures feel a bit ... forced.
I would like to tell you I can draw anything but I fear that's not true.

I prefer quiet, nature and outdoorsy scenes. Energetic, dynamic ones are harder for me to depict.


A good example for a quiet drawing is 'Of the Old Dwarven Road' which I'm fairly pleased with.
A dynamic scene you can see in 'Of Numenor sinking' which I'm not so proud of.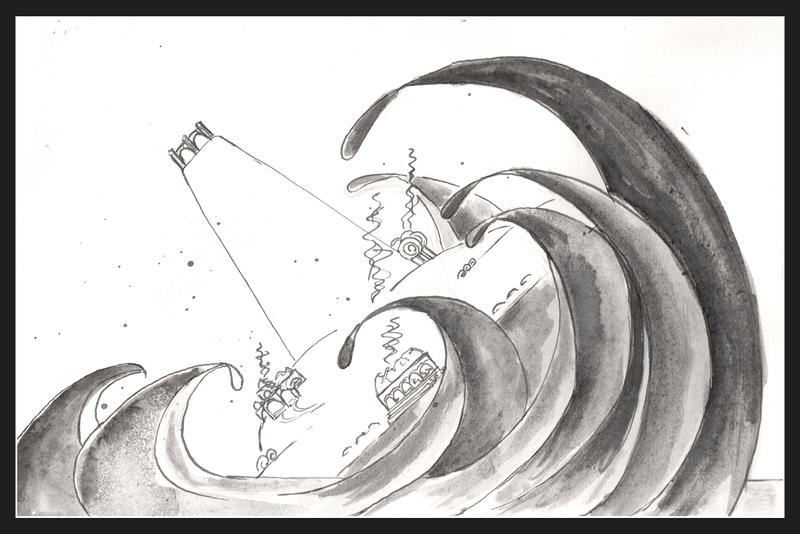 Next to Tolkien, plants are a major topic in your gallery. What is your relation to them, and to drawing them?
As a gardener you don't necessarily have to love nature, but it helps! It helps me anyway.

I'm outside on a daily basis and I love to watch plants grow and change during the seasons of the year.

It's a fascination that permanently increasing.

Many ideas for pictures come from the things that surround me. As I am outside so often, it's plants and flowers and birds and weather ... that inspire me.

This one for example came from a cold, frosty morning in spring.
Do you have an ambition to stay true to this style, or do you have plans to try some other styles and techniques as well?
Surely I will chance. I don't feel the need to repeat myself over and over.
I'll go where the road takes me.

The last few years I had a phase where I matched drawings of plants with tiny stick-figures.
(There are a lot of pictures in my stack that I haven't published yet. Shame on me)
Like that one for example (not a Tolkien one):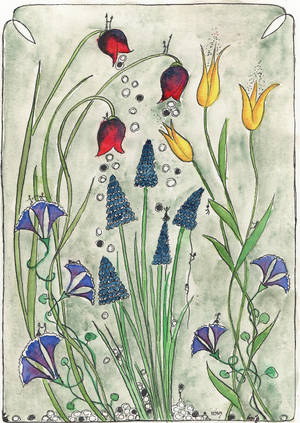 I also like to try new techniques. The focus on ink and watercolours is mainly due to circumstances.

(Tiny flat, little working space ...)
Do you have some tips and tricks you would like to share with the other artists?

Be open for new ideas and trust your gut feeling.

Stay curious and if you have the chance learn new things.
Could you tell us, which

- Tolkien illustration you are most proud of?
This is a triptych showing the dwarves and Bilbo (and Gandalf) on their way through 'Mirkwood forest'.
It's one of the first pictures which turned out the way I wanted it to. I'm really proud of it.

Also it's heavily inspired by John Bauer.

I've even won a prize for it (from the Spanish Tolkien society) so others seem to like it too.


- original picture or picture from other fandom you are most proud of?
They are both from a phase in 2009 (dear god that's over ten years ago!) when I was drawing these trees with eyes in them and goblins with leaves as hair. I still love them!

- picture fits your current mood?
My vacation is coming up and it's high time.
I'm looking forward to going cycling and spending the midday heat somewhere in the grass daydreaming and listening to the birds.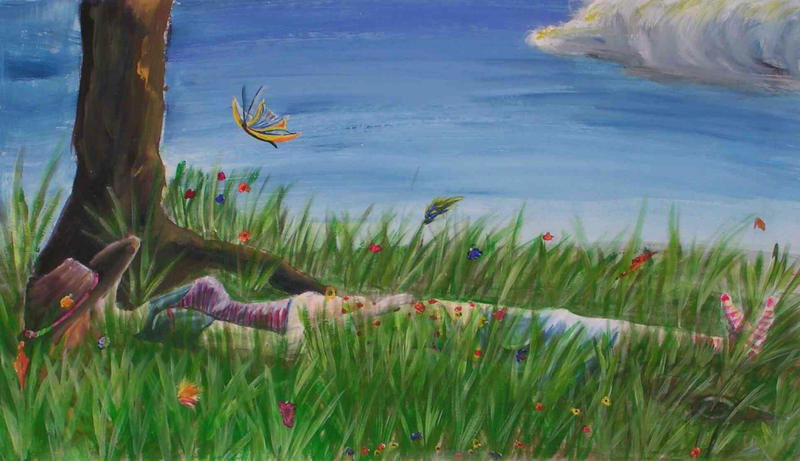 - picture was hardest to paint?
That one.

Took me a whole weekend to paint - was worth every minute!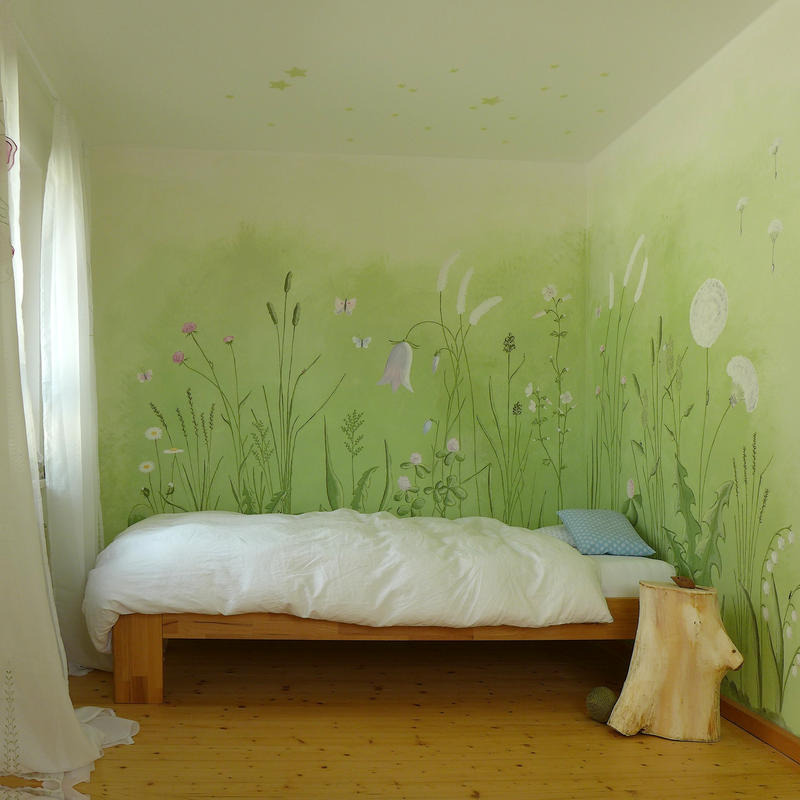 - other picture you would like to share with us and why?
Not one but three picture.

I've made a habit of painting little pictures on the walls of my flats. Here are three Tolkien ones. The 'Hither Shores' in my bathroom and the Dwarves on their way to 'Mirkwood Forest' with the 'Lonely Mountain' just behind the bedroom drawer.

Why? Because they were fun to paint and I think it's a nice way to decorate ones flat.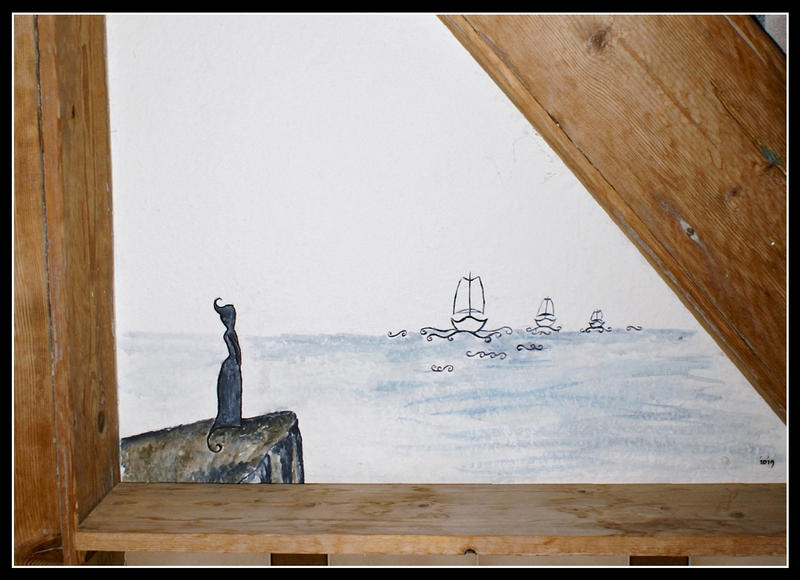 Would you like to thank somebody here? What key people in your life, (on or off of dA) have been inspirations to you, or has supported you, as an artist? You can also tell us why, if you want.
I'd like to thank all of you at dA for being so very, very creative and inspiring.
And for your open welcome especially
DavidStaege
for being a great guy and
Art-and-books
for printing many great cards for us (including our wedding invitations!).
There wasn't really any key person in my life - but a lot of people who have been very sportive of all the strange notions of mine. First and foremost there are my parents and my husband. But also some very dear friends who encourage me, hang up some of my pictures and in some cases let me paint part of their walls. Special thanks go to my brother who provides me with a wall in his home for my latest project.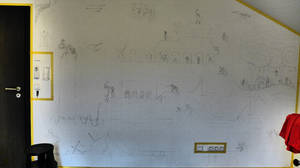 Concerning inspiration, my first one were my grandmothers chicken in our backyard.

Later on there were many classical fantasy artist whom I adored. For example Rodney Matthews, Amy Brown, Brian Froud and Bruce Pennington...
Today there are a some artists who inspire me: performer Amanda Palmer (for the sheer bloody-mindedness with which she defies convention), writer Neil Gaiman (he has such a strange mind and isn't afraid to show us) and
artist Elfi Cella (who makes such fabulous botanical collages).
Also a lot of inspiration comes from nature (especially birds, butterflies and native plants), all things concerning Art Noveau (or Jugendstil as we call it in Germany) and the minimalist movement...
Is there some artist(s) at dA you know, who doesn't have as much attention as they would deserve? If yes, could you give us some of your favourite pictures from their gallery?
This is a hard one. There are so many great artist out there and they all deserve more attention!
I've narrowed it down to seven - less was not possible:
Tolkien artists:

Artisan:
Non Tolkien:
Thank you! Is there something else you would like to tell to the fans of Tolkien and your art?
Tolkien's world is vast and manifold. I'd like to see in imagined in every way possible. Please continue to be creative and original - don't let there be one 'officially approved' way middle earth has to look like, which can never change!

To all artists here on dA (myself included) I'd like to say: "Keep on talking!"
Everybody appreciates a Llama or a fav, but it's so much better to receive a question or a compliment.
Ask about our work, tell us what you like, what you don't like, if you think something could be done better, ask us anything ... keep talking - and never stop being creative!

Thank you for your time and answers!