This week we have here a dose of dark and hot art and a very interesting talk with its creator,

- anastasiyacemetery. She speaks openly about the hard life of an artist from Siberia, fascination with dark characters and sexuality in art, and usefulness of Patreon. But first you may take a look at her gallery here!

1. Hello! For the beginning, could you tell us something about yourself?
Hello! First of all I want to apologise for my English because I'm Russian and can't speak English very well.
And of course I want to thank you for inviting me to this interview and for patience while I was trying to write English text )
Ok, I was born in Siberia, Surgut, the land of -40°C in winter and +40°C in summer. That's all that can be interesting ) It was a sociophobic life for around 18 years,
after that it became a little less sociophobic, hehe ) After moving in Saint-Petersburg I began to understand that there is the Life in this life.
Unfortunately now I am in Siberia again but have a plan to get out of here )
2. What brought you to deviatArt and how did you pick your username?
I don't remember what brought me here, it was around 10 years ago, omg so long... It was popular in that time, now we have Tumblr, Insta, Pinterest and new Patreon, in that time there were no such things. I opened a vocabulary, just put the finger on a random word on random page, it was "cemetery". Well, ok, it was "dumb" in first but the second was «cemetery». I thought it was better. Around a year ago I took a second nick "Algrass" - for fanart, because it's really hard to combine two diverse topics under one nickname. Now I have a problem, because I like the realistic style and the cartoon at the same time. And it's hard, you can lose both.

3. How did you enter Tolkien's world for the first time, and what impression did it leave in you?
I always tell the truth about it: it's hard to me to name myself as «fan of Tolkien», because I prefer science-fiction more (Strugatskiye, Azimov, Clark...) and something about dark stories (Lovecraft of course, maybe even Barker sometimes). But it was ironic that fantasy gave me characters that interested me. I'm not a master to disclose characters and most likely I'm just a person who has fun. As most "non-fans" of fantasy books, I've heard about Tolkien after the known to everyone film "Lord of the Rings". I just watched LOTR (I loved it only when I watched the full versions) and read "Lord of the Rings" and "Silmarillion". Hard books for childrens... ok, for adults too )) Tolkien never blew up my mind, but I believe that he sincerely loved his work and it always deserves respect and attracts attention. Human being who loves his job.
4. Some of Tolkien's books can be hard to read, being more of history annals than beletry. Do you let that discourage you or not? How extensive is your knowledge of Middle-earth?
Ha ha, exactly! I almost forgot everything that I didn't use for pictures ) I remember information only if it bears practical benefit (like knowledge that is useful to me in life) or something that impressed me (like a science-fiction or dystopia-utopia ideas in books). Most of the "Silmarillion", for example, had the character of a "historical reference", it could not impress me. All the impressions artists have already developed in their stories. So I don't remember a lot )
5. Who is your favourite Tolkien character and why?
I think - Huan ) Extriemly cool wolf )
6. Now, could you tell us something about you and art? Are you a professional artist, or is art just your hobby? When did you start doing it, and who or what influenced your style?

I'm not professional and it's pain of my life. I've never been in any art school, I have another higher education and I hope that one day I'll take second, true education - of an artist. If a had a real style maybe I would have started to think what or who can to influenced it. So far this style is a collection of errors as a result of the fact that there was never a person able to tell me how to do better. I'm too chaotic and there's nobody to form my style.

7. Your gallery might be a bit of a surprise for conservative Tolkien fans: your art is mostly erotic or humorous (or a mix of the two). What are their reactions, and what would you tell them?
I'is strange but I don't remember any nehative reactoins) Maybe they will be after this interview, hehe ) I'm of that kind of people, I think, who think that there's almost nothing
that you can take seriously. Almost ) Sense of humor is an uncontrollable thing, it is a means of communication. Sense of humor can not be learned on purpose, it is the result of our life experience. I can not change it, I found a way to communicate with the world through art as I can. Yep, it's strange. For a long time I lived a lonely and isolated life, often sad. So, of course, I had to develop a sense of humor and of course the erotic theme was present too. A moment of sadness) Now everything is ok)
The dark Lords were distorted. They are not only "rang the gate and ran away while somebody goes to open it". It is possible that they showed their distortions in all kinds of perversions. It's not always nice and not always likeable.
8. You often post full version of your pictures on patreon, with just a tease in your deviantart gallery. What's your experience with patreon and would you recommend it to other artists?
Interesting question ) How I wish to know English better to explain more! Т_Т Patreon has many disadvantages in the interface, I spent hours to understand these rules and to speak with administration (they are good guys, they always answered ). It doesn't have elementary features such as smiles in dialoge or the function to add more than one picture in post. But! I am convinced that it's a unique site for now, it's different than Kikstarter, it's more suitable for artists and in perspective it can give a priceless thing - more freedom in life and art ) I hope to assemble just 100 patrons, they give me enough time to up my skill and start to
draw something more interesting, I think ) Of course I recommend this site! But remember: it's not so internally interactive and you can attract patrons most from other sites.

9. I always wondered about the influence of having a patreon account on artistic freedom. Since you do make some money with your art there,
do you feel like you draw for yourself or more for the people who support your art? Do you try to come up with something that would appeal to them, or just draw what you want to?
Well, about freedom. If you don't have money - you are not free anyway ) I must work in a store or medical center to have this money ) Do they give me an artistic
freedom? Of course not ) Patreon CAN give much more artistic freedom. Of course I must support the necessary number of drawings and the necessary balance of topics but when you have really many patrons - you must experiment with topics as you like. You don't have to take commissions (only if you like), you don't have to do not-your-work in life, and of course it's an artistic freedom, not in absolute but in its maximum. The absolute - when you was born rich and can to do what you like )
10. Gothmog is a bit of your trademark-character. How did you come up with the design and character of that sexy balrog (and other balrogs in your drawings)?
Absolutely spontaneously, as always ) He is flexible and spontaneous, frivolous, individual but impersonal, the embodiment of sex >_< )) And he is always a bit
changing, it's so strange. It's my unprofessional skill Т_Т I hope to make more cute and sexy monsters, but this guy is so nice for me that I want to draw him more)
11. Sexuality is a bit of a taboo in Tolkien's original work, which was a product of his time. What do you think of sexualizing Tolkien's characters, especially the dark lords, and why do you think did such views get more popularity recently?
This is a social reality, which is aimed at individualism today. Dark characters are cool. They are single, but strong. Especially those who were lonely in their childhood and adolescence, who too disliked themselves and were not loved by others want to associate themselves with them, so "bad guys" are always in popularity, because very few of us experienced a true love for ourselves and others. This is an attempt to love and exalt yourself, being an outcast in life. For the love of "light" you need to be a more complete and strong person, you need to grow in love. I think society will go to "light" only when it becomes more healthy.
People from this type of fandom whom I know - are alone. And of course they do not have enough love. The lack of love always showing itself in its extreme
forms of sexuality and aggression, manifested in bad characters. Of course, this is only my opinion.
12. Your humour is also quite characteristic (I don't know about anyone else who would draw Azog as Marilyn Monroe

). Where do you get these ideas?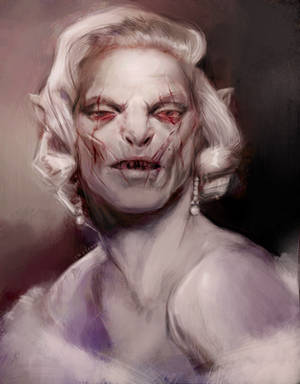 ow, you know, it's sooooo hard to be funny im another language! I'm much more funny in Russian )) I have some pictures that don't have a correct translation to English, they are only in Russian fandom. Why was I not born English-speaker Т___Т

13. What other book or movies (or anything else) inspire you to create fanart, and why?

Ow, now I don't have any other book or movie that I can process into art. I wanted to do Lovecraft panteon, but they are unespeakable for now. Of course, I loved Alien by Giger and the films, maybe Alien has a certain effect on features of appearance of my monsters and even people.
14. What art technique is your favourite? Do you rather keep to the art techniques and styles you are familiar with, or do you experiment with new ones as well?

I'm spontaneous, do not have clear instructions and do not recommend it to anyone - it's my fault )
15. Do you have some tips and tricks you would like to share with the other artists?

Of course. A useful exercise: put the pen down, sit straight and think about finding a normal job )
16. Could you give us a link or thumbnail from your gallery of

- a Tolkien illustration you are most proud of?


- a picture from other fandom or original picture you are most proud of?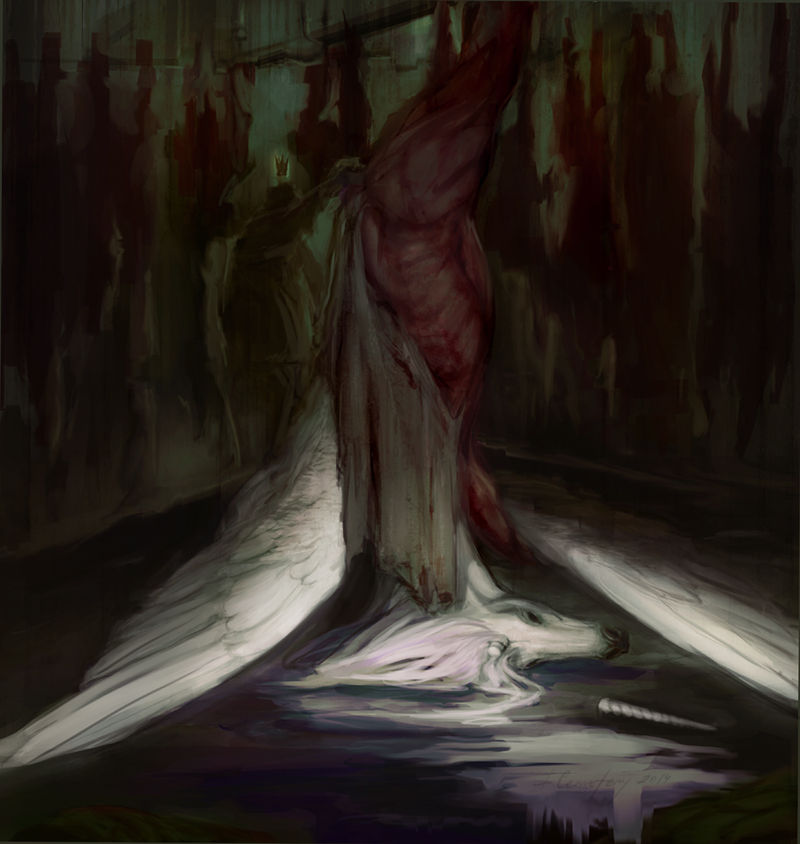 - a picture that fits your current mood?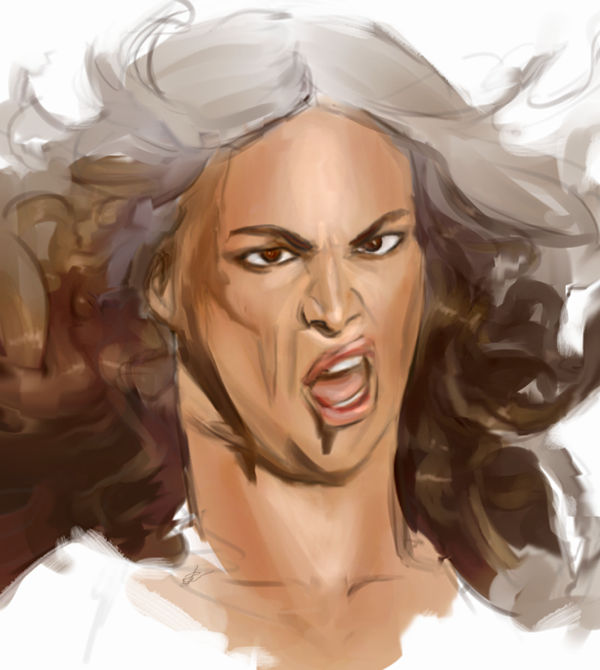 - a picture that was hardest to paint?
all cartoon or comics style was hardest - it's new to me
-
a picture that is most special to you?
(but it's old and more ugly than others)

16. What key people in your life, (on or off of dA) have been inspirations to you, or has supported you, as an artist? You can also tell us why, if you want.
All of that is one person that ever told me good words about my art )
I've started to draw because of my best-best friend ) She is a nice artist, she was in the same useless University as me, in my group. And
she was just drawing. I saw this and I've started too. Thanks to her for that ) Now I've been in cool Russian group on VK - House of Melkor and this guys have supported and inspired me too. There was another cool group in VK too but unfortunately it was closed.
Aaand of course my patrons, it's very important.
17. Is there something else you would like to tell to the fans of Tolkien and your art?
To the fans of Tolkien — sorry for all of this )) It's not me, KGB made me do this.
To all - don't be born in Siberia! Don't make art, find a good job! )
Seriously, I do not think that I have the right to give advices until I'm not living the life that I want to live. I don't know how to live )
I just wish you the best and of course a million dollars so that you can become my patron, hehe ) Life is short and I wish you to spend it in a place that you love with people that you love and making the things that you love. And I don't always answer but I always read you feedbacks. Thank you 8 )
Thank you for your time and answers!