- The-Black-Panther is the creator of another humorous Tolkien themed comic series titles "Meet the Nazgûl". So, what are we waitiing for? Let's meet them... and her, as well!




1. Hello! For the beginning, could you tell us something about yourself?
Hello, my nickname on dA is the-black-panther but elsewhere I use simply Pantera. I'm from Poland and I've been drawing since I remember.

2. When did you read Tolkien's books for the first time, and what impression did they leave in you?
I read
The Lord of the Rings
relatively late, shortly before the film
The Fellowship of the Ring
was released. What's more I already know the two major spoilers – that Boromir is going to die and Gandalf is going to return. Well, just my luck. However, it didn't prevent me from enjoying the read. What amazed me was how complex the world was, how very much alive.
The Lord of the Rings
is one of those books, which leave no doubt that the author had taken into consideration everything from the wide background to the smallest details. Later I read
Hobbit
,
Silmarillion
and some other books, but
The Lord of the Rings
was the one I kept coming back to.
3. How extensive is your knowledge of Middle-earth? Do you consider yourself Tolkien expert?
No, I don't. To be honest my bookshelf with Tolkien's fiction and Middle-earth related books is rather short. In most of the cases – no matter if it's a book, a film or a tv show I tend to focus on background characters – Tolkien's books are no exception and that's why Gríma, Saruman and Nazgûl are among my favorite ones. I guess that's why I also like
Unfinished Tales
the most, especially the story about Nazgûl's Hunt for the Ring and the chapter about Istari.
4. When the movies came out, many of the inner pictures of characters and scenes in the mind of the readers have been replaced by actors and settings from the movie. Did it happen to you as well? Did you try to prevent it?
There is no way to avoid some of it, because the film posters were the first thing that got me attracted to the story. I was well familiar with the faces of the actors when I started to read
The Lord of the Rings
. I guess after watching the films the landscapes and locations melted with the description in the books in my imagination – especially in the cases when they were so well reflected, especially Shire, Rohan and Isengard. It looks different when it comes to the characters. Although I like to seek some inspiration for the pattern on the clothes (Saruman's robes embroidery for example) the one I draw the most, Gríma, doesn't look like Brad Dourif. He is much younger, perhaps even too young for someone, who managed to became the king's counsellor and destabilise Rohan's defense so effectively. He also doesn't look like a-very-suspicious-guy-planning-something-very-cunning, more like some random guy (which I think is justified – a spy shouldn't raise suspicion). On the other hand the portrayal of Christopher Lee has influenced my image of Saruman, but I liked it so much that I have never tried to actually get rid of it.
5. Now, could you tell us something about you and art? Are you a professional artist, or is art just your hobby? When did you start doing it, and who or what influenced your style?
I used to work for a few years as 2D animator. However, I've never took any professional art course and drawing was always a hobby. I started drawing dragons when I was 8 or 9 years old after I saw a picture of a dragon in a magazine about dinosaurs. It was standing on hind legs and I was greatly surprised years later, when it turned out that majority of dragons is shown as quadrupedal – quite on the contrary to my vision. Horses and animals were a popular topic too. Later I moved between various fandoms but I never gave up drawing dragons. I think I can't point out clear influences. I like clean black and white pictures thanks to Dylan Dog comics, drawn by various artist – it's really amazing what they can achieve using this technique. I like to put tiny details in background just like Don Rosa did. I also like Bruce Timm's style, who is best known from his work on animated series for DC (
Batman: The Animated Series
,
Batman Beyond
and others) and try to incorporate something similar in comics.
6. You are an author of the "Meet the Nazgûl" comic. How did you get the idea for it? And why exactly the Nazgûl?
The first part of
Meet the Nazgûl
was drawn as gift for a friend, who is a Nazgûl fan. And then suddenly was an idea for the second part and for another, and another... Some things, which appear here or there like Nazgûl Horse Express and Gríma's acquaintanceship with Nazgûl, come from fan fictions I wrote. Sometimes I get inspiration from discussions in the comments under the comics, but often it's just everyday life – Nazgûl can't survive their existence without strong coffee, have hard, ungrateful job and a demanding boss, who supervise them all the time and doesn't want to give them a day off, even if it's only one for every 712 years in service. Doesn't it sound familiar (maybe except the last part of the sentence)? As for the second question - well, first of all, Nazgûl are pretty easy to draw.

What's more it turned out that a bunch of wraiths with everyday problems bothering them make a funny combination. But what's is more interesting about Nazgûl's story in general is the fact that they not always were those dreadful creatures. They used to be humans. Deep down there is the misery, when you start to think what fate came upon them. Probably not all of them were bad in the first place, some might use the rings from a desire to do good. That's why one day I would like to make a bit more serious comic about Nazgûl.
7. Is humour and fun an important part of your life?
One might expect a person who draws humor art to be light-hearted, optimistic and cheerful. Well, that's not my case, because I'm rather withdrawn and I don't open easily to people. However, when it comes to dealing with reality and the fact that life has a tendency to drag you back drawing or writing humour stuff can be helpful to some extent as well as the ability to focus on the ironic side of the situation.
8. What art technique is your favourite? Do you rather keep to the art techniques and styles you are familiar with, or do you experiment with new ones as well?

I used to draw a lot using automatic pencil and pigment ink pens. However, I started to switch more and more to digital art, partially because my scanner had broken down and partially because I started to draw on Wacom tablet. Right now I mainly draw vector art. I couldn't achieve the effect I aimed to while drawing by hand on tablet in Photoshop, so I started to create outlines in Illustrator, which is my favorite technique right now. As for the styles it depends on the theme. I'm trying to master more realistic way of shading, but there is a long way ahead of me. I feel more familiar with black and white drawings or cel-shading coloring.
9. Do you have some tips and tricks you would like to share with the other artists?
Nothing special here. When it comes to drawing comics rough sketch of page layout really makes life easier. It might sound obvious, but I didn't do it when I drew the first parts of
Meet the Nazgûl
(and that it's the reason why they look like crap). When I draw I often use photographs as a reference. I made a few pictures based almost entirely on a photograph, but then I gradually moved on and now I use them to get a general idea for the poses. I would also recommend vector art to make clean outlines - it works for me, maybe it'll work for someone else.

10. Could you give us a link or thumbnail from your gallery of
- a Tolkien illustration you are most proud of?

It would be this one, although the shading here is far from being perfect.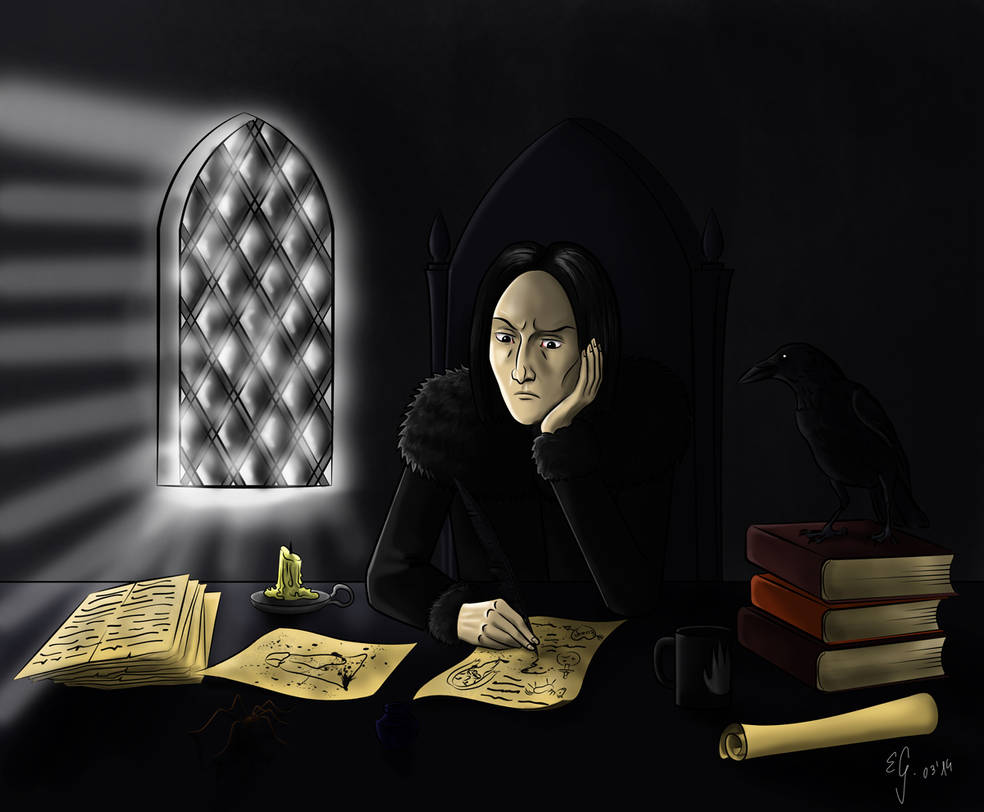 - a picture from other fandom or original picture you are most proud of?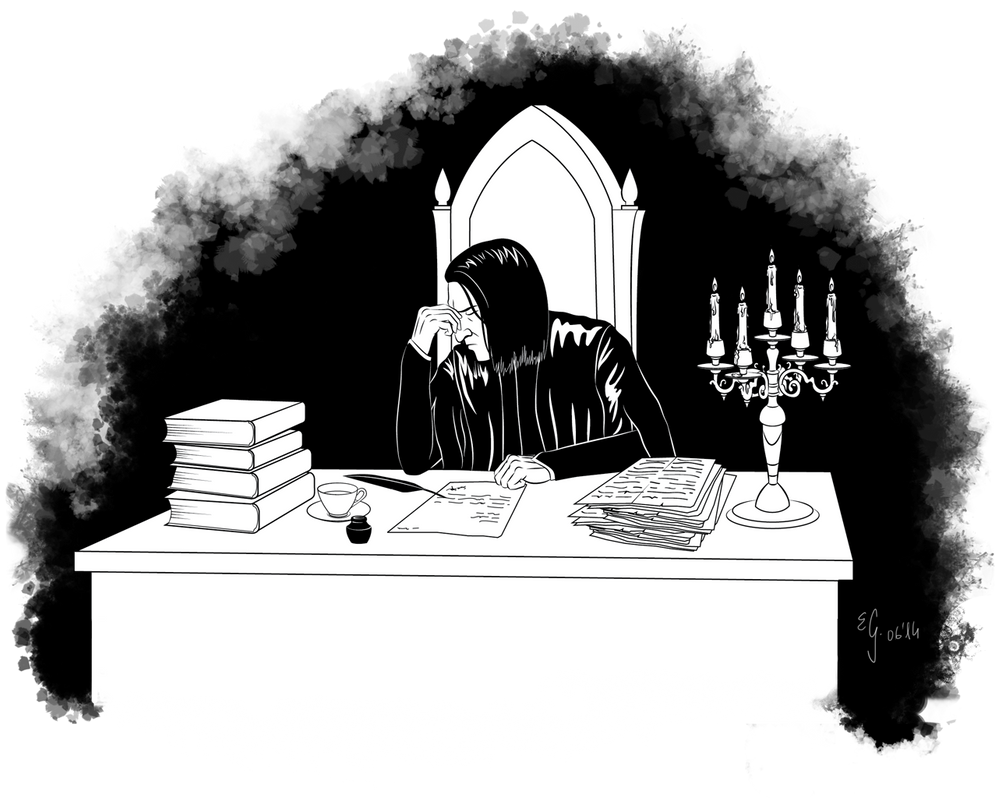 - a picture that fits your current mood?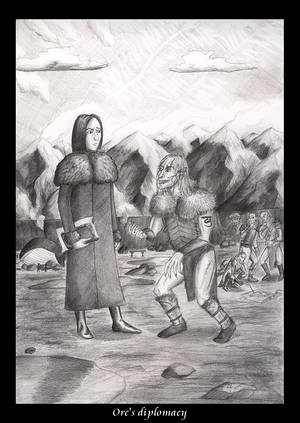 - a picture that was hardest to paint?
Drawing this page was quite challenging.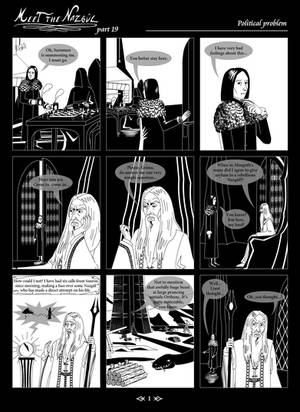 - any other picture you would like to share with us and why?

It has to be a dragon of course. I quite like this one, because I figured out how to get rid of the outline while drawing this.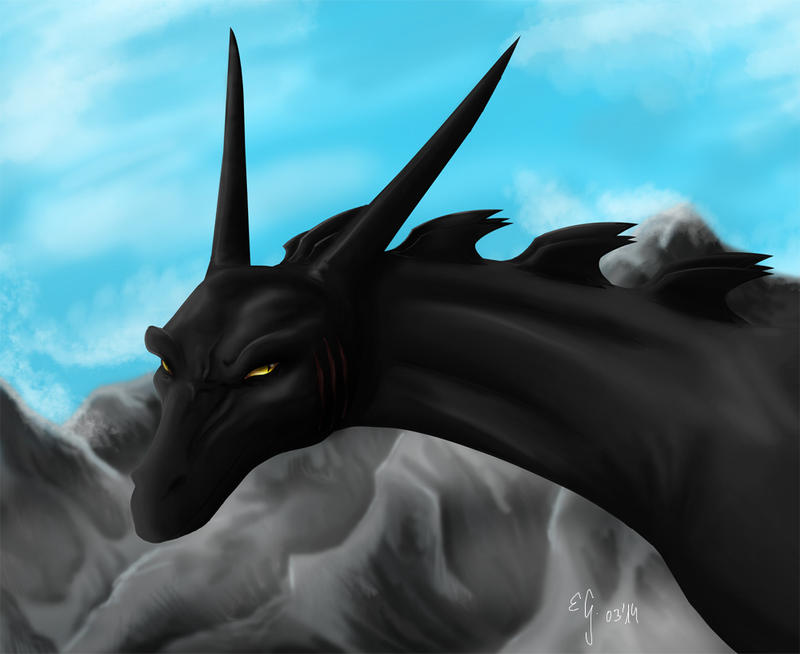 11. What key people in your life, (on or off of dA) have been inspirations to you, or has supported you, as an artist? You can also tell us why, if you want.

Honestly I can't name such key people. When it comes to writing I could make a list of a few authors, who influenced me. For example Joanna Chmielewska, who was a Polish author of criminal novels full of witty and unique humor. She drew inspiration for her stories from life, putting into the plot of her books alter egos of her friends, family, colleagues from the work and also herself. Maybe after all something from her works influenced my art too, because I also like to look for inspirations in the same way she did. But I don't know where does that need to draw coming from. It just exists. They are artist on and off dA whose technique and skill I admire, but I wouldn't like to copy their style or vision - aiming for the same level is quite a different thing. As for the support I have a colleague, who I can always ask about tips on shading and coloring.

12. Is there some artist(s) at dA you know, who doesn't have as much attention as they would deserve? If yes, could you give us some thumbnails from their gallery?
Sure.

There is going to be nine artists like nine Nazgûl (and ten drawings, because I couldn't decide which picture choose in one case).

13. Is there something else you would like to tell to the fans of Tolkien and your art?
I've never really felt like a popular Tolkien artist, but I'm happy every time when I get comment or a sign that someone follows
Meet the Nazgûl
and finds those stories funny. So thanks to all of you, who not only read, but who also leave the feedback. I guess Gríma, Saruman and Nazgûl related art belong to minor part of the fandom, but I'm going to fill it as long as I have an inspiration to carry on.
Thank you very much for your time and answers!Previous talks:

with Gold-Seven
fav.me/d6aprnx

with steamey
fav.me/d6bx1lc

with ekukanova
fav.me/d6dzooz

with Tulikoura
fav.me/d6gqc7f

with AbePapakhian
fav.me/d6l0qap

with kimberly80
fav.me/d6nt0jo

with jankolas
fav.me/d6o41tp

with jgilronan
fav.me/d720ty2

with ebe-kastein
fav.me/d7432vw

with MatsumotoSensei
fav.me/d76jc7r

with TurnerMohan
fav.me/d78r8wr

with ullakko
fav.me/d79rfcc

with batwinged-squirrel
fav.me/d7aoebk

with wolfanita
fav.me/d7awlf3

with marisoly
fav.me/d7awlg4

with kaijukid
fav.me/d7n5duj

with faQy
fav.me/d7ox700

with hitogata / kittykatkanie
fav.me/d7qsais

with spiegelscherben
fav.me/d7r6bdi