It is my pleasure to introduce a talented ukrainian artist

- Skvorr to you with this talk. If you follow her gallery, you can not only find great Tolkien themed art, but also many interesting adpotables or commission a painting just for you.
1. Hello! For the beginning, could you tell us something about yourself?
Hello! First of all, I should apologize for my bad English. I hope you tolerate my mistakes.
My name is Natalia, I am twenty two years old and I live in Ukraine. At the moment I get a diploma of higher education in the field of painting, and in the future I plan to continue to develop in this area. I am interested in fantasy, RPG and board games.

2. What brought you to deviatArt and how did you pick your username?
I was looking for a suitable platform for my creativity outside the CIS, and deviatArt seemed to me to be the most convenient site where it was easy to get started. But my username has a long history. In social networks I use the name Starling (in Russian it will be read as Skvoretc). Gradually, this word was reduced to Skvorr.
3. How did you enter Tolkien's world for the first time, and what impression did it leave in you?
This is a strange story. I first met Arda in early childhood, when my mother bought me a Hobbit, but I really got carried away only a few years ago. My favorite person introduced me to this world, showing it from a completely different side. In any case, both of my "first" times left a surprising aftertaste of magic.
4. What creates the image of Middle-earth in your mind? Is it more influenced by the books or movies, or maybe other artists, and did it change over time or remained the same?
I think, like many, I was influenced by Jackson's film adaptation. The design in them is really great. But I was faced with the fact that many people directly copy it, which is why there is a lack of diversity. Now I'm trying to add more Romance to my fan art.
5. Some of Tolkien's books can be hard to read, being more of history annals than beletry. Do you enjoy the scholarly side of studying Tolkien's world as well?
That is what I like. I love the Silmarillion, but the Lord of the Rings is cold enough. I like innuendo and the ability to analyze, to seek the truth.
6. Who is your favourite Tolkien character and why?
Maedhros, perhaps. This character has such a hot mixture of nobility and dishonor, devotion and betrayal, incredible inner strength that he can leave very few people indifferent. It is a pity that many underestimate him.

7. Are there some topics in Tolkien's works that you are particularly passionate about?
Yes. I like the motive of senselessness of war. In addition, even the dark characters of Tolkien are not evil initially. Melkor and Sauron built their way, initially guided by no evil intentions. It makes you wonder.
8. Now, could you tell us something about you and art? Are you a professional artist, or is art just your hobby? When did you start doing it, and who or what influenced your style?
I make art a living, although I paint only four years. I always wanted my style to resemble the work of Asians, like Ruan Jia, but to this I was very far away.
9. What's your creative process from picking the theme to finishing a picture?
The most standard process. I make a lot of quick sketches, trying to find a good composition and idea, and then just draw.
10. What other book or movies (or anything else) inspire you to create fanart, and why?
I once drew a little on Dragon age, but now somehow I don't want to.
11. What art technique is your favourite? Do you rather keep to the art techniques and styles you are familiar with, or do you experiment with new ones as well?
I am always looking for ways to get better. Right now I'm learning 3D, and I hope to embed it in my work soon. Traditional techniques are something I'm not very fond of, but among them I like watercolor, oil and coal.
12. Do you have some tips and tricks you would like to share with the other artists?
I have one piece of advice: do not look for easy ways.
13. You offer commissions, adopts and "your character here" pictures. What is your experience with this type of business so far? Would you recommend it to artists looking for a side-income?
YCH I started to study quite recently and I can advise very little. It can be hard to find customers, but this is an interesting job.
14. Could you tell us, which

- Tolkien illustration you are most proud of?
I have an illustration for the Silmarillion, which causes me the greatest pride, although it is rather old. I created it with love and excitement, and I think it feels.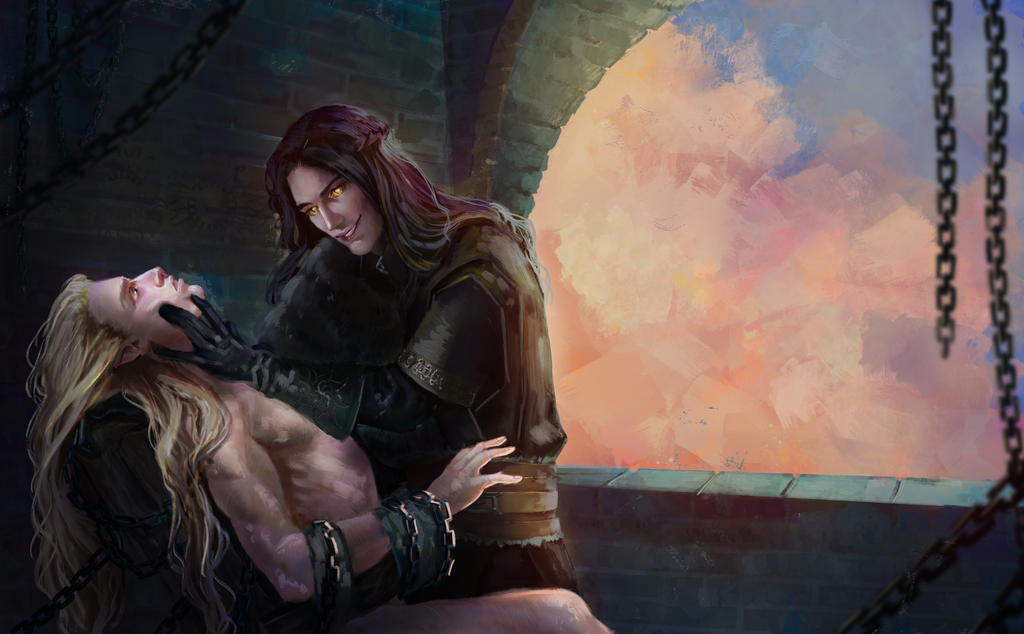 - picture was hardest to paint?
The work on Irmo was the most difficult for me. There is a complex color scheme; it was not easy to maintain a balance.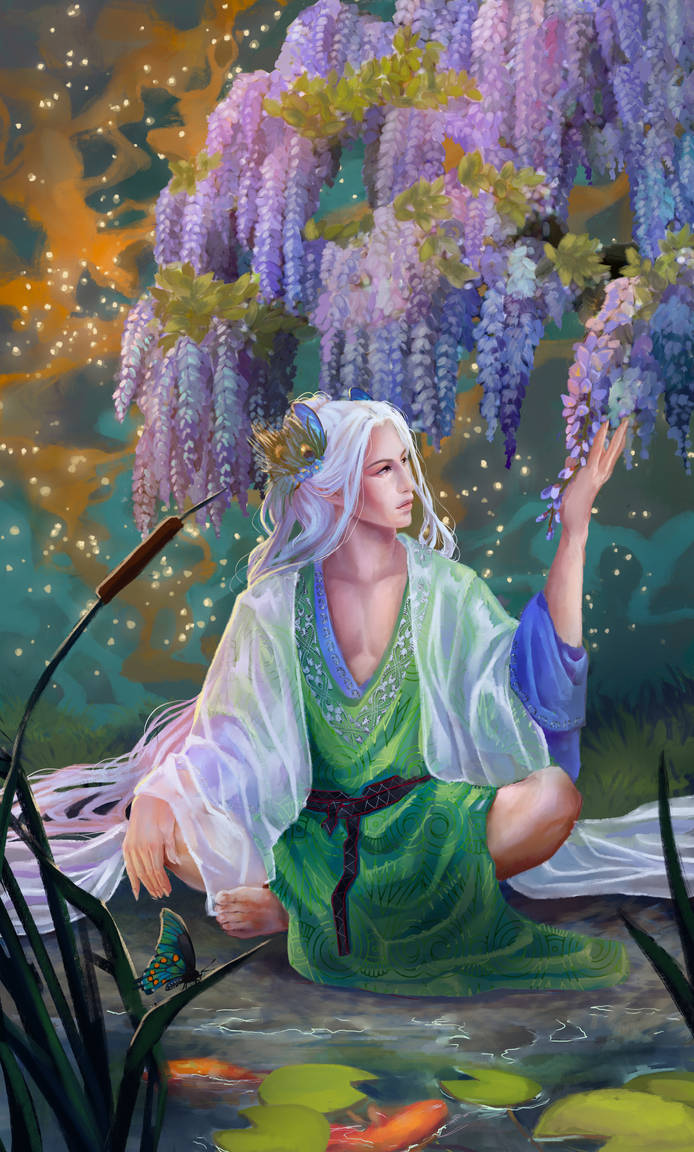 - other picture you would like to share with us and why?
In addition to her, I like this adopt. I drew and sold many adopts, but this design still seems to me to be the best.

15. Would you like to thank somebody here? What key people in your life, (on or off of dA) have been inspirations to you, or has supported you, as an artist? You can also tell us why, if you want.
I cannot say that I have ever had people supporting me on my way. But at one time I was very inspired by the games Bioware, I wanted to work on creating them. Until now, this dream partially makes me strive for the best. My grandmother also helped me a lot. She is a good person, and the only one immediately accepted my choice.
16. Would you like to use this space to give a feature to someone? Is there some artist(s) at dA you know, who doesn't have as much attention as they would deserve? If yes, could you give us some thumbnails from their gallery?
17. Is there something else you would like to tell to the fans of Tolkien and your art?

I do not think that I am so famous to have fans. But Tolkien fans should know for sure that they are amazing people, and everyone makes their own contribution so that Arda is not soon forgotten. This is really cool, guys. I admire you.
Thank you for your time and answers!