In this issue I bring you a talk with the creator of these wonderful pictures below,

- Rami-fon-Verg
Hello! For the beginning, could you tell us something about yourself?
Hello! My name is Rami fon Verg. I'm a freelance illustrator 27y.o. from Moscow, Russia. Transgender (FTM) (He/his/him).
I'm left handed.
I painted as I can remember.
Now I prefer digital art, but I finished art academy as a traditional oil artist. I love fantasy, myths and legends.
Books, movies, nature and music inspire me.
At this moment I'm working on commissioned arts and my own projects.
My dream is to create my tarot deck and comic book about my OCs.

That sounds awesome, so let me ask right away about your original characters before we get to Tolkien. Can you introduce them and their story a little?
With great pleasure!
In general, this is a story about the adventures of two twin brothers - Azrail and Svetomir.
They live in a fantasy universe very similar to ours. But in their world magic, vampires and faerie are almost commonplace.
The story of the brothers speaks about love, about death and about the hardships that both suffered.
Perhaps the main thing that I want to show in it: in the world there is no clear division into black and white. There are much more shades ...
How did you enter Tolkien's world for the first time, and what impression did it leave in you? Was there any inspiration for creating your story from him?
In elementary school in our literature textbook there was an excerpt from "The Hobbit". It impressed me very much. There, Bilbo and the dwarves clashed with spiders. It was very scary and very interesting.

I remember how after that I loved to play with toys at the rescue from the web .... Oh))
But the real acquaintance took place after the release of the second film "The Lord of the Rings: The Two Towers". I became interested in the universe. On the third film I went to the movies. Then I bought a DVD collection with the whole trilogy and rewatched it many times ...
I must say that this was the fate that from childhood I was surrounded by Tolkienists. My friend at art school literally got sick with Tolkien and infected me with her enthusiasm. She persuaded me to read books.

She often told how older children in her lyceum take out the younger generation, asking for dates of Finrod's life, for example.

Yes, she was lucky to study at a lyceum full of Tolkienists. I also wanted to go there, I thought there was some kind of fairy-tale world))
But in my life everything turned out differently, and, perhaps, this is for the better.

I had no reason to be disappointed in her amazing stories. I was filled with love for the world of Professor Tolkien, and was able to get inspiration from it for my arts.
I never went to the role-playing games and didn't run through the woods, wearing curtains. Well, I probably missed a lot) Let it be so. But I continue to communicate with people from this community. They are close and interesting to me.
As for Tolkien's influence on my own stories — to some extent, yes. Now I will try to explain.
I grew up on the works of people inspired by the world of Middle-earth. This is a lot of songs and musicals, these are fan fiction, these are books, games and arts.All this huge cultural layer makes you think about a lot of things. For example, how unequivocal are good and evil. About what is good and what is bad. How guilty are the villains and how blameless the heroes are.

My characters, twins Azrail and Svetomir, are antipodes to each other. One is black and the other is white. But the story tells that there are no simple and right decisions.

I want to say that everything is very multifaceted and ambiguous in the world.
So what do you think about good and evil in Middle-earth? Is your art depicting Tolkien's character inspired by those thoughts?
It seems to me that in the works of Tolkien world history is shown by the goodies. And the villains are doomed in advance. Because good always triumphs over evil. Bad guys always stay bad. And this is somehow sad. My works on Tolkien's world are not direct illustrations of the Silmarillion or other books. Basically, these are private commissions or gifts to my friends who are addicted to cosplay or fan fiction.

For example, my first art in the Tolkien universe appeared thanks to my friends from "House of Melkor" (creators of the same name fanzin).
These guys gave me some inspirational fan fiction. (They are written in Russian, so I can't recommend them to you.)
Haha, I think it is now clear which side of the force I belong to))
At least that explains a lot about my artworks on Tolkien.
It was always hard for me to draw according to the canon. Too much controversy was around. I like to keep some frivolity in what I do. I like to be naughty and play with meanings.
My growing up in a tolkienist get-together led to the fact that I'm afraid of encroaching on the canon,
as if it were holy sacred)).

What about the visual image of Middle-earth in your mind? Is it more influenced by the books or movies, or maybe other artists, and did it change over time or remained the same?
My visual image of Middle-earth is most associated with books and songs. That is, I like to fantasize, catch scraps of images that are most based on my inner world. The films influenced my vision of some characters, but not the world at large. For example, I read The Hobbit before the release of films, but now I can't imagine Bilbo's face otherwise.
But in the case of Galadriel, I fundamentally disagree with her version of the film.
I'm extremely amused by the image of Thranduil in the films, but, again, I can't take such a character seriously. He is cool, sexy, mannered, but he is absolutely not from my Middle-earth. Rather, from his distorted version of fan fiction
(which I also like, but this is no longer
a canonical
universe).
There are two separate rooms in my head. One for serious and thoughtful admiring of the canon, and the second for pranks, games and entertainment, based on some Tolkien fan art.

Some artists inspire me with their vision. For example, Elena Kukanova EKukanova. I love her artworks. They are so deep and magical.
I like her vision of many characters.
It's evident that her soul of the artist belongs to the
Middle-earth.

Another example of an artist is Anastasiya Cemetery @
anastasiyacemetery

.
Strong, passionate, full of feelings (and often more black humor) artworks.

I think that one way or another we are all confronted with the influence of the environment.
It's unavoidable.
And now my vision of Middle-earth is different from what it was in childhood. And, I'm sure, will change further.
Who is your favourite Tolkien character and why?
Most of all I love Gandalf. He is a terrific character. He is an ancient, powerful magician and a very clever manipulator. He is optimistic, kind and gives people hope.
I also like all the heroes of the Fellowship of the Ring. Their characters are qualitatively and deeply spelled out.
Are there some other topics in Tolkien's works that you are particularly passionate about (or just would like to talk about)?

I really like ents. These are the creatures closest to me in spirit.
Seriously. I admire their eternal leisureliness and wisdom.

Perhaps, in addition to admiring the depths of the world, I can only add that Middle-earth will always remain a tempting place where I really want to visit.
How and when did you decide for a career in art and who or what influenced your style?
I decided to become an artist s
ince childhood
. At 5 years old I was sent to an art school and since then I have had no doubts about the future.

Regarding the influence in my style, answering this isn't so simple.
At first it was my teachers at my art school and my friend (yes, the one who told me about Tolkien).
Then I found out about Vrubel. This artist amazed me.
Further, the Pre-Raphaelites influenced me (
They still remain my favorite artists.)

And finally, when I started draw digitaly,
I learned a lot of stunning contemporary artists painting digital art.
Among them:
Ruan Jia
Wei Feng
Valentina Remenar
우진 오
These are titans of art on which I want to equal.


How do you decide what to draw and what's your creative process from picking the theme to finishing a picture?
I find strange ways... I usually draw sketches for new art in the subway or at festivals. It works best for me on the road or in crowded places.
A few very rough notes are enough for me to draft an idea.
Next, I come home and do a color sketch in Photoshop. If the idea is still burning, I draw on.
Ideas in my head come from the depths of fantasy. I rely on my favorite stories and images, and also think about how to combine this with the projects that I'm currently working on.
In the end, the artwork can be very different from what was intended at the beginning. But this is good, this is the creative process.


What other book or movies (or anything else) inspire you to create fanart, and why?
Now there are more and more such things every day.
It can be books, series, manga, films, anything.
But recently, I was scared to draw fanarts.
The reason is simple: no one will make a character better than the author.
Now this barrier is over.

My fanart list includes Harry Potter, the
Versailles
series, the
Good Omens
series, and the chinese novel Mo Dao Zu Shi (the grandmaster of demonic cultivation). Oops, it can be a spoiler)

A variety of characters inspire me. And I'm interested in showing my vision, new moments behind the scenes.
Fanart helps not only entertain the viewer, but also convey important thoughts to them.
Do you have some tips and tricks you would like to share with the other artists?
I think one of the most important tips I can give is to believe in yourself. Be curious, there are a lot of interesting things in the world. Admire the beauty. Be free.
And the rest will come by itself)
Could you tell us, which
- Tolkien illustration you are most proud of?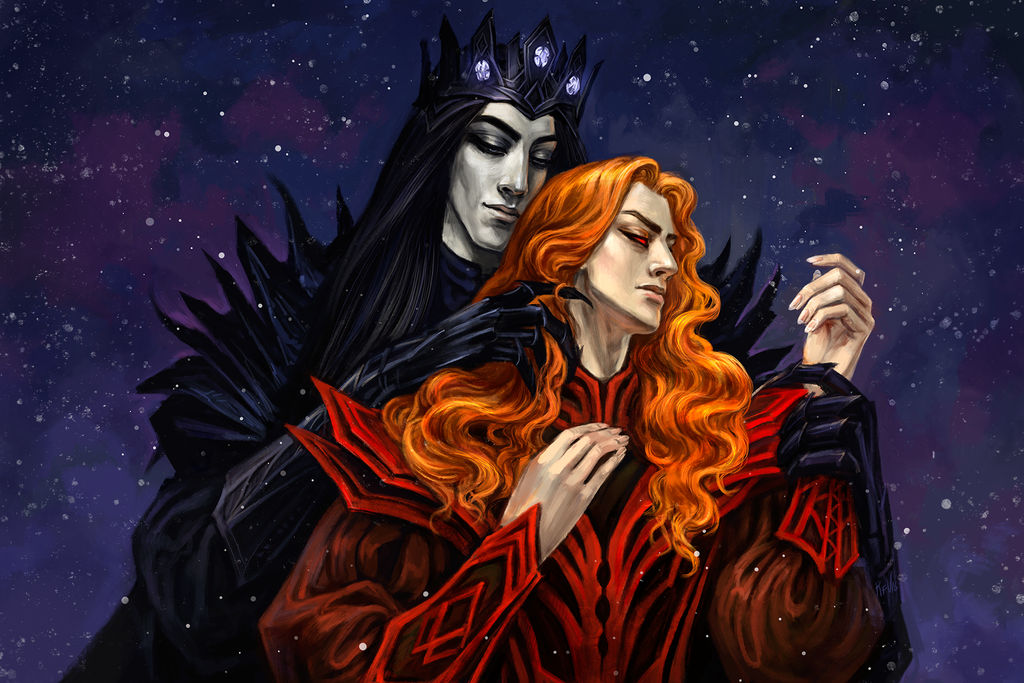 This one. I drew it quickly and with big feeling)
- original picture or picture from other fandom you are most proud of?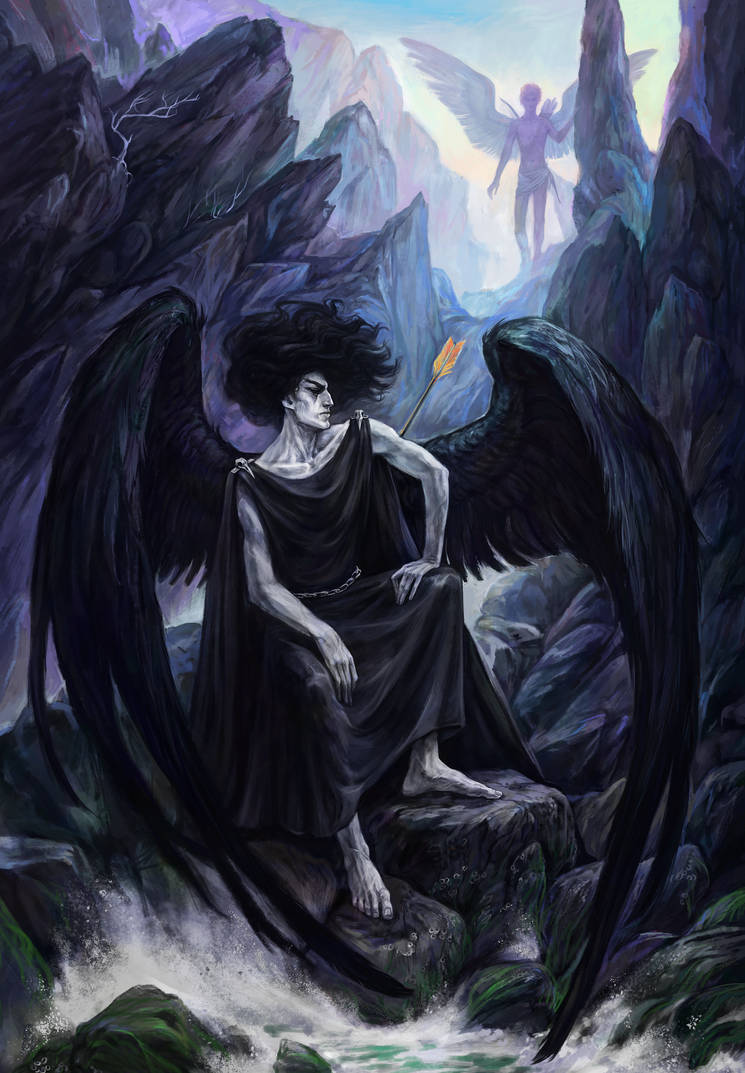 Maybe, this one.Thanatos. One mythology fanfic (is in Russian) inspired me, and for several years I kept sketches for it. And then the Mithbook happened (russian artbook). And I drew it.)


- picture fits your current mood?
Hahah, this is not my art, but...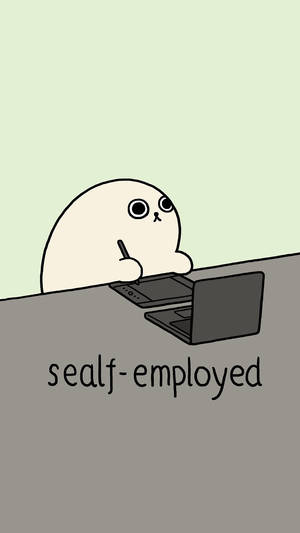 - other picture you would like to share with us and why?
Would you like to thank somebody here? What key people in your life, (on or off of dA) have been inspirations to you, or has supported you, as an artist? You can also tell us why, if you want.
My love, my heart and my favourite artist Telion-Gall
Telion is my best support in this life.
Thanks to him, I live as I want and draw what I want. And I'm happy.

I also want to thank my Painting Teacher - Ostapov Yuri Pavlovich. My life forever belongs to art. Thanks to You.

And big thanks for all my followers! You are the best.


- Would you like to use this space to give a feature to someone? Is there some artist(s) at dA you know, who doesn't have as much attention as they would deserve? If yes, could you give us some thumbnails from their gallery?
Yes, these wonderful artists:




<da:thumb id="809901186"/><da:thumb id="795951892"/><da:thumb id="806780593"/>


Is there something else you would like to tell to the fans of Tolkien and your art?
We are very lucky. If circumstances force us to stand firmly on the earth, we can choose which one.
That's a great thought

Thank you for your time and answers!