Maybe you have already discovered the Tolkien-related gallery of

- NimwenHabareth, and maybe not yet. Despite drawing for a long time already, this Polish artist only joined deviantArt recently to give us the pleasure of enjoying her pictures. For those who yet didn't, go browse through it, and then come back for a talk with her




1. Hello! For the beginning, could you tell us something about yourself?

The Guardian of Twelve Seals and Maker of the Glyphs of Fortune. Just kidding – I'm an ordinary low-grade clerk in love with Tolkien's Legendarium.
2. You only joined deviatArt recently. What brought you here, and how did you pick your username?
I've been browsing deviantArt for years and I wanted to join the community as soon as I improve my drawings and paintings enough to submit them without embarrassment.
NimwenHabareth is simply Sindarin translation of my name and surname
3. You posted a lot of pictures into your gallery right after joining. How long have you been drawing them, and is this the first time you share them online?
Some of the pictures I made when I was in highschool.
The first of the LOTR illustrations ('Frodo') was made in 2013. Then came 'Bilbo', 'Gloin', 'Gimli', 'Galadriel', 'Boromir', 'Gwaihir', 'Hama', 'Gandalf' and 'Arwen' which I posted at
www.elendili.pl/

4. How did you enter Tolkien's world for the first time, and what impression did it leave in you?
I saw the movie 'The Fellowship of the Ring' in 2002 and I totally fell in love with it. I couldn't wait to see 'The Two Towers' and almost at once I started to gather anything connected with JRRT's world
5. How much did the movies influence your imagination when reading the books?
If the characters or scenes in the movies harmonized with – at least – the books' inner 'atmosphere', I imagined them while reading (I can't even remember how many times I read the novels!) much like they appeared in the films. But if they differed, I took much pleasure in creating them anew. For example: Viggo Mortensen fits the role of Aragorn well but I had to create a Titian's Ariosto-like Boromir (proud guy with dark hair) instead of Sean Bean.
As for the scenography, I was pleasantly surprised that 'The Two Towers' and 'The Return of the King' met my expectations.
6. Some of Tolkien's books can be hard to read, being more of history annals than beletry. Do you let that discourage you or not? How extensive is your knowledge of Middle-earth?
'The Silmarillion' may be read like any fantasy novel but I treat 'The Unfinished Tales' or 'The History of Middle Earth' rather like 'Tolkienology', so to speak, a history (or even archaelogy) and not an art. Despite of this, I enjoy a lot playing 'a scientist'.

7. Who is your favourite Tolkien character and why?
Gandalf is my number one – for his wisdom and courage. And the silver goes to Finrod Felagund – for his deep insight into the Divine Plan.

8. Now, could you tell us something about you and art? Are you a professional artist, or is art just your hobby? When did you start doing it, and who or what influenced your style?
I'm just an amateur with a box of 21-year old coloured pencils. I can't remember when I started drawing but I was a small child then – you know: pink flowers, yellow sun, blue clouds etc. And then I discovered Jozef Mehoffer and Alfons Mucha's art which inspire me to this day.

9. The majority of Tolkien illustrations in your gallery are in two series - character portraits with elaborate frames and playing cards. So let me ask about the character portraits first - is your ambition to draw every character from the Lord of the Rings in this style?
Yes. And it would be more than 80 pieces for the LOTR series. I hope to live long enough to finish it!

10. Now about the cards - how did you pick the characters for each series, and are you planning to add the lower cards to make it possible to actually play with them?
I wanted to create four new suits as pieces of famous jewellery (In descending order of rank according to the power of each artifact): the Silmarils, the Rings, the Elessars, the Elendilmirs. You can play with these cards just like you play with the standard 52-card deck. It's enough to copy+paste every pip to make the lower cards.
11. What other book or movies (or anything else) inspire you to create fanart, and why?
Recently I came up with an idea to make illustrations to Tolkien's poems: 'Kortirion' and 'The Cottage of lost Play'
12. What art technique is your favourite? Do you rather keep to the art techniques and styles you are familiar with, or do you experiment with new ones as well?
My favourite technique is drawing with fineliner. I must confess that I really hate painting but no one wants to order anything except oil on canvas 

13. Do you have some tips and tricks you would like to share with the other artists?
The only thing that might be useful is that I colour my drawings with aquarelle pencils (the colour seems deeper) and cover them with soft pencil in certain spots to make the shadows darker.
14. Could you give us a link or thumbnail from your gallery of
- a Tolkien illustration you are most proud of?


- a picture from other fandom or original picture you are most proud of?


- a picture that fits your current mood?


- a picture that was hardest to paint?


(not only oil painting but also a landscape)

- any other picture you would like to share with us and why?

15. What key people in your life, (on or off of dA) have been inspirations to you, or has supported you, as an artist? You can also tell us why, if you want.
Well, I wouldn't call it 'inspiration' but it was my godmother's wish to decorate her new house with some still life on canvas
16. Is there some artist(s) at dA you know, who doesn't have as much attention as they would deserve? If yes, could you give us some thumbnails from their gallery?


Gosh, there are so many of them!
Let's see: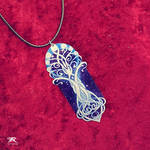 <da:thumb id="709568755"/>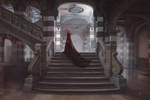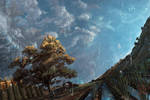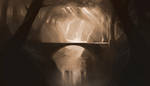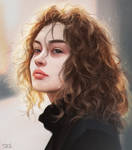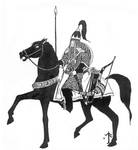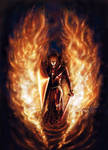 Thank you for your time and answers!