Manga is an important part of japanese culture, and so it is no surprise that the japanese artist

- M-azuma uses this style to express her love for Tolkien's world and characters, to explore the realtionships between Elves and Men in her comic Seven Songs around elves and men or in other pictures in her Tolkien fan-art gallery, both serious and humorous:

1. Hello! For the beginning, could you tell us something about yourself?
I'm Japanese fan-artist of Tolkien's works. Usually I'm in Pixiv or Twitter.
2. What brought you to deviatArt and how did you pick your username?
The first time I learnt about dA was in a class about the foreign pop-culture when I was a student. Though I'd already been drawing fan-art of LOTR among Japanese fandom ( websites, pixiv, and Comic-market) at that time, I hoped more people to see my pictures.
So I tried dA from that time.
My username, M-azuma, is simply short for my Japanese HN, Midori Azuma.
Midori means 'green' and Azuma means 'east' in Japanese.

3. How did you enter Tolkien's world for the first time, and what impression did it leave in you?

From PJ's movies.
My mother introduced the LOTR movie to me, and soon I was attracted by Middle-Earth and characters in there.
4. How much did the movies influence your imagination when reading the books?
The visual image is so powerful. It influenced most of the scenery and characters (also clothes, architectures, and so on).
When I read the books after seeing the movie, I naturally imagine movie-like appearance even about those who are not in the PJ's trilogy.
For example, most of elves in my image have long hair with braids and half-uped.
5. Some of Tolkien's books can be hard to read, being more of history annals than beletry. Do you let that discourage you or not? How extensive is your knowledge of Middle-earth?

When I first read the Tolkien's books (LotR), I was confused because there were many strange names, words and languages. Next I read "Hobbit" , "the Silmarillion" and " the Unfinished Tales". At that time, I got to know more about Middle-Earth.
But there was some help of forerunners.
In 2002 ~ 2005, there were many Japanese fan-sites which deal with not only LotR but also Hobbit and Silmarillion. Fan-artists draw the characters like Feanor, Fingolfin, Thingol, and Luthien in each their images.
By borrowing their visual-image, I could easily remember a lot of characters in such a way to memorize comic-characters.
That's why elves in my fan-art have Japanese comic-like faces

6. Who is your favourite Tolkien character and why?
Legolas ! Not only because of Orland Bloom's perfect visual but also Legolas's positive character in books.
He is always cheerful and some kind of other-worldly.
I like him because he stayed in Middle-Earth until Aragorn's death and took Gimli to the West.
7. Now, could you tell us something about you and art? Are you a professional artist, or is art just your hobby? When did you start doing it, and who or what influenced your style?
It's difficult to answer… Now I'm hoping to be a professional comic artist in Japan. But I'm still just an assistant cartoonist. Sometimes I publish my own comic-works. But fan-art is only hobby.
From when I was a child, I've been drawing comics and the artist who mostly influenced me is CLAMP, the Japanese comic artist group.
8. How do you choose which characters to illustrate?
It depends on mood of that time.
Sometimes I draw picture on special date that is mentioned by Tolkien. For example, May 1st is the crowning of King Elessar and March 1st is both of his birthday and death anniversary. So I drew the suitable pictures for the day.

9. Could you tell us a bit more about your comic series "Seven Songs around elves and men"? What is the idea behind it, and do the seven parts have a common theme connecting them? Also, there are only two posted so far, what about the other 5? Are they not draw yet, or just not translated?

When I first finished reading "the Silmarillion", I was so impressed by the connection with time and history that were made by Men and Elves.
So I wanted to make a story that connects my favorite characters little by little.
An Omnibus-form seems best for it.
Now there are 6 parts uploaded in dA. (Sorry, I hurried posting the series after receiving this interview ;

The last one is still in translatiion and you may find a common theme of this series when you read last episode.
(note to readers unfamiliar with manga: the panels should be read from right to left)

10. While the Seven Songs are rather nostalgic and serious, there are also quite a few idylic or humorous pictures of Lotr characters in your gallery. I'm always interested to ask people who draw humorous pictures - how do you come up with the jokes?
Well… I don't even know the answer myself!
May be I think like this; "It'll be lovely if the characters do such a things" or "This is the funniest scene in book. Don't you think so?"
11. You are from Japan and manga is a part of your culture. What do you think about the synthesis of Tolkien and manga style?

Yes, it is. I think that manga style has some advantage in drawing especially fantasy world like Middle-Earth. It is so difficult to portray too beautiful things like elves, but manga- style makes it possible by drawing characters in some kind of deformation.
In addition, Manga is familiar to people in Japanese fandom.
Although Fan-fiction of Tolkien's works may be difficult to approach for some people, I think that Manga- style lowers a hurdle.
I want more people to be interested in Tolkien's world just like I was helped by fan-art.

12. What other book or movies (or anything else, if there are some) inspire you to create fanart, and why?
Fantasy books like Harry Potter series and Dragonlance are interesting to me.
Also movies like Marvel, StarWars and others.
The story which has a lot of characters and much room for imagination makes me creative.

13. What art technique is your favourite? Do you rather keep to the art techniques and styles you are familiar with, or do you experiment with new ones as well?
It is the style of Comics and Animations in Japan. I'd like to make this grow forever and ever.
At the same time, I want to adopt the styles like concept art or realistic image.
14. Do you have some tips and tricks you would like to share with the other artists?

I don't have any tips enough of those about.
15. Could you give us a link or thumbnail from your gallery of

- a Tolkien illustration you are most proud of?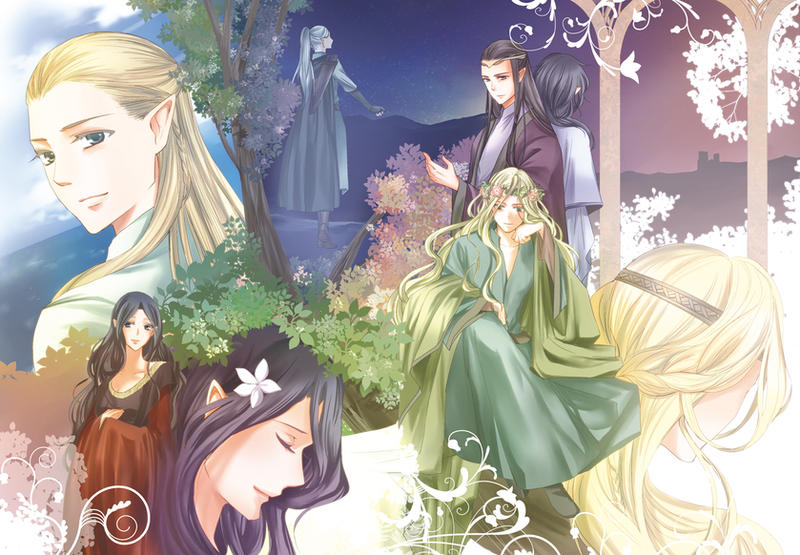 - a picture that was hardest to paint?
16. What key people in your life, (on or off of dA) have been inspirations to you, or has supported you, as an artist? You can also tell us why, if you want.
My friends and family in real life are definitely supportive for me. And fan-artists in other SNS (ex. Pixiv, Twitter, Weibo) are also important to me. Their works and love for the favorite characters always remind me of a new viewpoint. In Tolkien's fan activity, it is one of reason why I read the books again and again. The other's passion advances my passion.

17. Is there some artist(s) at dA you know, who doesn't have as much attention as they would deserve? If yes, could you give us some thumbnails from their gallery?
They has been already evaluated enough, but the artists whom I like are;
EKukanova

@Ilixwing

18. Is there something else you would like to tell to the fans of Tolkien and your art?

Thank you for watching. I'm happy to get to know many fans of Tolkien through the Internet!
Thank you for your time and answers!