Would you like to wear a ring, bracelet or pendant inspired by the characters of Middle-earth? What about actual ear wraps that look like elven ears? A perfect solution for those of us who didn't have the luck to be born as elves!

- Lyriel-MoonShadow creates all these types of unique jewelry! This week, I talked with her about her creations.


1. Hello! For the beginning, could you tell us something about yourself?
Hi! I am a self - taught jewelry artist with a taste for fantasy and magical world. I create unique jewelry, brought to me on fairies wings from the Elven Realm.
I am a cheerful and optimistic person, I love nature and the fantasy world, history and mythology ...
My background is multimedia developer - a different kind of creativity - but I create jewelry for 7 years. I completed my training with a Jewelry Designer course and I'm a member of the International Association of Professional Jewelry Designers.
I live in a small town surrounded by beautiful forests and hills. Every day I walk several hours accompanied by my two chow-chow girls, which helps me to detach myself from "the normal world" and to come close to the elves and fairies. A perfect day in my opinion is a day in which I make jewelry, listening to my favorite music or to a fantasy audiobook, with a cup of coffee next to me, while my chows snore nearby

2. When did you read Tolkien's books for the first time, and what impression did they leave in you?
Actually, I entered the Tolkien's world through the Fellowship of the Ring movie. It became my favorite movie of all times and I looked for the books. I love them

Those books (and the movies) are therapy

3. How extensive is your knowledge of Middle-earth? Do you consider yourself Tolkien expert?
I think I watched all Tolkien related movies and I read the books hundreds of times. I love that world but I can't say I am an expert [… and now, from somewhere I almost hear Oin: "He said he's an expert! hey hey!"]

4. Did you read the books, or see the movies first? How much did the movies influence your imagination when reading the books?
I already had "faces" for most of the characters but the fact that at some points the movie was different from the book let my imagination to fly free

5. Now, could you tell us something about your jewelry? Are you a professional artist, or is making it just your hobby and side-source of income?
My passion for handmade jewelry began as a Christmas story in a December day. I tried to keep a bit of the story in my jewelry, going on a fantasy style adapted from delicate and elegant jewelry, to casual.
It started as a hobby but now I am a professional artist.
6. Your jewelry pieces are inspied by elves in general, but also by particular characters. How do you choose the matererials and designs fitting for the character the piece will be named after?
Each jewel starts with an idea or a character. First I study the character and I imagine the jewel, with all the details. The next step is to transpose on paper that image. On this drawing I work until it reaches the desired form, adding and modifying details, all to express the character's personality (or the idea from which I started) better. When I am happy with the design done, the next step is to create the physical object (it takes me 2-3 days to make a pair of elf ears, for example). When the jewel is finished, I do tests on mannequin to see how it sits and correct small details that need to be corrected. The final stage is photographing the jewel in every angle so I can present it as close to reality as possible.
7. Speaking about characters, who is your favourite Tolkien character?
This is the hardest question

I can't choose only one. On the list are Gandalf, Galadriel, Yavanna, Melian and many other

8. Elven ears are a kind of jewelry that's not usually worn, unlike rings, earrings or necklaces. What brought you to the idea to make them, and for what occassions would you recommend wearing them?
Every time I want something I don't have, the first impulse is to make it. I remember when I was little I used to tell fairytales to my sister and when I didn't knew more fairytales, I started to invent them (it was a real challenge when she liked one and wanted to hear it again…) So, to return to elven ears… I love the fantasy world and I am fascinated by elves so I wanted pointy ears and, because Mother Nature didn't gave me… I made a pair

Elven ears are usually jewels for cosplay, LARP or festivals but they can also be worn at parties and other times when you want to feel special.
9. What other book or movies (or anything else) inspire you to create jewelry, and why?
Nature was my first source of inspiration. Practically everything I see or read inspire me. Now, beside my Tolkien inspired designs (I have some new ones patiently waiting to be made) I have in plan a series of jewelry inspired by the Forgotten Realms (R.A. Salvatore's world) and I already started with some ear cuffs and a ring.
10. What technique or material is your favourite? Do you rather keep to the art techniques and materials you are familiar with, or do you experiment with new ones as well?
I learned on the go and the good side of this is that you never stop learning new things, new techniques ... I am not working with only one material - actually I use whatever seems appropriate to express the idea that inspired the jewelry - but the materials used are always of the highest quality.
I prefer delicate but durable jewelry so my favorite material is wire.
11. Do you have some tips and tricks you would like to share with the other artists?
The beauty is in details, never forget this. And never stop, let the creativity flow


12. Could you give us a link or thumbnail from your gallery of
- a Tolkien-themed jewelry you are most proud of?- jewelry inspired by something else you are most proud of?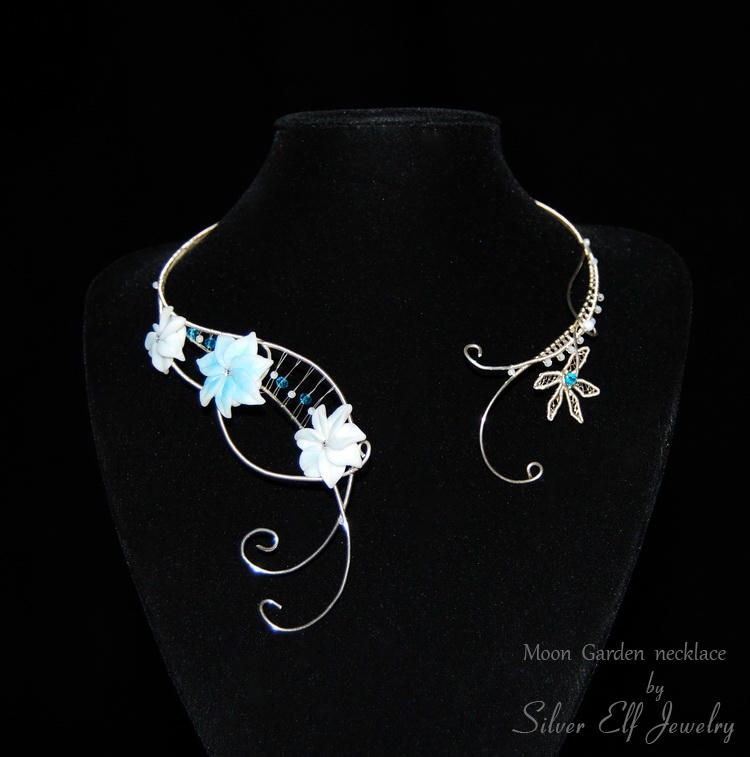 - a piece that fits your current mood, or that you are wearing right now?- a piece that was hardest to make?

- any other piece you would like to share with us and why?

13. What key people in your life, (on or off of dA) have been inspirations to you, or has supported you, as an artist? You can also tell us why, if you want.
The first person who supported me as an artist is my sister :

-
FrostedfireKate
She is also a talented jewelry artist and makes wonderful jewelry. She is always here for me when I need an opinion or help

Also other dA artists are always an inspiration for my through the beautiful art they create.






14. Is there something else you would like to tell to the fans of Tolkien and your jewelry?
Each jewel I create is special because it carries a little part of me and the fantasy world in it, bringing a bit of magic in everyday life.
Thank you for your appreciation

Thank you for your time and answers!