The interviews got a bit less frequent lately, as I ran out of those prepared in advance, but don't worry about them stopping! (I just hope the new site design doesn't mess up the journals too much...). So here is the next in the series, a talk with a young German artist

- FrerinHagsolb. You can see a few examples of her art here, but check also her full J.R.R.Tolkien gallery!

Hello! For the beginning, could you tell us something about yourself?
Hello!
My name is Floris (or also Frerin online), and I'm an 19-year-old girl from Germany, currently doing my last year of Abitur (school). I always loved to draw and create things and I spend most of my free time beside school on it, dreaming of including art in my profession later.

Why Thorin's brother as a username, and what is the meaning of Hagsolb?

My whole username is actually an anagramm.
Since I began to keep myself busy with Tolkien's stories, dwarves had a big effect on me. It is hard to tell where it exactly comes from, but they intrigue me. Maybe because their history lets a lot of question open. It was similar when I had a look at the family tree of Durin for the first time and saw Dís' and Frerin's names. I wondered why not more was said about them said, although they actually would be important in their milieu.
Then we had a school project, the first task was to create a new name out of our own one. I had a lot of problems with mine, I don't have the most pleasant letters for that.

But then I saw I was able to form 'Frerin'. I was glad about that, it was a hint at my interest for Tolkien and especially for dwarves at the same time. So, 'Hagsolb' are, except for one letter I omitted at the time, the remaining letters. It is definitely not the most beautiful name, but it has its reasons.

A short time after I decided to create an DA-profile and the anagramm was a good possibility to use something different than my common name.
That's cool!

When was it, that you I began to keep yourself busy with Tolkien's stories? What was your first glimpse into his world and what impression did it leave in you?
Not a very long time ago, actually.

I heard of Tolkien's work before, most time through some class mates who talked about 'The Lord of the Rings' or by reading the spines of my dad's books, but I didn't care much about it at the time, although I remember it quite well now.
But when it really began for me was when I started reading (or listening to) the books, of course. It was when they said they would film 'The Hobbit'.
We keep the motto not to watch movies without reading the books before, at least most of the time. My dad came to my brother and me and said 'This is a good moment to bring you into the genre.' And so we sat down every evening and read 'The Hobbit' together. I totally fell in love with the story, it was a wonderful time with the family and I connect many positive moments with it, despite the tragic parts in the stories. Well, after 'The Hobbit' 'The Lord of the Rings' followed the same way and my interest in Tolkien's work grew every day. After this time, I started to read 'The Silmarillion', 'The Children of Húrin' and several times 'The Hobbit' by myself.
I was (and of course still am) fascinated of Middle Earth and the stories, tragic and beautiful at the same time. Tolkien's ideas and his way of writing opened a new world for me.
I approve of your dad

What creates the image of Middle-earth in your mind now, after you both read the books and saw the movies? Is it more influenced by the books or movies, or maybe other artists, and did it change over time or remained the same?
Oh, these are always the most difficult questions...it is just difficult to answer, there is so much that counts in.

It is definitely a mixture of all things.

I had few different imaginations when we read 'The Hobbit' which was replaced by the movie versions, maybe the funniest example: Thranduil. It is not that I imagine Thranduil just like the movies now, but it changed my basic idea of elves. There is the scene in the book when it is said that the Woodland King has a favour for wine and - it didn't matter if it was written before that elves are beautiful, I totally ignored that - I imagined him as fat and ugly guy, maybe also because of the fact he imprisoned the dwarves.

I really had to laugh when I saw Lee Pace's design in the cinema.
The first movie of 'The Hobbit' was the very first visualization I saw of Middle Earth and so the movies definitely had a lot influence on me. I bought the art and design chronicles they published and those concepts (mainly impressed by John Howe, Alan Lee and Nick Keller's illustrations), the movies and the imaginations I had when reading the books were the basic for the following stories. But the more I read of the stories, the more those images developed, often just by small sentences.
Still, it was difficult for me to come along with own drawings, and I mostly did fan art things of 'The Hobbit' movies. Which is not bad, I still enjoy doing it.

But I think I was a bit awed by all the amazing official illustrations that already existed. It were all the wonderful artists on DA then, which showed me that it is possible to get to the stories through many own ways, I think.
The next question will be simpler then (maybe

) Who is your favourite Tolkien character and why?
I should take back what I said.

But it is a bit easier...
When it comes to a search for a travelling companion, surely Sam. He proved this more than enough, in my opinion.

But also Túrin and Thorin. I don't think travelling would be the best thing with them (they also proved that), but they are very interesting because of their difficult stories and problems, more or less caused by themselves. Still, they are no bad guys and both realize that some things went really wrong, which makes it quite tragic. I know there are more characters for whom the same is valid, but the two are still my favourites.
Are there some topics in Tolkien's works that you are particularly passionate about?
I often feel like I know nothing about the works...not in the literally sense, but there is always something to learn more about, in my opinion I'm still at the beginning. Although I read 'The Silmarillion', I just did it one time, the same with 'The Lord of the Rings'. I think it needs closer looks again after reading the 'main works', to understand different connections, relationships and characters better. That Tolkien's Middle Earth works hang together and include many different parts and individual stories is something that passionates me in general.

But also, as I already said, dwarves and their culture.
And what about you and art? How did you get to it and do you plant to pursue it as a career?
I always loved drawing, painting and trying different materials in these sections, also including ceramics. Art and creating was a fascinating thing for me and something with what I always had an activity whereever I was and a way to express myself. That's what I love about drawing and painting, it actually doesn't need many or expensive materials to do it.

I started with traditional drawing and painting as a small kid, but few years later, when my mom bought a drawing tablet for her work, I tried some things with it, too, but it was always more playing around. It was about 2 years ago I started to take digital art more seriously for myself, but still the traditional way is something I do more often than that.

So I can't name a special date or year when I started with art, but I had the carrer aspiration to work in an artistic way quite early, since the 4th year of school, I think. And it stayed. I'm really interested in comics, graphic novels as well as Illustration in general and concept art, I love the way the things tell stories through pictures. And this is also something I'd wish to do later. But first, I'm searching for Universities.

What's your creative process from picking the theme to finishing a picture?
It actually always starts with a spontaneous feeling or thought on different things- and I sketch it. It doesn't look really beautiful, but it is for the idea. I have tons of such rough sketches, but not the time or strength to realize all. So, some get abandoned over the time, others lay aside to get developed further/spend more thoughts on the basic idea and some get realized immediately. When it comes to the 'real' product, I always make a rough sketch again, refine it more, and then come to the main material - may it be ink, watercolour, or digital.

Most times, I draw or paint on instinct and often keep experimenting and in every stage other ideas come to the work or things get modified. How much it changes over the process is often associated with the materials and time: ink for exmaple is something I can work quite fast with, watercolours need more time and thoughts because of the colours.

For example, the whole process for the pictures were extending over 4 days for the ink work, and few weeks for the watercolour:

What other book or movies (or anything else) inspire you to create art, and why?
There is a lot that inspires me, like travelling, nature, landscapes, cultures, much inspiration comes from music in combination with it. But actually at first: People. In any case, may it be 'random' strangers I see on the street or in public transport, my friends/classmates, my family. I love how different people are, in their appearance, character and acting. I never really draw all the things how I see them, but it always inspires me.

But of course also visual art, the sorytelling through art (for example in graphic novels), books and movies.
I love animation and how it is possible to exaggerate a character, I'm in love with Pixar's creations. Otherwise, I often watch action or sci-fi movies, and I also like the critical discussion of future things or human behaviour in books, may it be all-day life, dystopian or something like the robot-stories by Asimov. Anyway, those books and movies are something that doesn't really inspires me to create art directly, it is more thinking about it and those thoughts may have influence on different art pieces.
What art technique is your favourite? Do you rather keep to the art techniques and styles you are familiar with, or do you experiment with new ones as well?
When I'm working traditionally, I mostly use ink/ ink pens or watercolours, I really enjoy working with it, also digital. Those are the things I've got at home or which are the easiest to work with in this work space, but I always love experimenting and trying out new things.
The one that was the most experimental thing I've done for now was probably painting with cocoa, drawing on wood or, what I do at the moment, painting on glass.

Working with new materials is for me a way to get new challenges and experiences.

And with the use of different materials and techniques the style changes a bit, too, in my opinion. I don't spend much thoughts on style, so it is difficult to assess.
Do you have some tips and tricks you would like to share with the other artists?

Mmh, maybe a general tip I learned over the time: Art takes time.

What I mean with it: In between, an artwork can look quite strange, with some mistakes, but this doesn't mean it is lost. For me it helps to put it away and have a look at it later again, but carrying on. I often take photos from the work in progress, and seeing how it developed motivates me for other drawing processes, too.
Could you tell us, which

- Tolkien illustration you are most proud of?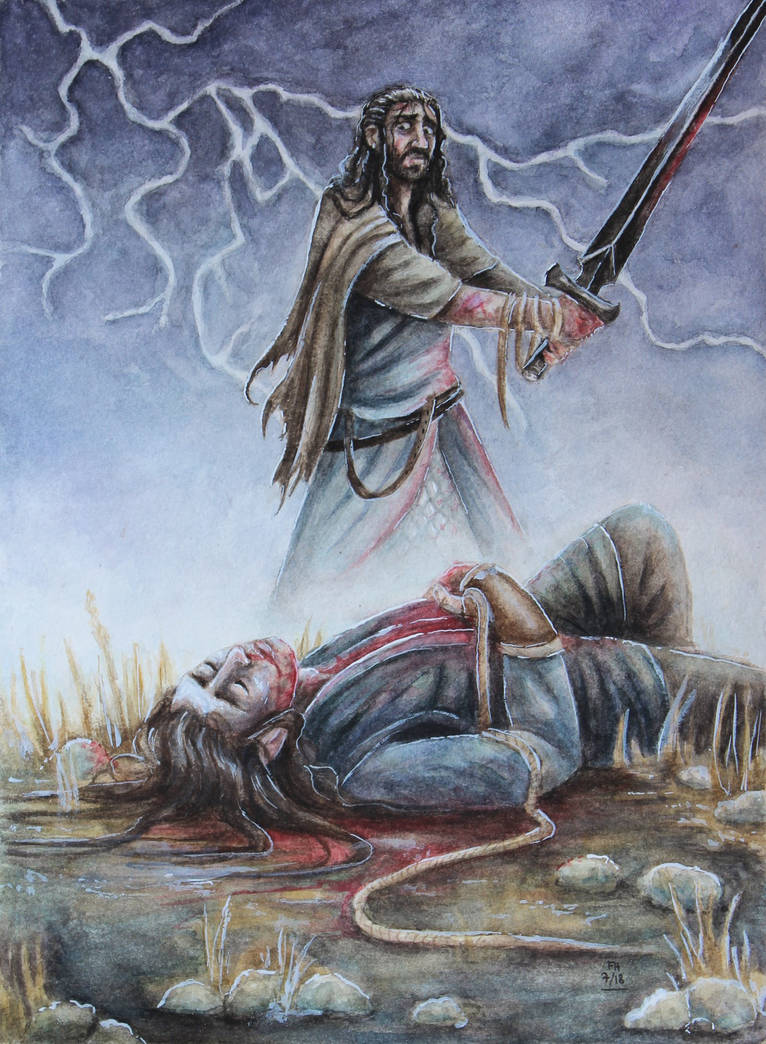 I'm always proud when I finish a work, whatever it is.

But in this work I love how it came out. The colours in the original work are better and in general I didn't have much trouble with it.
But also this: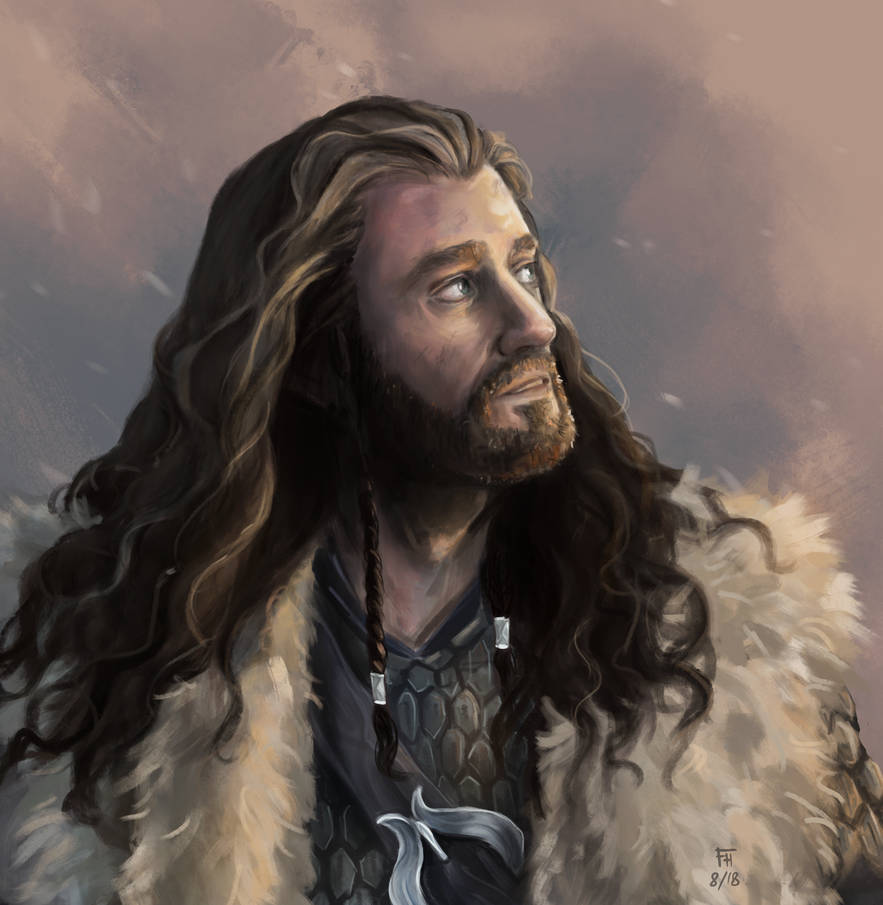 It started as a speedpaint, but went a bit further. In the end, I really liked the mixture of roughness and few details.

- original picture or picture from other fandom you are most proud of?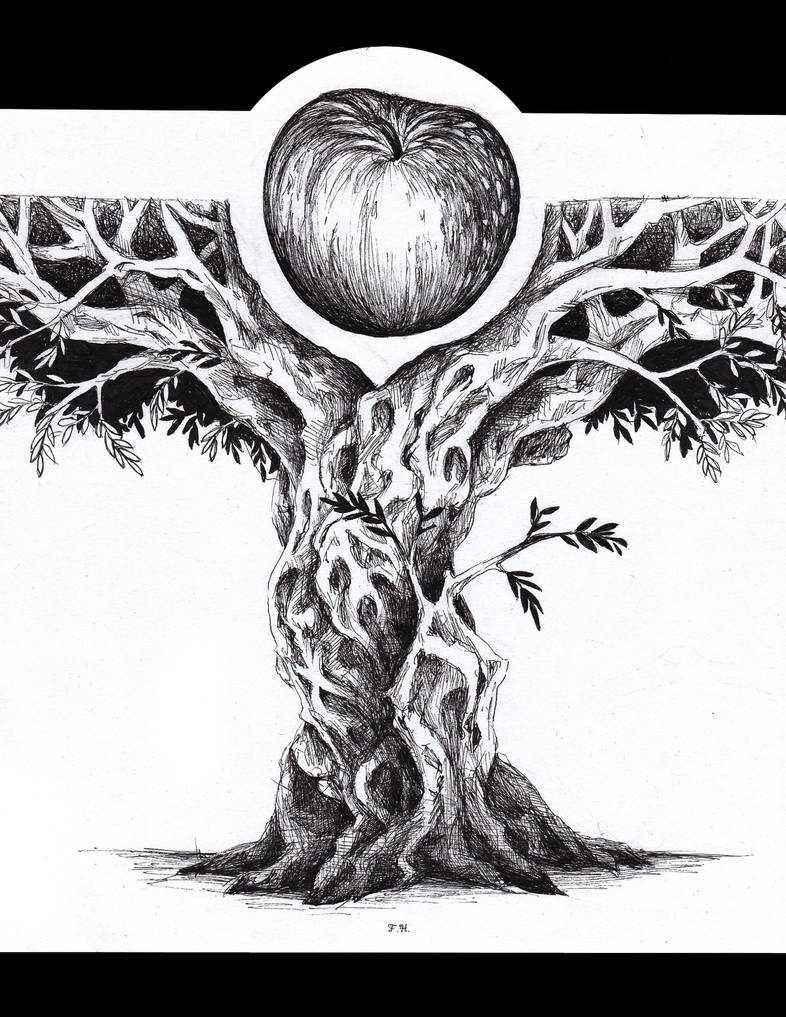 'Most proud of' is maybe not the best description, but this was a tattoo design my dad asked for which is in work right now, so it is something special.
- picture fits your current mood?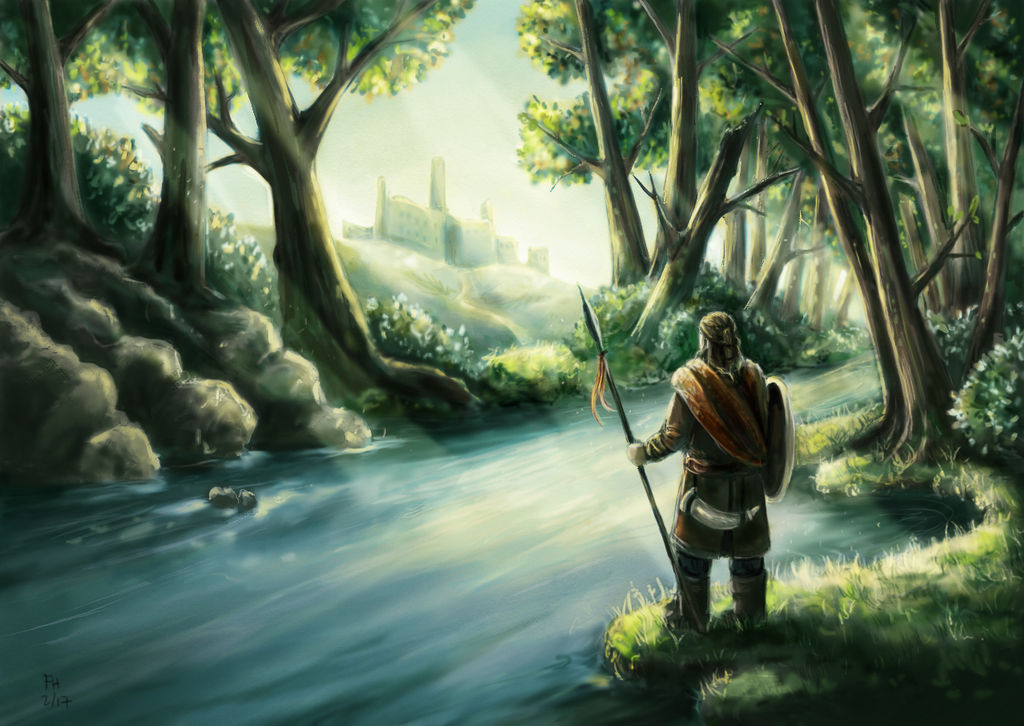 - picture was hardest to paint?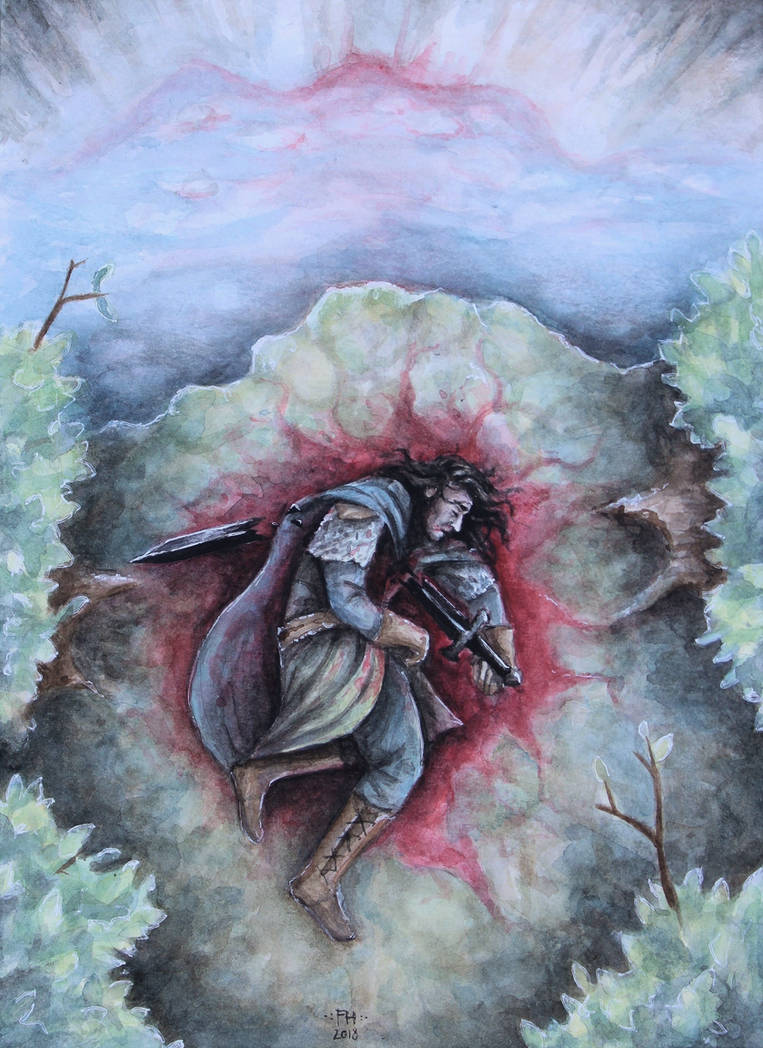 Probably this. Mostly because of the colours and shadows (not quite happy with them), if they should be warm or cold...but I got great help from a friend.
- other picture you would like to share with us and why?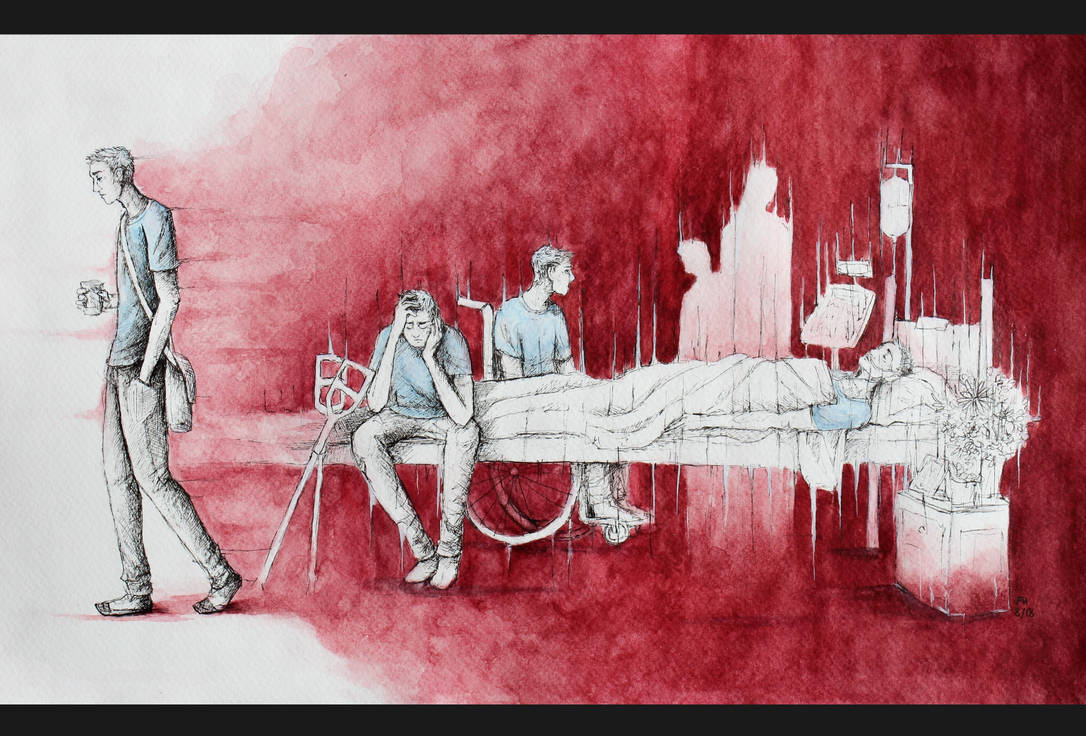 Because of the subject matter,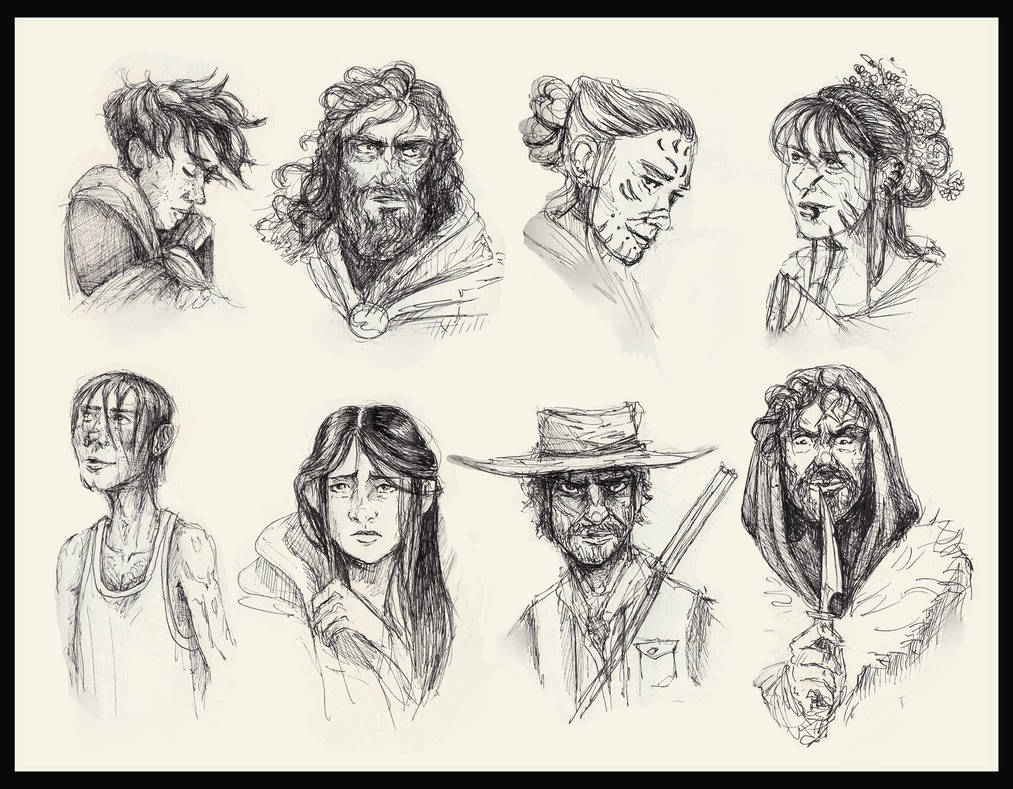 as a traveling project: Sketching characters every day

and this guy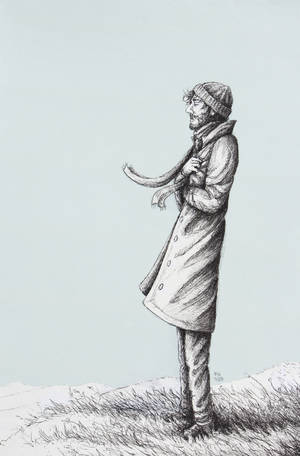 as character for a graphic novel I'm working on.
So you are working on a graphic novel? What is it about?
It is about loneliness/solitude and getting lost in the anonymity of a society. The drawings should focus more on the developments of the feeling and the young man getting aware of his situation than on a line of action. I'm still collecting situations/aspects and information (and I think this will never stop), but started to write the script, too. It will be a long project, but I hope to get a result to publish in the end.
Interesting, good luck with that!
You also took part in the Inktober project with a series of 31 pictures, with many from Middle-earth. Was it difficult to keep up with it? Do you recommend taking such a challenge?
Thank you!
For Inktober, I didn't want to specialize on one topic, I wanted to keep different possibilities and ideas open. So I've not only created Tolkien-related works, but some. However, it was definitely an enriching challenge. Although it got a bit stressful for me in the end (because of school), I'm glad I made it in the 31 days. I learned a lot for the working process and coming up with new ideas every day. Maybe the results don't get how they should be in such a short time, but I think with challenges like Inktober there are many personal gains, I think it is worth trying it.
Would you like to thank somebody here? What key people in your life, (on or off of dA) have been inspirations to you, or has supported you, as an artist? You can also tell us why, if you want.
Oh, thanking someone could be an endless list, I think...I'm always afraid that I forget someone.

So I would like to say a general thank you to all the supporting Deviants on this platform. Since I started the account I received so many positive and constructive feedback which always encourages me.
But I think there is no greater support than the one I receive from my family and friends. They supported me all my life, may it be physical or mental, with materials, feedback, understanding and interest or just the help in the all-day life so that I still can practice my hobby.
Would you also like to use this space to give a feature to someone? Is there some artist(s) at dA you know, who doesn't have as much attention as they would deserve?
I think as some examples for Tolkien artists I'd like to feature







and

, I always enjoy their work, they do amazing jobs...But damn, there are so many wonderful artists, so many with little to no attention, it is hard to pick one, although they'd all deserve it. It is hard for me to pick someone.
Is there something else you would like to tell to the fans of Tolkien and your art?
Tolkien's stories open so many different doors to common and personal issues and there are so many ways to go through these. This is not only valid for Tolkien's world, but for everything else as well. Everyone has its own way to see a story and get inspired from it, and the result of all the variety shows this and makes the whole alive.

This sounded a bit strange, I think. What I meant is just: Keep getting inspired and creating!
Thank you for your time and answers!