- Ekalita has been creating mostly Dragon Age fanart until now, but recently she got into the Tolkien fandom and here we have the result! Be sure to check her gallery as well, especially if you are fond of Solas

1. Hello! For the beginning, could you tell us something about yourself?

Hi, sure! My name is Ekaterina, i'm from Russia. I'm a big fan of fantasy, games with fantasy and magic setting. And i have a huge crush for elves! I love ancient Greek and Rome aesthetic, listening to Greek, Turkish and Egyptian folk music, along with game/movie soundtracks. I also enjoy swimmimg and riding the bicycle.

2. What brought you to deviatArt and how did you pick your username?

One day I realised that it is time to stop being shy with my own drawings and start to post them like a
big boy
artist.
Username is a combination from my real name and the name of my OC (Alita) from D&D i used to play.

3. How did you enter Tolkien's world for the first time, and what impression did it leave in you?

I saw LOTR films for the first time when I was little. I had no idea what is going on there because I had no patience to watch the film from the beginning to the end. XD But even then young girl's heart coudn't resist Legolas's charm. I fell in love with Telery's harbour in the forest. Also battle at the Helm's Deep was sooo exciting! And the scene where elven archers arive for help is my favorite.
4. What creates the image of Middle-earth in your mind? Is it more influenced by the books or movies, or maybe other artists, and did it change over time or remained the same?
My first image was created by films - locations, clothing design, faces of the main characters ect. But I imagine elven anatomy more elongate and with less deep, but more straight bridge of the nose... Also i like to watch how other artists imagine the design of the Valar.

5. Some of Tolkien's books can be hard to read, being more of history annals than beletry. Do you enjoy the scholarly side of studying Tolkien's world as well?

I must confess I've only read half of Silmarillion. All my knowlege about Tolkien's world came from it, along with films and wikipedia. And fanfiction.

I'm only going to read all books - so huge journey ahead!
6. Who is your favourite Tolkien character and why?

It is hard to choose one. First one is Maglor. My visualization of him was influenced by fanfic, plus fanart comics. I find him as a man of kind heart, conscientious, loving kids and with a huge devotion to his family (which doomed him to making terrible things).
I really like Sam. He is cheerful and the one of few who found strength to restart a peacefull life after his journey. And he is a good friend!
I imagine Beleg being merry, ever smiling and careful mentor. Thingol and Mellian are my favourite couple. Well... befor Thingol started being mad.

7. Are there some topics in Tolkien's works that you are particularly passionate about?

I'm quite passionate about the love and friendships and parents/children relationships shown in Tolkien's works. I like the interactions between immortal elves and mortals, and how they affect each other. I also love to read stories in which elf raises human kid, then the kid becomes a grown man. Like Beleg and Turin. And than observe how their interaction changes.

8. Now, could you tell us something about you and art? Are you a professional artist, or is art just your hobby? When did you start doing it, and who or what influenced your style?

Sure! I'm a professional artist, working in game industry making computer and mobile games. I'm dreaming to work at some more serious project one day, so that's why I always educate myself with new stuff. But I also spend a lot of time procrastinating by drawing fanart XD
What about style? Well... I think I have no style at all. I've learned how to copy or to fit into style I need. At work for example. As for myself, I find my style too unstable. That is a problem and l'm looking foward to solve it one way or another.

9. What's your creative process from picking the theme to finishing a picture?

pick the theme —> make very very draft sketch —> find lots of references (for pose, lighting, render stile ect.) —> make line art —> redraw line art untill it loosk OK (repeat as many times as needed) —> colour sketch to decide colour scheme, lighting and mood —> than render —> render —> render
Stucking with faces somewhere in a middle for unforeseeable amount of hours.
10. Your Silmarillion art mostly focuses on suffering. Why is this?

I fell into Tolkien fandom two months ago and I just was in a mood to draw some horror scenes. For now I feel tired a little bit from horrors and thinking about some opposite mood. Something sunny and peacefull. I think I will continue do draw both types of mood.

11. What other book or movies (or anything else) inspire you to create fanart, and why?

Dragon Age games is my undying obsession! Because there are a lot of elves and elves are my fetish. There are ancient forgotten civilisation of elves full of secrets. That makes it double fetish. There are magic and spirits. That makes it triple fetish. Whole scenario is like an investigation. And that makes it quadruple...
12. What art technique is your favourite? Do you rather keep to the art techniques and styles you are familiar with, or do you experiment with new ones as well?
I keep on borrowing diferent techniques and styles. It is my styleless problem.

13. Do you have some tips and tricks you would like to share with the other artists?

Everyday drawing practice really helps, pay attention on how everything works in real life, have patience. And don't forget to rest or drawing will kill you. Seriously.

14. Could you tell us, which

- Tolkien illustration you are most proud of?

It was made so fast yet it look ok.

- original picture or picture from other fandom you are most proud of?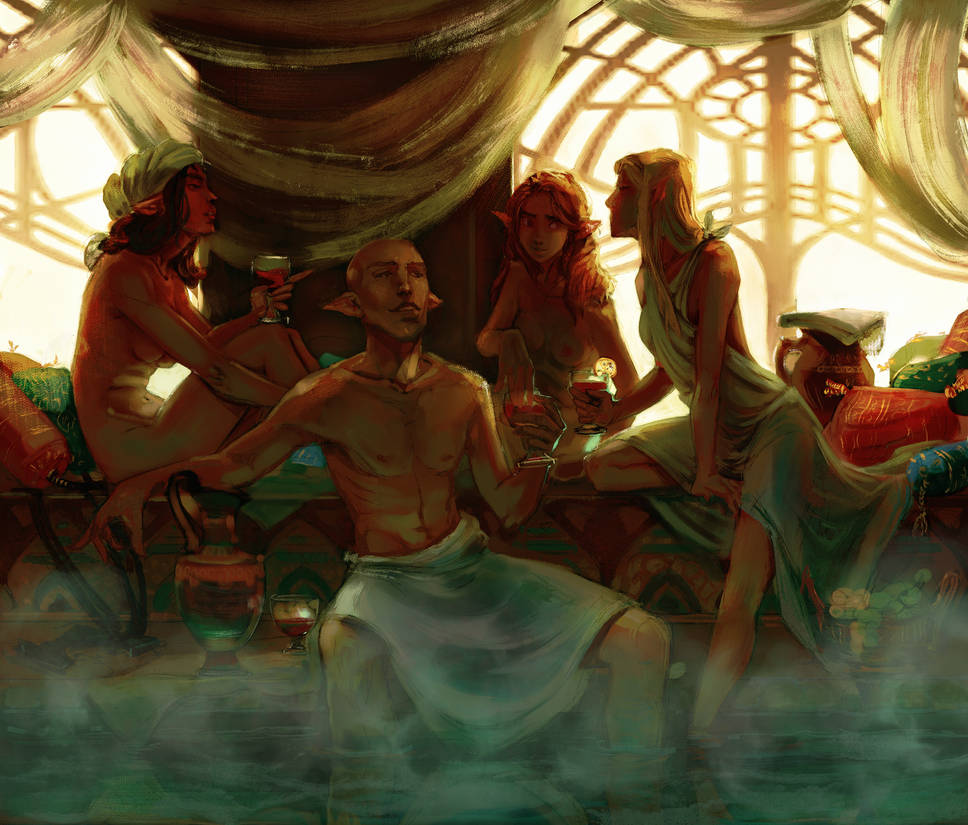 I spent so much time on lighting and glad it finally worked.

- picture fits your current mood?

- picture was hardest to paint?

It was the first time i drew sci-fi and machines and used 3D for illustration.

- other picture you would like to share with us and why?

Come to Dragon Age club! We have cookies and chimera.

15. Would you like to thank somebody here? What key people in your life, (on or off of dA) have been inspirations to you, or has supported you, as an artist? You can also tell us why, if you want.

I would like to thank all Tolkien fans for their comments and support. You are very welcoming community! Also thanks to fanfic writers for endless source of ideas and artists for the inspiration.

16. Is there something else you would like to tell to the fans of Tolkien and your art?

How many times have you rewatched LOTR films?

Speaking for myself, maybe 5 or 6. I save it for special occassions

Thank you for your time and answers!