Today I would like to present you a talented Chinese artist

-

EcJetko

.
P.S. Don't listen to her when she keeps repeating that her painting skills aren't good in the talk. Here is some evidence that proves otherwise:
(Her account is deactivated now, here is what I managed to salvage through google...)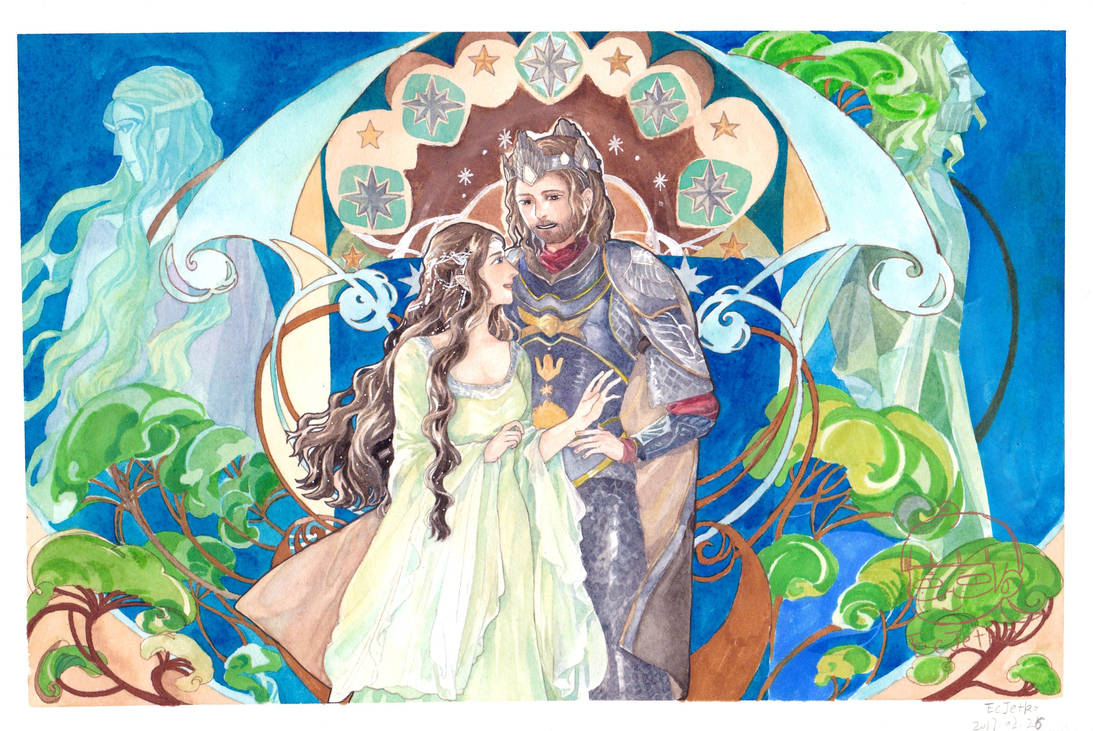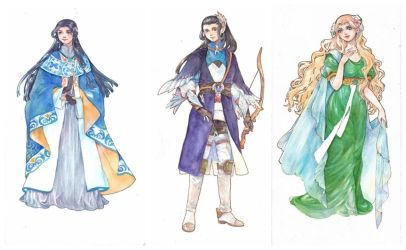 1. Hello! For the beginning, could you tell us something about yourself?
Hello!I'm a college student from China studying Primary Education now ∩˙▿˙∩ I like drawing,watching movies and reading (usually comics and novels ).
2. What brought you to deviatArt and how did you pick your username?
Few years ago I saw a recommendation about deviantArt and I thought it doesn't look bad. So I decided to join it.
About my username:I just tapped the keyboard randomly.
3. How did you enter Tolkien's world for the first time, and what impression did it leave in you?
About years ago, I felt very bored and I decided to watch some movies. Coincidentally the TV was showing The Lord of the Rings: The Two Towers.
It showed me a beautiful and fantastic world, those pretty elves, elegant creatures, cute hobbits, and the suspenseful,exciting plots, I have never seen any movie like this before. At that moment I was very soon addicted to this wonderful world and I thought this movie is very amazing.
4. How much did the movies influence your imagination when reading the books?
To be honest, the movies left very deep influence in me. For example, about elves, when I was reading the books I preferred to imagine them all tall, pretty and elegant looking, like in the movies.
What's more, I was influenced by movies in other things as well, like buildings, clothing, plants, always thinking they are medieval styles. In my opinion, the movies showed a beautiful world to us, but at the same time, many great artists tend to refer to them when they are creating their own fanarts, and in that way they are limiting many imaginations.

5. Some of Tolkien's books can be hard to read, being more of history annals than beletry. Do you let that discourage you or not? How extensive is your knowledge of Middle-earth?

I have to admit that some of Tolkien's books are to hard to me, especially The histories of Middle-earth, because this series of books haven't be translated into Chinese and my English skill could not support me to read the original. But there are many talented Chinese Tolkien fans devoted to popularizing Tolkien's works, and they are always willing to explain many questions about Middle-earth. Thanks to those unselfish and warm-hearted fans, I can read many important translated chapters. I won't let that discourage me and I also thought that's a good chance for meeting those important friends (ღ˘⌣˘ღ)
I still have tons of blind spots on knowledge of Middle-earth, I am a student who can't stop studying, forever.
6. Who is your favourite Tolkien character and why?
Umm,my favorite Tolkien character is Maglor,There are many fan arts about him in my galleryヽ(´~`;)
He is the gentlest of the feanorians, but he did a lot of things that went against his nature,it is hard to know his mind because the book was not partial to psychological description, so details like his thoughts, his struggle, what was he thinking when he made his choices and his tragic ending and so on, are very worthy to discuss.
7. Now, could you tell us something about you and art? Are you a professional artist, or is art just your hobby? When did you start doing it, and who or what influenced your style?
Painting is my biggest hobby, I thing I'm just a drawing hobbyist,I can't be called 'Artist', that's too much for meヽ(´ー`)ノ
When I was in grade 3, my parents were too busy to look after me, each weekend they would let me go to local library There I could read a lot of Japanese comics and started drawing. And after middle-school,I was touched by Mucha and Pre-Raphaelite Brotherhood (especially John Williams Waterson),I was addicted by those beautiful paintings, so my painting style was influenced by them, and many Japanese comics.
8. How do you choose which scenes and characters to illustrate?
I don't choose which scenes or characters to illustrate very designedly, I just illustrate what I imagine, what suddenly shows itself to me and I can draw it ᕕ(ᐛ)ᕗ

9. There seem to be two styles in your gallery: beautiful ornamental paintings and cute and funny chibies. Does it depend on your actual mood which of these two you are going to paint?
I usually won't let my mood influence my drawing, same as in the the previous answer, I just draw what I think about. I always draw these two styles in the same time: when I don't want to draw the ornamental style then I will draw some adorable styles to relax myself, or on the contrary.
10. What other book or movies (or anything else) inspire you to create fanart, and why?
Every one of my favorite and interesting books or movies (*´ω`)o
Because I like them.

11. What art technique is your favourite? Do you rather keep to the art techniques and styles you are familiar with, or do you experiment with new ones as well?
Watercolor is my favourite art technique. It's easy to use and courses on it are everywhere. I tend to try and learn other techniques like digital drawing, oil painting, unfortunately I'm too silly to learn a new thing. I bought a tablet 2 years ago but I still don't know how to use Sai😂
12. Do you have some tips and tricks you would like to share with the other artists?
Umm I don't have any tips for other artists because my painting skill is very bad. But what I want to say is: don't afraid to show your art work, all af them are an insight into your mind, they deserve to be praised ୧(๑•̀⌄•́๑)૭
13. Could you give us a link or thumbnail from your gallery of
- a Tolkien illustration you are most proud of?


?

I made some friends because of this picture(*´▽`*)
- a picture from other fandom or original picture you are most proud of?
Fanart about Song of the sea and the secret of kells,my favorite anime movies
- a picture that was hardest to paint?
I guess it should be this one, this is my first complete digital painting, even if it looks kind of silly today, but it still very meaningful to me. When I got my first tablet, I was so excited even though I didn't know anything about the tablet and digital painting software. You can saw this picture including some straight lines, I'm so unenlightened so that I put my ruler on my computer screen to draw those straight lines😂 This picture took me 2 months.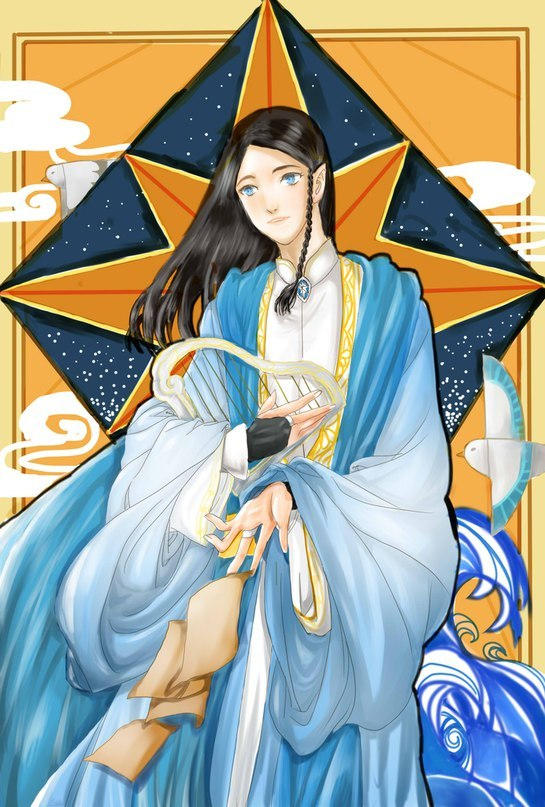 - any other picture you would like to share with us and why?
I joined a traveling Notebook and its theme is the Silmarillion, I think this is fun and it's a good way for the fans to communicate.
14. What key people in your life, (on or off of dA) have been inspirations to you, or has supported you, as an artist? You can also tell us why, if you want.
My parents, absolutely. They always encourage me to draw and bought me many art tools, and supported me to study drawing (if I wanted, but I didn't), also they're very proud that I can draw. Thanks for everything they did for me.
15. Is there some artist(s) at dA you know, who doesn't have as much attention as they would deserve? If yes, could you give us some thumbnails from their gallery?
1.

fish-in-fridge
She is a talented artist and she translated and collected many detums of meddle-world,also she help me a lot.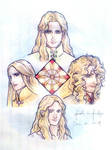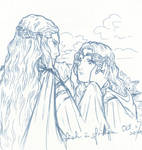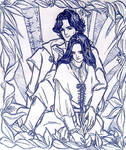 2.

s-u-w-i
My Goddess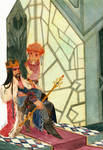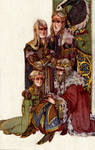 3.

EKukanova
My Goddess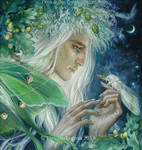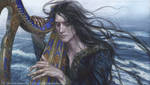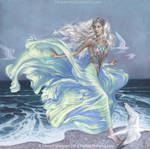 4.

cylindric
👍
5.

daLomacchi
My Goddess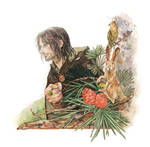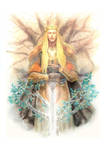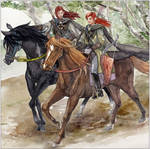 16. Is there something else you would like to tell to the fans of Tolkien and your art?
It's my pleasure that I can enter this wonderful world and meet you guys, because of your creative and amazing fanarts, our dream world can become so attractive and fancy.
Thank you very much for your time and answers, and for sharing your art!