Here is a person who read the Silmarillion at the age of 11

Meet

- Dalandel and her portraits of Tolkien characters. You can see a few of the here, and all in her Tolkien gallery.

Hello! For the beginning, could you tell us something about yourself?
Hello! I'm Dalandel (also known as Anka). I'm 29 and originally from Sea Lapland of Finland, from where I've migrated down south a few years back. I like to read, write and draw - all of which I should honestly do more, but alas. I've drawn digitally since 2012, back then armed with just my sturdy mouse and Paint Tool SAI. Around 2015 I got my trusty Wacom tablet, and that was also when I got more into Tolkien fandom after being a solitary wolf for years.
Is there a story behind your nick? How did you pick it and what brought you to DeviantArt?
I must have lurked around DeviantArt without an account for years before I finally made mine around the time I started doing digital art. My nickname was Wanamuska back then, derived from another old nick. I changed to Dalandel when I wanted to unify the various forms of my internet presence and bring most things under the same name. It doesn't mean anything but does taste sort of "flowery" in my mouth. Originally Dalandel was a character of mine in World of Warcraft.

How did you enter Tolkien's world for the first time, and what impression did it leave in you?

It was The Silmarillion that really got me hooked at around 11 years of age. I read it to my mother with a voice suitably full of pathos and fell in love with the tragedy and imagery while at it. Everything about it pleased my detail-oriented mind. The Silmarillion is like a written permission to go nuts with imagination. In a world terribly goal-driven, it's vital for us see that unfinished, unpolished things can be just as rich, exciting and fulfilling. Tolkien never put the pen down and said, "hey I think I'm done." That's why I can still pick up his stories, read and think "hey I didn't notice this thing before" after almost twenty years. That's why there's still that sense of mystery which stayed with me when I read something of his for the first time.
Wow, usually a 11-years old would start with The Hobbit, you got straight to The Silmarillion?

What creates the image of Middle-earth in your mind now, after the movies? Is it more influenced by the books or movies, or maybe other artists, and did it change over time or remained the same?
Hehe yes, imagine my surprise when I "backtracked" and read The Hobbit.

Movies for sure have influenced my mind's eye. I'd like to say that it's mostly the costumes and sets, which are gorgeous (especially Imladris and Lothlórien!) but of course that's not the whole truth. I've tried to pull back from that and create my own personal headcanons, using wilder colours and creating mishmash fashion, and leeching atmosphere from whichever piece of media has tickled my fancy at a time. I've yet to venture into creating landscapes for other means than making backgrounds for my portraits, but that could be interesting to try in the future.
I've seen countless pieces of beautiful fan art from various artists on DeviantArt and Tumblr, but it's hard to say which of them have influenced me the most. My style's still trying to settle into its place, guided mostly by intuition, trial and error. I have a great love for Akseli Gallen-Kallela, who's known for his Kalevala-themed paintings, and I have a thing for Alphonse Mucha's dainty, detailed style. My personal challenge is to develop my knowledge of anatomy and create more dynamic poses. Let's just say static portraits are my comfort area…
Who is your favourite Tolkien character and why?
If I must choose just one, it would be Fëanor. I have drawn, written, meta'ed and role-played him so much the past few years, just trying to get inside his head. He's terrifying – his passions burn so hot they cross far beyond the limits of sane and healthy. He's brilliant and beautiful, and his end is such a horrifying waste. Even the brightest can fall, and he falls hard. While he is the Ultimate Elf, the epitome of the might and ingenuity of his race, he becomes a cautionary example of where lack of humility can take a person, and how absence of self-restraint can cloud better judgment. He's complicated. I often wonder how much of his ultimate demise is the result of his background and circumstances – how much of it is born of his turbulent nature, and where destiny comes to play. Does he truly have a choice in the end? How much of his horrible march towards death and disaster is premeditated by powers greater than him? Should one be held fully accountable for their own moves if the opponent keeps changing the rules? Is Fëanor a monster on his own right, or is he a pawn in a divine game – or just driven insane by loss and paranoia? I feel he's swept aside early in the story just because his mere existence upsets the status quo too much.
That's a complicated and intriguing character indeed! Are there some other topics in Tolkien's works that you are particularly passionate about?
A broad and exciting question! I went and had a talk with a co-writer friend, and she pointed out my love for redemption arcs… She might be onto something. I love the what ifs. I adore the beautifully flawed characters and exploring what makes them tick. Male characters not derided for their emotions. Interpersonal relationships. Exploring the elven culture. Dissonance between the Children and the Gods. Unconditional love, and the possessive kind.
Let's talk about your art now. What's your creative process from picking the theme to finishing a picture?
The real artists will frown at me now, but there's pretty much no solid routine going on. I have a vague image in my head (I usually don't do actual face-claims, I might pick a photo to check proportions and perspective and such), and I sketch it usually three times layer on top of a layer. That part tends to be messy, I don't have a very steady hand – and I never learned to use the actual line-art layers, or even liked them when I tried. I fill the sketch in with flat colours first and usually adjust those again and maybe choose a texture for skin. At the moment all my textures and brushes are default ones (there was a bit of a classic computer self-destruction action going on a couple of years ago, and I never got around reacquiring them). They go a long way for me. I use a lot of separate layers, which usually results in a bit of a mess, but that seems to be how I naturally roll – especially towards the end I tend to do a lot of tiny corrections on different layers. The last 20% is my favourite time – I'll fiddle with colours, textures, add detail, add all sorts of little jewellery and glow and finish the background. That stage can take days for me if I'm really into it. My eye likes busy, full images. It's an adventure to get there, and usually the result is 75% different from the initial plan. Sounds chaotic? It is, hehe.
What other book or movies (or anything else) inspire you to create art, and why?
The last couple of years most of my creativeness has gone towards Tolkien fandom or some obscure personal projects, but I've done a couple of drawings with my depictions of angels per my interest in theology, and some related to folklore and different forms of pagan faith. I enjoy looking at art from different eras, from Amarna art to Norse art, to Medieval and Byzantine and – well, the list goes on. Depictions of humankind and their relationship with their creators interests me, and I appreciate anything that has to do with one's love for their home. I'm attracted to buildings and places full of history and could stay put there just imagining things for hours, wondering what kind of people have passed there before me, and I so wish I could travel more than I do. Prague and many sites in Greece which I've been fortunate enough to visit are particular favourites.

Moving on to other things… In literature, I'm fond of Lynn Flewelling's The Nightrunner Series, Jacqueline Carey's Kushiel's Universe, and pretty much anything from Conn Iggulden. I'm interested – and invested – in feminist and sexual/gender minority themes, and always looking for recommendations for good stories with that kind of content.

Regarding movies and series, I'm an old Star Wars fan, and besides that have a horrible tendency to binge Netflix, from where I've gained many new favourites during the past few years. I like things which go out of the ordinary, and you can get me hooked with interesting supernatural, sci-fi or fantasy elements, or good quality retellings of historical events. A few weeks ago, I caved in and watched the original Blade Runner after being bugged about it for years (and being told that a person can't be complete without seeing it at least once), and well… I should have believed them when they first made their case. That movie was a big treat.

I can't not mention Peter Jackson's Lotr-trilogy, though that one's a huge, huge given and we have discussed it above already, hehe.

Most importantly, I'm lucky enough to have like-minded friends who bounce all sorts of crazy ideas with me. Life would be so much poorer without them.
What art technique is your favourite? Do you rather keep to the art techniques and styles you are familiar with, or do you experiment with new ones as well?
I've drawn 98% in digital format since too long for several reasons – my fine motor skills are actually horrendous, so I enjoy having the power of Ctrl+Z, and besides that, my tiny tablet has paid itself back several times in art supplies. I occasionally miss being organic, but I do love the convenience of not making a mess and not having to worry about mistakes and of course being able to finetune colours whenever I want. I'd like to get into acrylic painting, though, and learn to bring my art on multiple mediums. Who knows, I might find something that suits me.
Do you have some tips and tricks you would like to share with the other artists?

For me, I find that the most important thing is to look at art! Even when I have a dry spell, I try to make sure to look at pieces I like, give my favourite artists' new works that extra attention. I ask myself how would I go about doing this myself? Even if I never will, it's a good mental exercise. When I lie awake at night, I draw in my mind, at times consciously paying attention to tiny details, and sometimes I just let the brush go wild and make the whole thing a meditative explosion of colour to reflect how I feel about myself and the day I lived through. Even after there's been weeks or months without touching the pen for whatever real-life reason, I find that I sometimes take leaps in my art regardless.

You get told you should practise, practise, practise some more, and of course that's the best advice to give to anyone wanting to learn how to draw, but the sum of creation is equally about vision, maturity and mood. Art is art no matter how skilled you're at it. Everyone should be encouraged to create freely. Without taking away from the hard work and dedication of people who make a living with their hard-acquired skills, I do believe we are all artists. It's humanity's default setting. Everyone should be encouraged to create art and find their own voice. You can come back to it, and sometimes you find yourself in the place you needed to be. I think it's incredibly comforting.

Besides that, life imitates art, and having that twinkle in your eye when you go about your day just makes it a bit more interesting and special for you. There's so much to discover and appreciate.

That's a really great advice! Now could you show us, which
- Tolkien illustration you are most proud of?
At the moment, probably this one. I love Maedhros and Maglor and I'm still fond of this concept and feel like I managed to capture something of them here.
- original picture or picture from other fandom you are most proud of?
Oh goodness. Maybe this one. I liked it a huge lot when I finished it, and it's not too painful to look at now, hehe.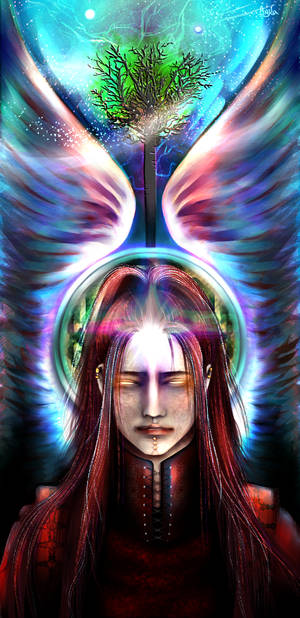 - picture fits your current mood?
Could we have some snow already?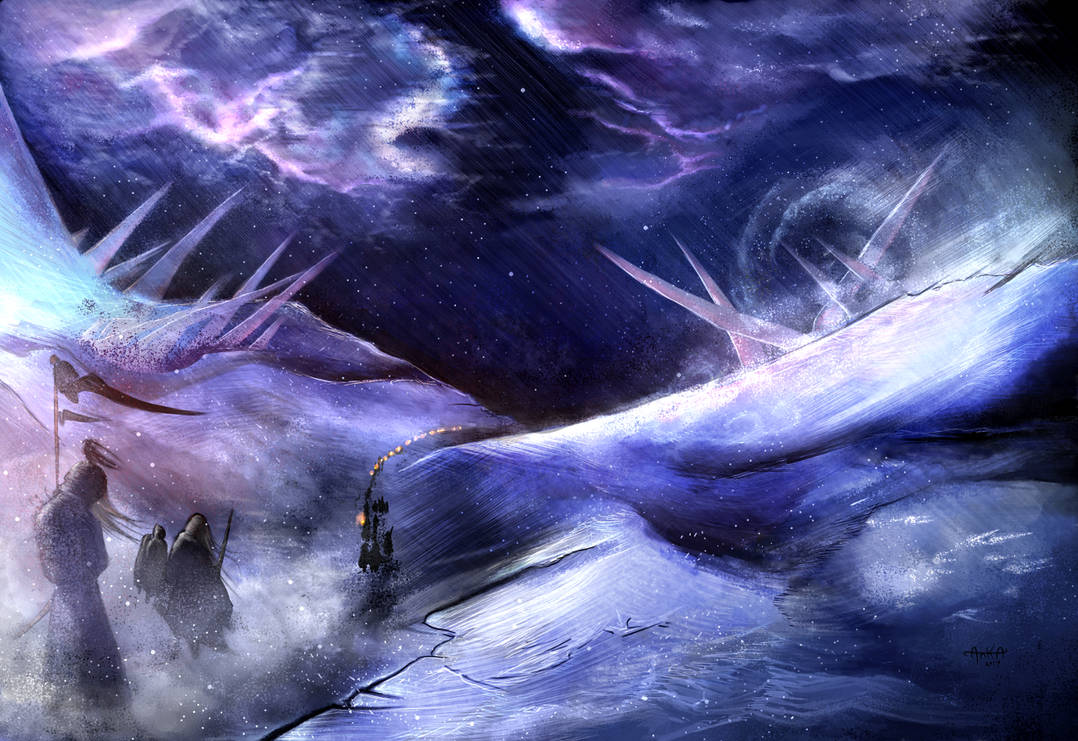 - picture was hardest to paint?
Can I show you this? It was such an ambitious pose for me to pull off, I'm not sure how I managed it as well as I did. Obviously it's got some problems, but I'm still reasonably happy with it.
- other picture you would like to share with us and why?
Let's go with this one, my newest. I like the composition and the colours a lot, and in my own horribly biased opinion the atmosphere turned out pretty nice too!
Would you like to thank somebody here? What key people in your life, (on or off of dA) have been inspirations to you, or has supported you, as an artist? You can also tell us why, if you want.
I'd like to thank all the people who have favourited and commented on my works and inspired me to paint more. Special thanks to the bassist at home for listening to my endless elf rants, and to my friends Myssy, Ana, Felix, Raiyana and Andii, all of which have been a huge source of inspiration, support and encouragement. Love you guys.
And I'd like to thank you for this chance. I've enjoyed reading these interviews and being able to do one with you has been great!
My pleasure! Would you also like to use this space to give a feature to someone? Is there some artist(s) at dA you know, who doesn't have as much attention as they would deserve? If yes, could you give us some thumbnails from their gallery?
Absolutely! Here's my dear friend OracleofImladris who just remade her account here. She's an avid fan of Tolkien and an overall enthusiastic, fun and generous person. Besides all that, she's such a talented artist. I mean, look at this beauteous Glorfindel here:
Is there something else you would like to tell to the fans of Tolkien and your art?

Thank you all for the beautiful community – it's a gift that keeps on giving, full of devoted, friendly and talented people. I'm looking forward to seeing what you all come up with the following years!
Thank you for your time and answers!