The Chinese artist

- Cocoz42 was very concise in her answers, maybe because of the language barriere and limited access to the site, but her

1. Hello! For the beginning, could you tell us something about yourself?
One thing I'm really bad at is introducing myself.
2. What brought you to deviatArt and how did you pick your username?
I want more people to see my works. My user name is my English name with some add-ups.
3. How did you enter Tolkien's world for the first time, and what impression did it leave in you?
Watching LOTR trilogy in theater when TROTK launched. I fell in love with a great work in one day.

4. What creates the image of Middle-earth in your mind? Is it more influenced by the books or movies, or maybe other artists, and this it change over time or remained the same?
Movies, later I read novels, but not much has been changed.
5. Some of Tolkien's books can be hard to read, being more of history annals than beletry. Do you enjoy the scholarly side of studying Tolkien's world as well?
I didn't even finish English version of Unfinished Tales...very hard to read to me, not an English-speaker. Though I read Chinese versions, not all of them.
6. Who is your favourite Tolkien character and why?
Sam, everyday I need courage to survive in my country (like Mordor), really need to believe there's something worth to live for, to fight for.

7. Now, could you tell us something about you and art? Are you a professional artist, or is art just your hobby? When did you start doing it, and who or what influenced your style?
My passion on art is less and less during these years, I'm not a professional artist, though I want to be one, also, it is highly impractical in China than other places for me. My style varies according to the theme.
8. How do you choose which scenes and characters to illustrate?
I don't choose, I only do what I have inspirations about.
9. What other book or movies (or anything else) inspire you to create fanart, and why?
A lot Star Wars stuff, RPG game stuff, like the answer above, depends on does it give me inspiration or not.
10. What art technique is your favourite? Do you rather keep to the art techniques and styles you are familiar with, or do you experiment with new ones as well?
I don't have regular style, and I like to try new ones.
11. Do you have some tips and tricks you would like to share with the other artists?
No, I think people are so different from each other, tips and tricks are for specific questions, not generally to everybody.
12. Could you tell us, which
- Tolkien illustration you are most proud of?
I haven't finished it yet...and I even don't remember in which year I draw it on paper...for now, Goldberry.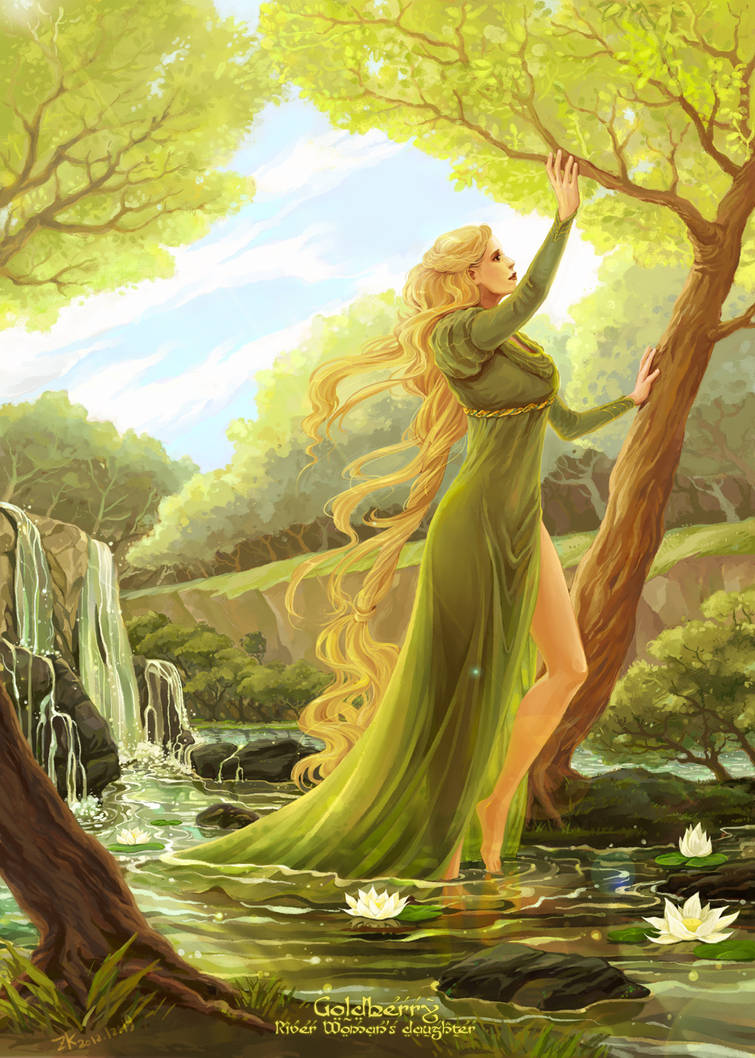 - original picture or picture from other fandom you are most proud of?
I like my recent fanart of Star Wars and old works on Dragon Age.

None, as long as I posted it already.

13. Would you like to thank somebody here? What key people in your life, (on or off of dA) have been inspirations to you, or has supported you, as an artist? You can also tell us why, if you want.
Minako Narita sensei, manga artist from Japan, I met her in person on her 40 years career ceremony this year, said thank you to her. Her works means more than art to me. And Professor Ma kexuan, an animation artist passed away years ago, he told me my goal was worthy and I was on the right way. Last but not least, my family, they all support me for my choice, and you should know it's rare in Chinese culture.
Thank you for your time and answers!