Today I talked with

-

Brunild

, not only about her beautiful art, but also the Black Book of Arda - a fanfiction published as a book in Russia. It opens controverse topics about the relativity of good and evil in Middle-earth, and has influenced several artists, including herself. Some Tolkien fans love it, others hate it, so please keep the comments polite if you decide to tell us your opinion. If you haven't heard of it yet, and would like to know more, or just enjoy Brunilde's art, I invite to read our interesting talk...

Edit: Brunild has deactivated her account, but I saved some of her art in sta.sh here: sta.sh/22c8fg6o0bzz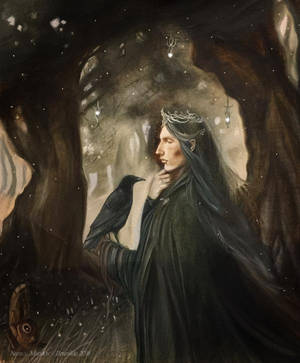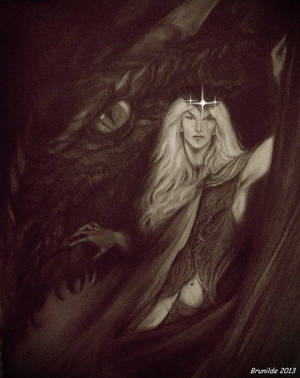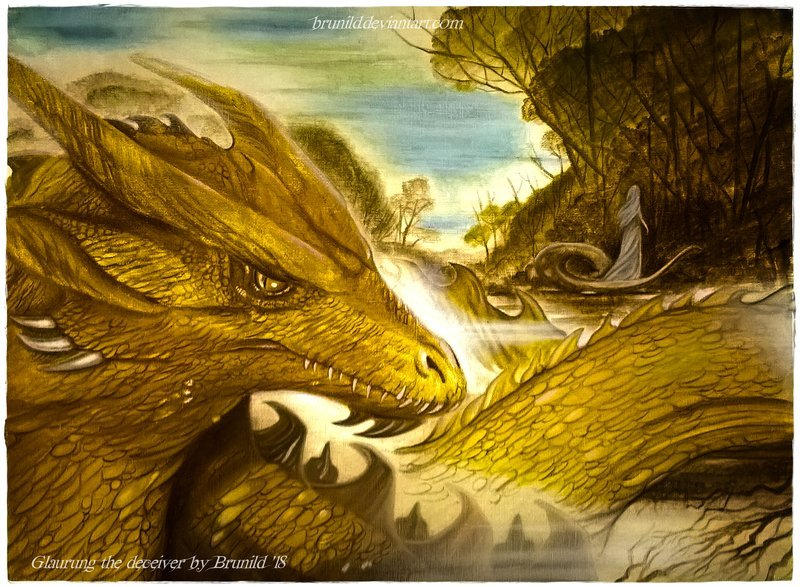 1. Hello! For the beginning, could you tell us something about yourself?
Hello! I am Brunilde and I come from a little country in Northen Italy, in the province of Asti in Piedmont. I attended art school ( with address architecture), and then I graduated from Academy of Fine Arts in Turin in 2007, however I can not call myself a full-time artist since I am currently a professional falconer and I work in the field of protection and conservation of birds of prey ( another my big passion)

2. When did you read Tolkien's books for the first time, and what impression did they leave in you?
I have read "The Lord of the Rings" at age of twenty years and I was immediately fascinated by the universe created by the Professor. A dimension parallel to ours but mythical ad ideal, an incredible world where, I believe, each of us would want to live. After the trilogy I have read the other books, and I was impressed by "The Silmarillion".
3. How extensive is your knowledge of Middle-earth? Do you consider yourself Tolkien expert?
I don't consider myself an expert, unluckily the History of Middle Earth has not been translated in Italian and I can't consider my knowledge so extensive

However Tolkien is for me another great passion and I really love his works!
4. You often depict scenes from the Black Book of Arda - an influential and controversial fanfiction written by N. Vassilyeva and N. Nekrasova and published in Russia. Could you tell us a bit more about it?
This is another book that what fascinates me, because it deals with the concept of good and evil in a way similar to the attitude with which I interpreted The Silmarillion. In this book what Tolkien considered the evil, actually, it's just misunderstood. The Silmarillion it is a story told from the Elves, the winners; The Black Book of Arda it is a story told from the defeated and is vey moving and touching. The book urges to see with their own eyes.
Melkor and Sauron have a completely normal appearence, the only way in which Melkor change its shape are the wings.
5. Why do you think does this book cause so much controversy and what is your opinion on it?
It is a difficult question, I think that it cause so much controversy because it calls into question a predetermined order, and insinuates doubts about the "truth".
I am a free spirit..and I like the idea that there is no absolute evil. I am in favor of this work, I like that there is a counterpart while respecting the ideas of Tolkien.

6. Do you think it's more important in fandom to follow the original intentions and opinions of the author, or have the freedom to contribute to his world with own ideas?
I think that the books can be interpreted by the sensivity of the reader as well as any other work while respecting the author's ideas. For example, I have read The Silmarillion from a human point of wiew and not religious.
7. When the movies came out, many of the inner pictures of characters and scenes in the mind of the readers have been replaced by actors and settings from the movie. Did it happen to you as well? Did you try to prevent it?
I have to admit that Peter Jackson made a wonderful work and many many characters and scenery of the movie are quite similar to my mental images. However it is natural to be influenced!

8. Now, could you tell us something about you and art? Are you a professional artist, or is art just your hobby? When did you start doing it, and who or what influenced your style?
I can't consider myself a professional artist because I would not have enough time for it, I would say that art is more a passion I have since childhood. My favorite artist ever is Johann Heinrich Fussli, i believe that I have influenced from his dreamlike paintings with figures that emerge from dark background. And many other artists from the past.
9. How do you choose which scenes and characters to illustrate?
Usually I do not plan anything, they come to mind based on the state of mind. Then I pick up various images and then realize the vision have in mind

10. What art technique is your favourite? Do you rather keep to the art techniques and styles you are familiar with, or do you experiment with new ones as well?
My favorite tecnique is oil painting and, I know that is wrong, but rarely I do experiment with other tecniques.
11. Do you have some tips and tricks you would like to share with the other artists?
I do not feel like giving advice because I still have a lot to learn but I can say: "Love what you do so that others will love it"


12. Could you give us a link or thumbnail from your gallery of
- a Tolkien illustration you are most proud of?
Because he is like I imagined.

-
a picture from other fandom or original picture you are most proud of?
- a picture that fits your current mood?
- a picture that was hardest to paint?
- any other picture you would like to share with us and why?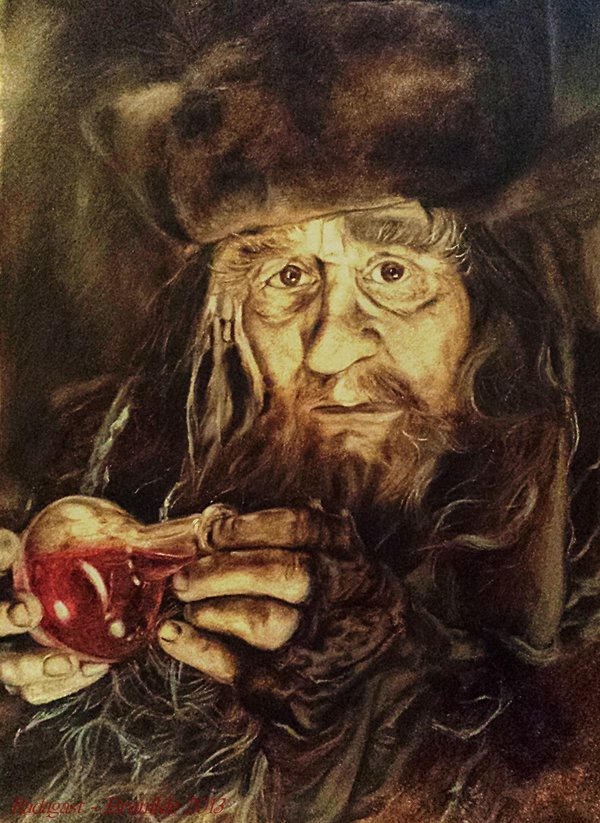 Because I love Radagast also in the movie!!

13. What key people in your life, (on or off of dA) have been inspirations to you, or has supported you, as an artist? You can also tell us why, if you want.
My husband and of couse the kind people here on dA

!!
14. Is there some artist(s) at dA you know, who doesn't have as much attention as they would deserve? If yes, could you give us some thumbnails from their gallery?
I think there are many many great artists here, now I' m thinking of some people whose art I like it very much and I think they deserve much more attention, for example:
15. Is there something else you would like to tell to the fans of Tolkien and your art?
Of course, first of all I thank you for giving me this opportunity and thanks to you all for your beautiful art and for your kind support that really means a lot for me and makes me really really happy!!!
Thank you for your time and answers!Note: The Black Book of Arda currently doesn't have a complete English translation. An incomplete fan-translation can be found here: sites.google.com/site/theblack…