- Attiris-V (Vojtěch Vodička) paints illustrations for the Hobbit with a charming style reminding on the illustrations in children's books. You can take a look at his gallery before reading a talk with him:

1. Hello! For the beginning, could you tell us something about yourself?
Hello, I'm a 21 yrs old guy from the Czech Republic, studying a programme of Architecture and Building Structures. I've been drawing since I can remember, actively pursueing it my whole life.
2. What brought you to deviatArt and how did you pick your username?
I honestly don't remember what have brought me to deviantart, but my nickname comes from a world I've created when I was little for a book I was trying to write at that time.
3. How did you enter Tolkien's world for the first time, and what impression did it leave in you?
I suppose I've always knew about Tolkien and his world, but at first I despised it a little bit as I was more into wild west books and movies. Then I started to like medieval times which led into reading fantasy books. So I actually got to the Tolkien world after exploring other worlds. Probably the first spark for me was a old cartoon of Hobbit by Ralph Bakshi which my dad showed me.
4. How much did the movies influence your imagination when reading the books?
I have definitely came to contact with the movies earlier as it was all around me, in action cards, tv, games etc. but, although it is definitely one of my favourite cinematic works, it didn't left as much influence as I would have expected. Ted Nasmith and Alan Lee [who is probably one of my all time favourite artists] have played much bigger role.
5. Some of Tolkien's books can be hard to read, being more of history annals than beletry. Do you enjoy the scholarly side of studying Tolkien's world as well?
Yes, I do actually. I have read Silmarillion several times as well as Children of Hurin. That's what makes the unique atmosphere for me.
6. Who is your favourite Tolkien character and why?
When it comes to the Lord of the Rings, then it's Samwell, who is the bravest and most loyal and honest of them all. Other than that I love high elven characters like Finrod Felagund, Gil-Galad and others.
7. You have only drawn pictures for the Hobbit. What about other Tolkien's books? They don't inspire you or rather do not fit your style?
Well I feel that my style really doesn't fit the atmosphere of the books which are for me perfectly presented by Alan Lee and in some way his are perfect for me and unbeatable.
8. Speaking about your style, it is very fitting for childrens' books illustrations. Do you draw with that intention in mind?
Well that is definitely one of my side dreams. Illustration is the branch of art which was always closest to me. At the same time I have always had the ambition to write a book, so that would be a perfect opportunity to present my mind completely. As for the style, I have somehow naturally grew into it working with watercolours and trying to avoid the classical watery look, which i find kind of cheesy, when not performed perfectly.
9. What other book or movies (or anything else) inspire you to create fanart, and why?
I really like to do comic book stuff, as I love the ability of the style to capture movement and action and in that matter is a real inspiration. Other than that I usually create my own stuff as creating them is as much fullfilling as drawing them for me.
10. What art technique is your favourite? Do you rather keep to the art techniques and styles you are familiar with, or do you experiment with new ones as well?
I don't experiment as much with new styles as I would like, only touching oil and acryl from time to time compared to nonstop drawing with pencil, marker or watercolours.
11. Do you have some tips and tricks you would like to share with the other artists?
I don't really believe in universal tricks which work for everybody. Artist should find their own tricks, which make their works unique and personal.
12. Could you tell us, which

- Tolkien illustration you are most proud of?

probably Troll Bonfire, which was my first or Gandalf in the Caves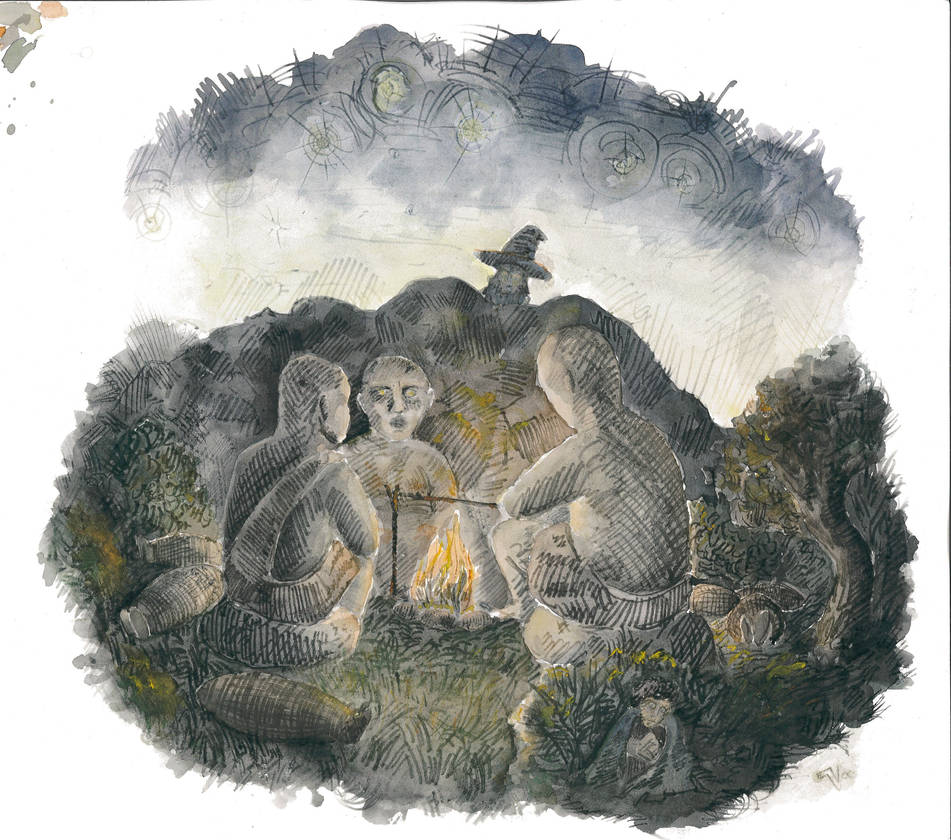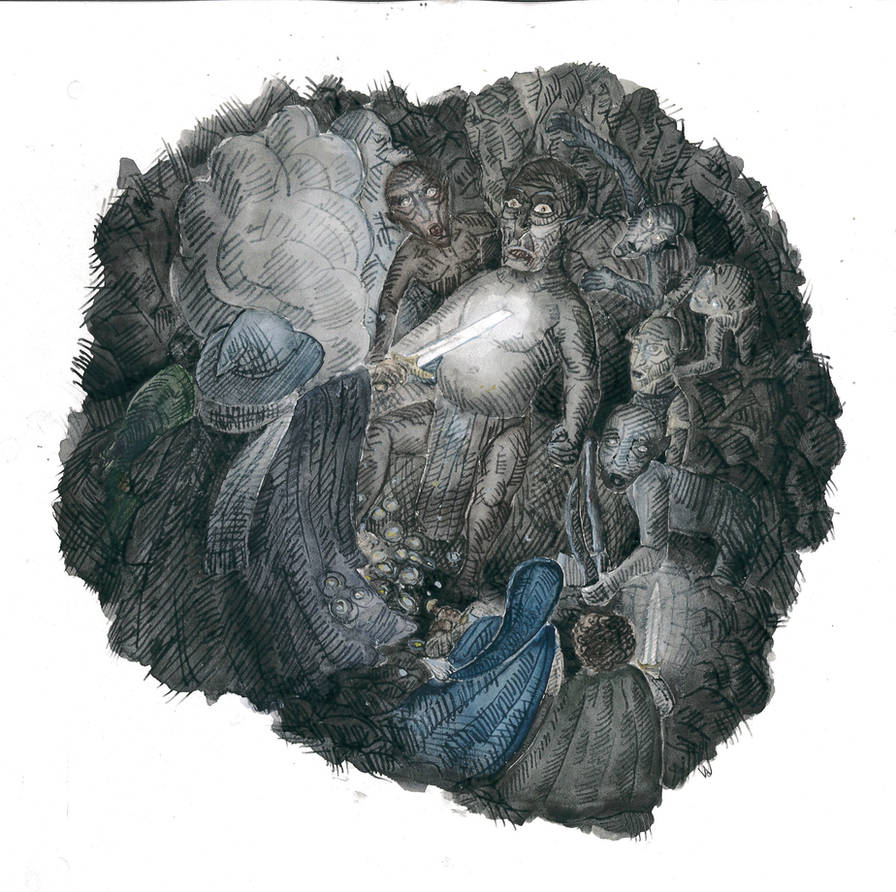 - original picture or picture from other fandom you are most proud of?

my gallery isn't the largest, but for me its my first picture on this site - Little Prince with the Fox, a picture which fulfilled for me everything I have expected from it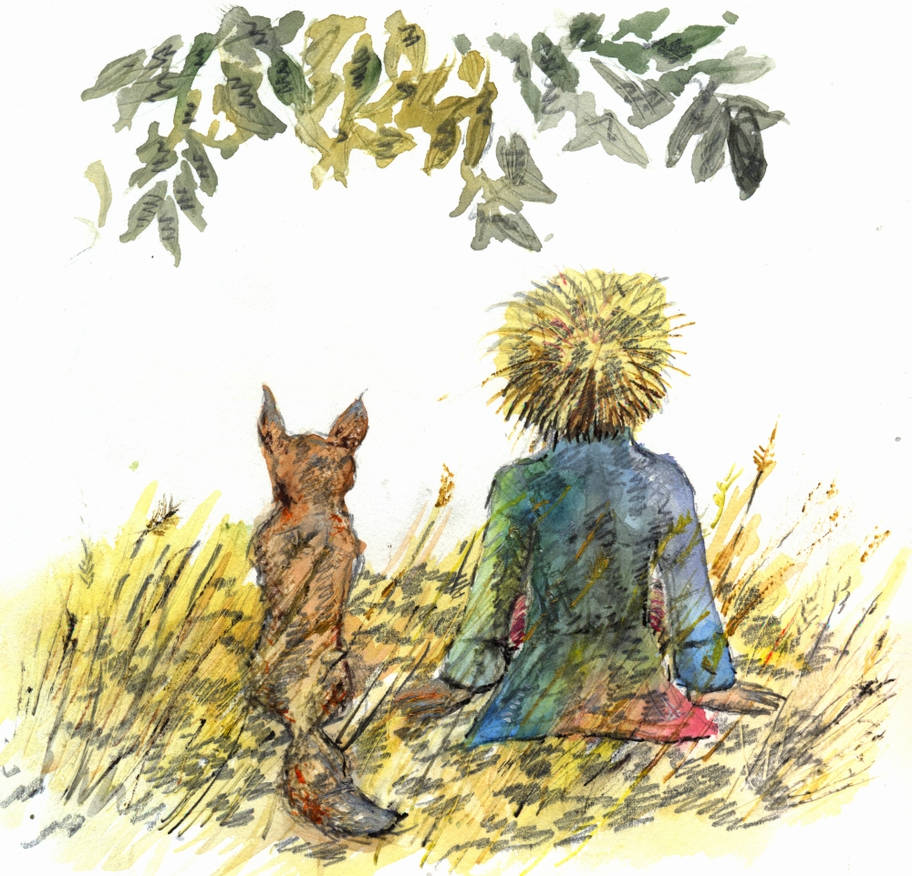 - picture fits your current mood?

It depends, there are some spontaneous but sometimes it takes more times to really get it right and then its more of planning and thinking.
- picture was hardest to paint?

probably the one from little prince with the flag on the north pole, i had to try it several times till i got the right scenery and style.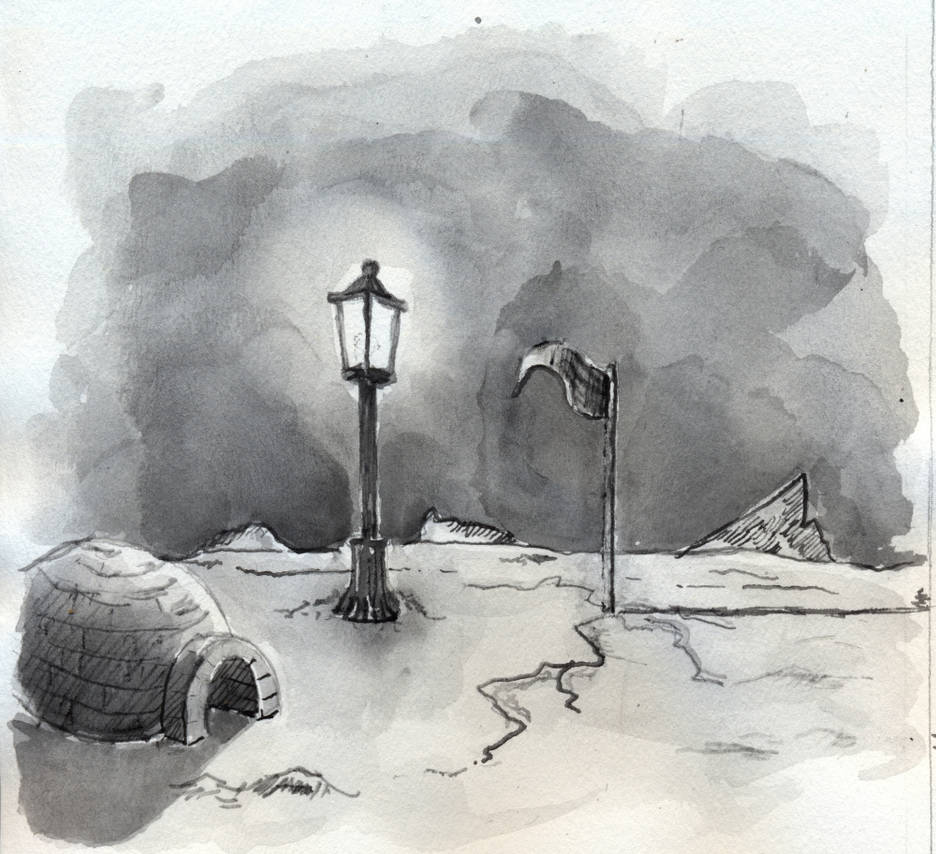 - other picture you would like to share with us and why?

this was one of the spontaneous pictures, which was my response to the Melancholy Hill by Gorrilaz which was my favourite song at the time and it still resonates in me.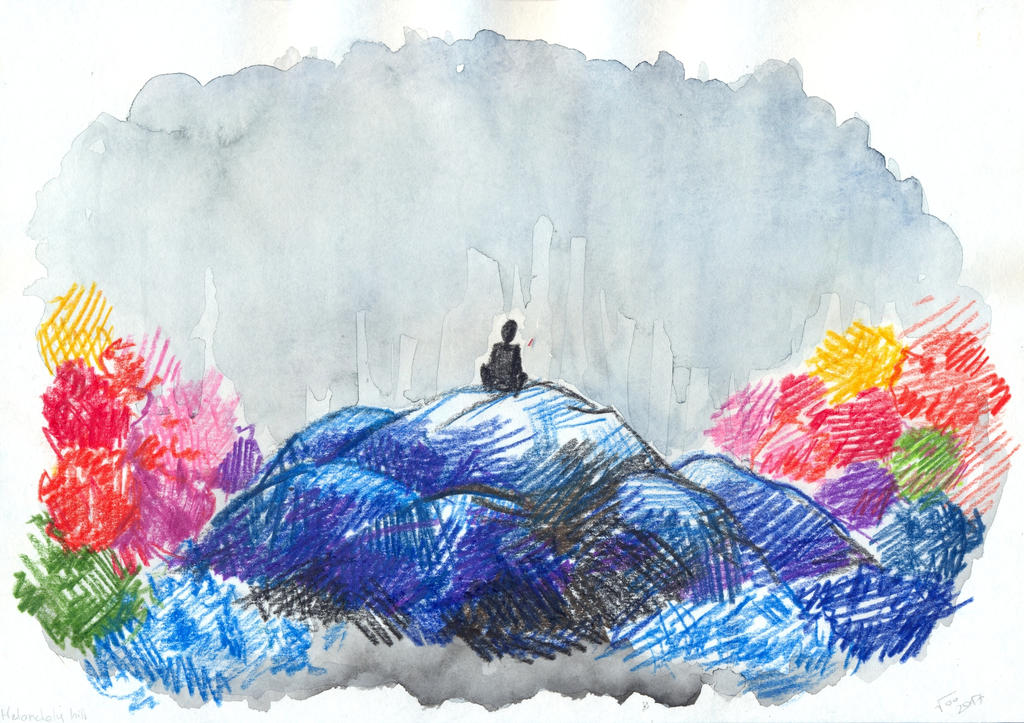 13. Would you like to thank somebody here? What key people in your life, (on or off of dA) have been inspirations to you, or has supported you, as an artist? You can also tell us why, if you want.
I come from a art/supporting family when it comes to both visual art and music. My dad always supported me a lot. The next important person was my art class teacher who lighted the fire in me to create my own things.
14. Is there something else you would like to tell to the fans of Tolkien and your art?
I would say that Tolkien for me isn't about the story or the characters, though both of them are amazing. It about the atmosphere and that's what I'm trying to capture. There are many character designs, which are amazing but the hard thing is to present them in the ancient world that Ea is.
Thank you for your time and answers!