The gallery of

- AngelaRizza is full of beautiful detailed pictures of many topics, and if you browse through them, you also will discover many wonderful Tolkien illustrations, like these:


1. Hello! For the beginning, could you tell us something about yourself?
Hey, My name is Angela, I'm 25 and I got my BFA from the Fashion Institute in NYC for Illustration. In college I focused a lot on fantasy illustration and children's books and since then I've been freelancing in upstate New York.

2. When did you read Tolkien's books for the first time, and what impression did they leave in you?
I first read The Lord of the Ring series in elementary school, I remember buying the trilogy at a book fair because I loved the cover art. When I first read it, I think I was too young to really get the story and I remember just loving the characters and the whole fantasy world they lived in. That and the Harry Potter and Dragonlance books influenced a lot of my elementary school/middle school artwork and most of my subjects were dragons and weird monsters based on the creatures from these series.
3. How extensive is your knowledge of Middle-earth? Do you consider yourself Tolkien expert?
I wouldn't consider myself an expert, I'm always learning something new about the series every week and I like how when I rewatch the movies or reread the books I always notice or realize something new which keeps the series interesting and fresh for me.
4. Did you read the books, or see the movies first? When the movies came out, many of the inner pictures of characters and scenes in the mind of the readers have been replaced by actors and settings from the movie. Did it happen to you as well? Did you try to prevent it?


I read the trilogy first, but I saw the Hobbit movie before I read the Hobbit.
I found the movies helped me appreciate the book more. I had my idea of what characters and creatures looked like in my head but I think Peter Jackson in his crew helped fill in the gaps in my head and made it feel so solid and complete. But, I liked my vision of their outfits and the environment a bit more, I always imagined them more flamboyant and not as close to our world.
5. Now, could you tell us something about you and art? Are you a professional artist, or is art just your hobby? When did you start doing it, and who or what influenced your style?
I work as an illustrator and teach art to elementary and middle school aged kids part time. My grandfather was an artist and influenced me into becoming one from a young age, so I've been drawing since I was a kid with the idea that I'd be doing this for the rest of my life. A lot of my style is inspired by classical storybook illustrators like Arthur Rackham, along with some contemporary artists who work in mixed traditional/digital media like Yuko Shimizu.
6. How do you choose which scenes and characters to illustrate?
I like to create an image that can present the main characters in their best light, and in a recognizable or iconic setting. Sometimes I like to do a montage of different scenes in one image to tell a chunk of the story.
7. What other book or movies (or anything else) inspire you to create fanart, and why?
I did a Harry Potter and Game of Thrones series last year, and I want to add more to that. I also want to do a piece inspired by season 1 of True Detective when I have time. I do a lot of fanart because I was told by a few successful illustrators that if I draw the things I love and fill my portfolio with them, I will get jobs involving those things. So far I've found that to be true, I had some of my pieces used for the Middle Earth Envisioned book, and I was invited by HBO to stand on the red carpet in ny at last year's Game of Thrones season premier party.
8. What art technique is your favourite? Do you rather keep to the art techniques and styles you are familiar with, or do you experiment with new ones as well?
I like working in a combo of traditional and digital media. I ink everything traditionally and add some value with black watercolor, then I scan it and add the color in Photoshop along with some details and texture to get my look. It's a process I'm very quick with and I'm always tweaking and playing around with to improve.

9. Do you have some tips and tricks you would like to share with the other artists?

Definitely draw everyday, keeping a sketchbook is a great habit and this is how you improve your artwork and keep track of ideas.

10. Could you give us a link or thumbnail from your gallery of
- a Tolkien illustration you are most proud of?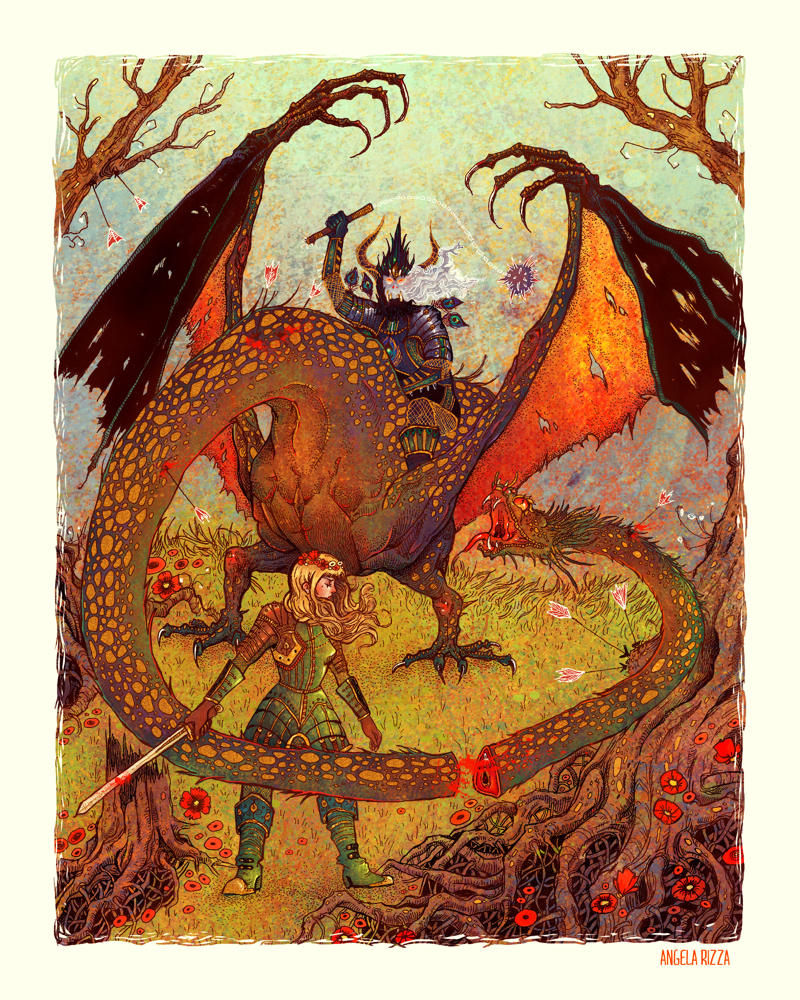 - a picture from other fandom or original picture you are most proud of?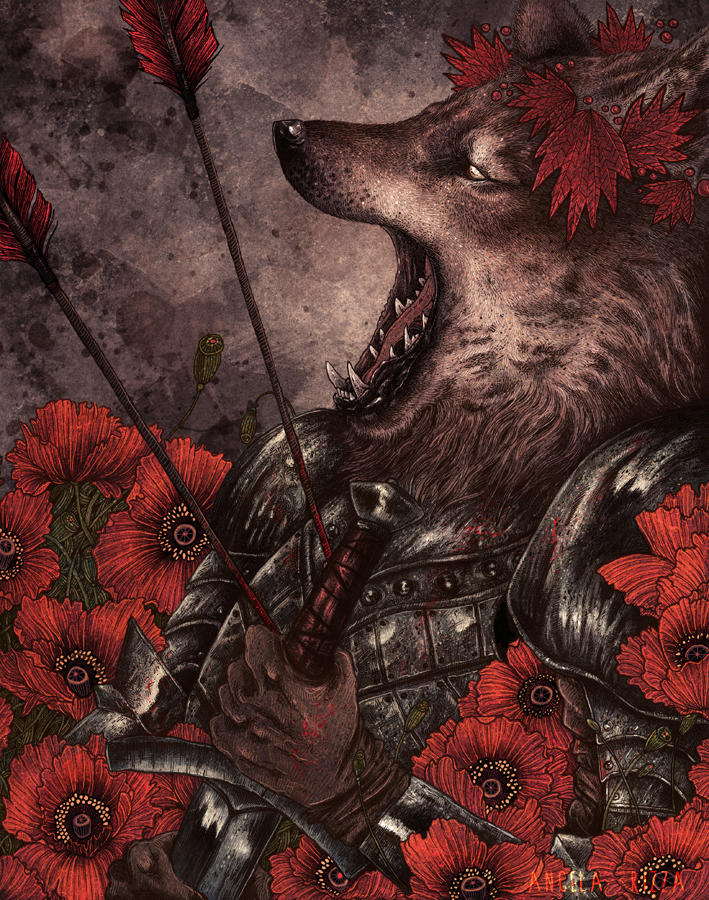 - a picture that fits your current mood?


- a picture that was hardest to paint?


- any other picture you would like to share with us and why?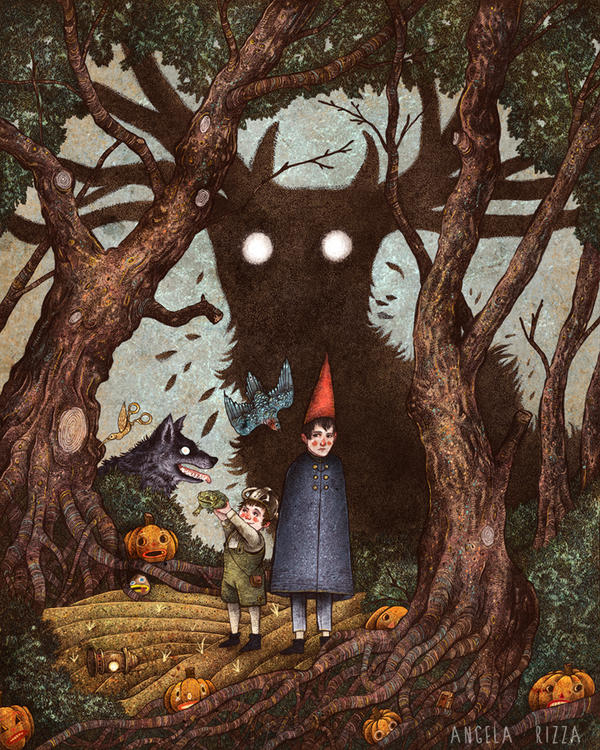 I just love this one, the whole Garden Wall series feels like someone went into my brain, took out my mind and made it into a cartoon.
11. What key people in your life, (on or off of dA) have been inspirations to you, or has supported you, as an artist? You can also tell us why, if you want.
Arthur Rackham, Teagan White, Audubon, Charles Vess, Corey Godbey, Nicolas Delort, Ida Outhwaite, Jillian Tamaki and Richey Beckett have all been artists who I admire and look up to.

12. Is there some artist(s) at dA you know, who doesn't have as much attention as they would deserve? If yes, could you give us some thumbnails from their gallery?Thank you for your time and answers!