6
½ years to write my second journal entry, and a day til the next... I'm nothing if not inconsistent!

I got a tag-back (noooooo) from

to elucidate on my heroine Knitwit. Quickly getting the rules out of the way...

1.) Post the rules.
2.) Post 8 facts about your character.
3.) Tag 8 other characters.
4.) Post their names along with their creators avatars. Phew.
So then, eight facts about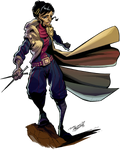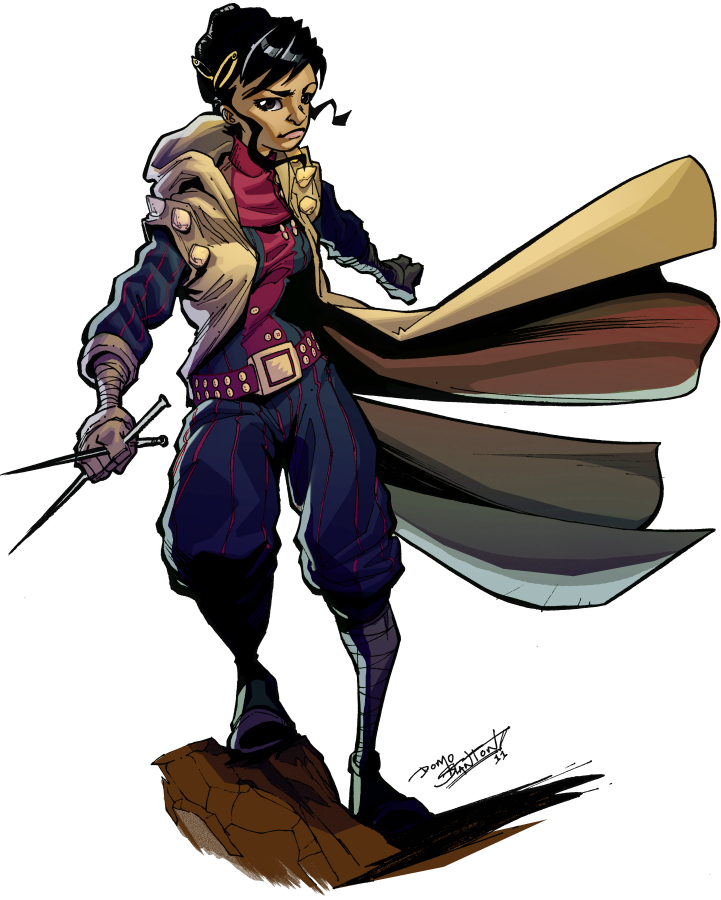 Knitwit:
1. Knitwit is fourteen years old. She is not super-powered. She is not Batman either. Knitwit is an apprentice tailor. When her world falls apart she wields everyone and everything she knows to sew it back together. Unfortunately the Airhead patch pushes it into the surreal.
2. Knitwit was born in Wundwin township in Mandalay.
3. Her father, Nai Shwe, is an English-trained tailor who moved with his wife from Rangoon (now Yangon) to Wundwin before Knitwit was born.
4. Knitwit does not knit. She is a tailor, but she will also accept 'seamstress'. She lets Airhead call her Knitwit since she calls him Airhead.
5. Knitwit has a variety of costumes to suit her mood but they follow a pattern: elegantly tailored fabrics of dusky indigo and magenta, decorated with yellow buttons and gold, and topped with a khaki coat. If that is not costume enough then the upside-down hearts painted with thanaka on her cheeks should help (these are missing from some Knitwit commissions).
6. The yellow buttons are Knitwit's ego signature. Check your crime scene for any buttons replaced, very competently, with yellow ones.
7. Knitwit was an Arachnos Widow in City of Villains online. Focusing on just two attacks that fired darts from her wrists, along with enough Haste to spew the darts continuously, she became a pillbox of needle-y doom. This playstyle was a result of my weak network connection that made it hard to close to melee. I eventually wrote a guide to playing ranged Widows, although with so many ways to play Widows I doubt it saw much use. The sand boat commission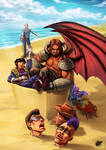 features heroes and villains Knitwit met in City of Heroes. Coincidentally, tailors were the most important people in the City.
8. A character based on Knitwit appeared as a Kickstarter pledge benefit in Gary Turner's Technically Magi comic. A beautiful sketch of Mya the elven Cloth Artificer by

was included at the end of Issue #0. An elf locked in dwarven stocks in Issue #2 is also called Mya, colored by the inimitable

. However possibly due to changing artist she looks nothing like Knitwit and has blue eyes, pale skin and brown hair. That's okay, more impetus for me to put Knitwit's story in writing myself.
Back to them rules... I've already harried enough but there's no guilt in tagging someone who has their head sticking up:

! I really, REALLY want to hear about your Malleable Mechanic, since I've met him, but perhaps Wheelman is an extension of the same tale. You have a wonderful pantheon, hopefully you'll get requests for others too.