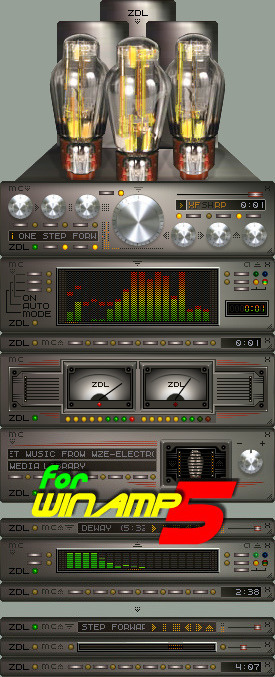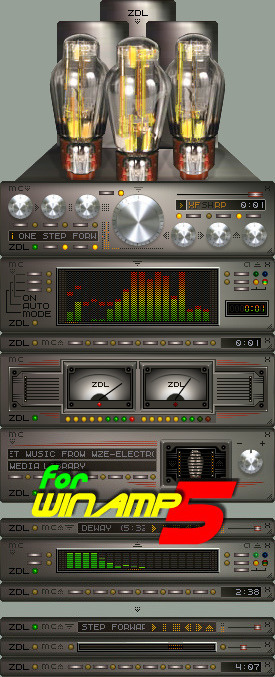 Watch
ATTENTION! This skin is NOW UPDATED for WINAMP-5.23. Important: if you use latest winamp-5.23 you have to download and update your skin. The older versions of ZDL skins will not display correctly in winamp 5.23 or later.
****************
ZDL-AUDIOPHILE-5 Stereo System User Notes:
Player view: Big Knob - tubes UP/DOWN.
Little Up/Down button above the tubes: Hot/Cool tubes switch (make tubes visualisation brighter/sharper or smoother/more transparent,
try this feature when changing color themes)
Player has compact and mini view (use down/up buttons in the left top corner of the player) or double-click ZDL-title.
Playing file info-line can be switched to BitRate/Mono/Stereo info (click on it to switch), also click-(i) button to pop media-file
ID3 tag-info window.
Other buttons have hover effect , so you can see what are their functions.
Equalizer views: Normal, Advanced, Mini-View (seeker and balance control), Analyzer View and Super-Analyser View.
Double Click ZDL-Title in EQ viw switches view one way or the other depending on what view you are.
Down-Button in the right-top corner of Normal-EQ view switches it to Analyzer-View.
Analyzer view can be switched into larger Super-Analyzer (push up/down-button above analyser screen).
Analyzer has four color-settings (color-button): gold, green, blue and multi: green/gold/red.
Super-Analyzer also has Mode-Button, which switches analyzer screen from Classic Bare Mode to Dot Matrix Mode.
Receiver-AMP: has six buttons - access to other windows/compunents of winamp-5, it also has fine-step volume adjustment control-knob.
NEW in this version:
1. Updated for winamp-5 functions
2. Player and Visualization control in all windows/components
3. Color Themes and Brightness adjustment themes (evening light (darker), normal, day ilght (extra light))
4.NEW!!! Big Analog style ZDL-Audiophile VU-Meters component. VU-button located on the left above big knob in the Main Player view. Or you can always access VU-component from main menu.
***********
If you have any specific questions, contact Mike Zee aka Dr. ZEE at this page:
[link]