I greet you with the
(widest smile)
Sci-fi geek and history buff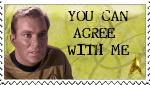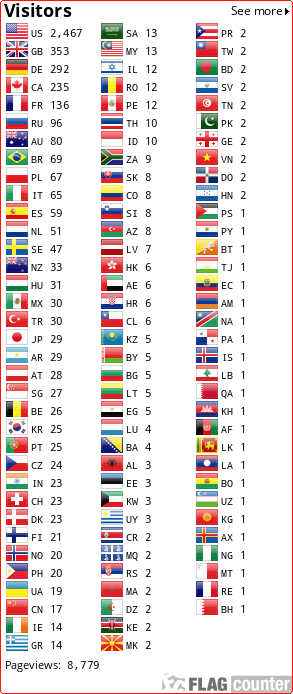 (Loading SUCKS!)
Fan Bars:
Personal Beliefs/Opinions, Language Levels and Gamer Level






my other ride is the :thumb705917033:
My woman, lol
Thanks to
elavoria.deviantart.com/
(Elavoria) for creating the Deanna Troi pixel...and tbh, she [Elavoria] makes a hot Starfleet officer

(R.I.P Stephen Furst, the guy that played Vir Cotto)
I did mention I'm a history nerd, right?



Science Nerd, too:


Music Favs:

You better believe it

(thanks to
satanspawn80.deviantart.com
for this)
How/What I feel:
:thumb663049236:

My RP Preferences:

I think

is hot! (yea, I am getting a little into anime, too)
Don't this guy make you think of Rod Serling from 'Twilight Zone'?
Your superhero name is: Panther Shadow
You were an archaeologist, on a voyage into the jungles of South America, when one of your discoveries angered the ancient cat gods! Now, you bear the weight of their power, until you find a way of appeasing the mighty deities!
Cat Control - You can bring any cat under your complete control, and can extend your power to hundreds of potential subjects!and...Shadow Control - You can manipulate and control shadows, using them to hide yourself or even as a mode of transportation (travelling from one shadow to another)!
Now, you protect Atlantis from the Yakuza, while also battling the evil plans of Lee Pin Woo, Master of Mysticism!
Superhero name created by
Name Generator Fun
Your supervillain name is: Neuro Stryke
You were a normal university professor – until you cracked a seemingly impossible mathematical conundrum, a feat that unlocked strange and bizarre abilities for you! Now, with your unstoppable brain and lack of morality, your reign of terror can truly begin!
Human Lie-Detector – You can instantly tell whether someone is telling you the truth or lying!and...Explosive Concussion – You have the ability to produce waves of explosive, concussive force that can flatten opponents, shatter walls or topple buildings!
Now, with the aid of your trusty henchman Monsieur Rabbit and your army of vicious robots, you bring terror and chaos to the streets of Bruges!
Supervillain name created by
Name Generator Fun
The Great Archives determine that you have gone by the identity: Marius Belmont
Also known in some parts of the world as:
The Disease of Bulgaria
The Great Archives record:
Amongst fire and ice, you are one who is hot and cold!
Vampire name created by
Name Generator Fun
Your pirate name is: Elias "Gold Fiend" Cocker
"The Rage of Starfish Wash!"
Elias be hot of temper and wild of eye!
Pirate name created by
Name Generator Fun
Your tough guy name is: Bolt McLampJaw
You were trained by a bear. You ride around on a 1984 Honda XR500 and your weapon of choice is your fist. You feel most comfortable in flannel shirts. You're out for blood. You eat sadness for breakfast. You love working with your hands. Your best friend is your old cellmate. You breed kangaroos for fun.
Toughguy name created by
Name Generator Fun
Your Star Wars name is: Athers Lightningburn
A mysterious humanoid from Iridonia
Star Wars name created by
Name Generator Fun
(cue Porky Pig)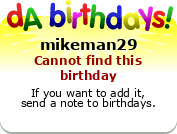 Favourite Visual Artist
Too many on DA to actually list, but you know who you are :)
Favourite Movies
Star Trek, Star Wars, any Mel Brooks movies, Die Hard, Terminator
Favourite TV Shows
Star Trek, Babylon 5, Battlestar Galactica, documentaries (particularly history and science)
Favourite Bands / Musical Artists
Genesis, Tears For Fears, Phil Collins, Bruno Mars, Duran Duran
Favourite Books
Any good Star Trek book, Harry Turtledove, any other good Alt-history writers (though I have yet to read many aside from the noted one)
Favourite Writers
Turtledove, Peter David (Star Trek novel writer), Arthur C. Clarke
Favourite Games
Star Trek, Civilization IV, Star Wars: Empire at War & Forces of Corruption, Empire: Total War
Favourite Gaming Platform
Wii, PC
Tools of the Trade
My mind, my hands, and actual instruments
Other Interests
Roleplaying (duh!), traveling, amateur astronomy, Watching TV and YouTube videos