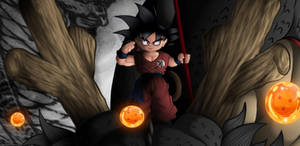 Basic
Basic access for everyone. To support me 😉 Promotion on commissions.
---

Description
You´ve asked, so here it is...the first page of goku vs.... some other guy...who is he? I´m sure most of you know who goku is looking for here...and if you dont I think I give some strong hints here ( yes, that is the spectre)...and if still you dont know...well
what the heck are you doing here??!!

Man...this was just fun fun fun...
I´ve wanted to start with this for some time now, but there was simply no time...and the way I wanted to do it, it sure is time demanding...but I thought I really should go ahead with it..so I did...
The main problem to start here was the usual, in what style do I draw this?...I´me made some gokus trying to change his apearence to another style...but it ends up not feeling quite like goku...
Many people say I should draw him in my own style, (and I try, really)but heck...I´ve drawn him so many times as a kid, I ended up feeling quite at ease drawing him close to tori style!
The other pages are all in motion...IO wanted to post a bunch of them to get started, but I want to haave some feedback from you guys as I run along

And Like usual I wanted this to feel official...
Please, tell me what ya think!
Other pages should go out next week so..tune in haha...also, I´ll post a poll that may have a great influence on how this ends up!
cheers..hope ya digg
Page 2:
[link]
Edit: If you spot some errors here or if you think some of te phrases arent spelled the best way please tell me...
Image size
1024x1398px 608.68 KB

Can I have permission senpai-sama to host this on my YouTube channel please promise all credit will go to u and lead u a link to it