Me and Circus-P are proud to present:
I'm so happy it's done and up for everyone to see!
Also, the Baguio Komikon 2013 was fun~
Details can be read in the deviation: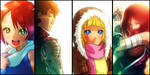 Not to forget
MikeInel-FanClub
's contest!
EVENT-TAN
(Characters belong to the respective artists of the first 5 entries: fav.me/d5qryhx fav.me/d5qqb2s fav.me/d5pg0bo fav.me/d5r90j3 fav.me/d5rcini )
Based from the previous contest (Object-tan), they're continuing the saga by creating the Event-tan contest! It's where everyone is free to join and create the best design of a human form of an event.
It can be Valentine's Day, it can be Marriage, it can be a first kiss, anything that aren't considered actions, animals, humans or objects!
The prices are the following:
1st place: 2000 points + Commission Artwork by Mikeinel
2nd place: 1250 points + Commission Artwork by Mikeinel
3rd place: 750 points + Commission Artwork by Mikeinel
More information can be seen in the following links:

New contest? Yes! Event-tan, GO!Wow guys!
After the overwhelmingly positive response I've gotten yesterday on the question of the event-tan contest, I just couldn't help but make this official ASAP! So here it is! Officially announcing the winter 2012-2013 event-tan contest!
So, here's the rules: If you've got an idea... GO FOR IT! If you have any doubts about if your idea would be accepted or not, just ask here, and I'll be glad to tell you if it's ok or not.
So, first off... what IS an event-tan? Well, remember our object-tan contest from last summer? (If not, check out the old blog posts, and the submission folder.) Well, same concept, except this time, instead of anthropomorphizing objects, we're doing the same thing to events.
Now that we've cleared THAT out of the way... what IS an event? Well, quite simply, a little bit of anything. It can be Christmas or new year's, it can be the holidays in general, it can be birthdays, first kiss, the Mayan apocalypse (or just the apocalypse in general even), the winter sol

Happy new year! And a little update.So, a little late, but happy new year everybody! Hope it was a good one!
Green here with some news that's sure to make you all happy! But first, I want to say a few things.
First of all, I've received this question a few times, and I'll make this clear now. Mike Inel will NOT be drawing the winners of event-tan himself. It's unfortunate, but he's busy, and just can't make time for it. Please don't hold it against him. (Or me. Seriously.) THINGS CHANGED!
Second of all, I want to remind people that when drawing their event-tans, it is an EVENT that is being drawn, not an object. For example, someone asked me about first medal earlier, it is the event of winning/receiving that first medal that will be the focus of the drawing, not the medal itself. I would draw you all an example, but I suck horribly at drawing. Also, I wasn't specific enough for the time the contest ends in my last post. Nobody asked, but I realized it myself. I did say it was at the crack of midnight be
The submission gallery can be seen here:
mikeinel-fanclub.deviantart.co…
Only a few days to go! Woo! It's awesome people are submitting great designs!