The young prince of Girihkala's kingdom confronting the maddened King and his dear mother, the Queen. And the maidens, soldiers and workmen the King eternally bound to a mindless existence.
This was a thoroughly sudden exploration to skulls and such!
I so rarely decide to take time to draw something that doesn't really involve any of my main projects or anything specific in general, this time I decided to just pick up a headcanon and run with it.
Drawing something more medieval and bit crazy is such a breath of fresh air!
Haven't really had the chance to test out just how much patience I would have for repeating crazy detail.
Trying to come up with a bigger, flowing composition for me in general is a challenge, I don't have that greatly analytical eye to make it happen.
Felt entirely fantastic to get something cohesive drawn for once.
MEDIA:

Clip Studio Paint /
Lines, Drawing
Adobe Photoshop CS5 / Colours, post
Wacom Cintiq 13HD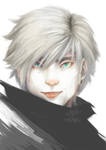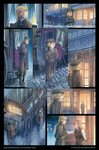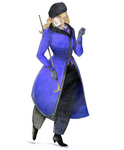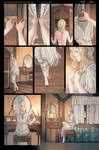 Image size
950x1568px 2.7 MB