[Last Updated: 23/09/2019]

Website:
miitee.weebly.com/

Commission ToS:
miitee.weebly.com/terms-of-ser…
- For personal use only!
- Accepting Paypal Only.
- Front payment, after concept sketch approved
- Currency: USD
- For Paypal, I will sent you invoice
- No refund if I already working on your commission


Do:
OC, Fanart, Human, Kemonomimi, Gijinka
I'm OK with straight, GL, or BL
Don't:
R-18/NSFW
Complex Background
Realistic style

What will you received:
- No BG/Simple BG + Single Chara
- Scanned traditional art/mixed media of my artwork with 300 DPI, JPG+PNG version.
Option:


Chibi Lineart + Simple/No Background [Available]

Without BG: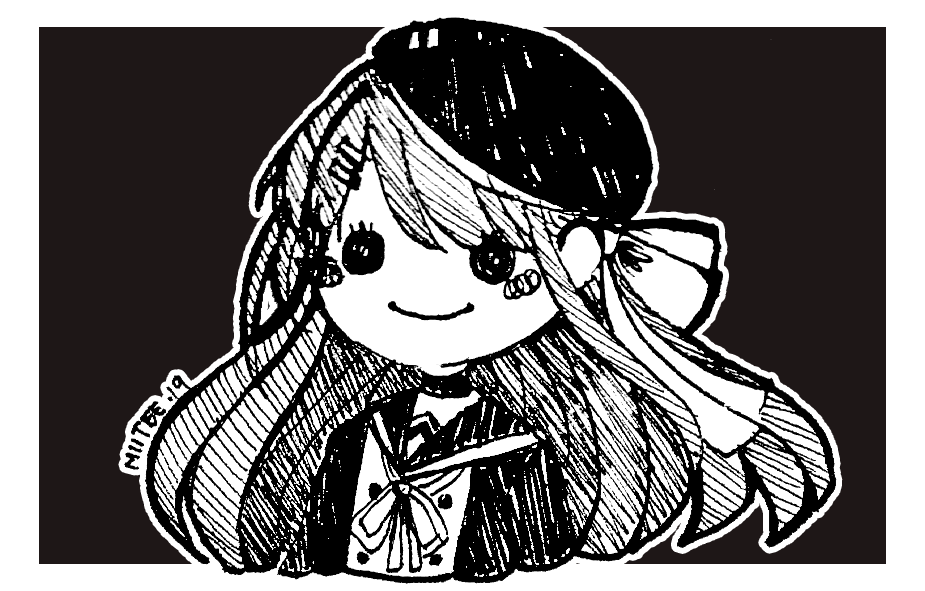 With BG: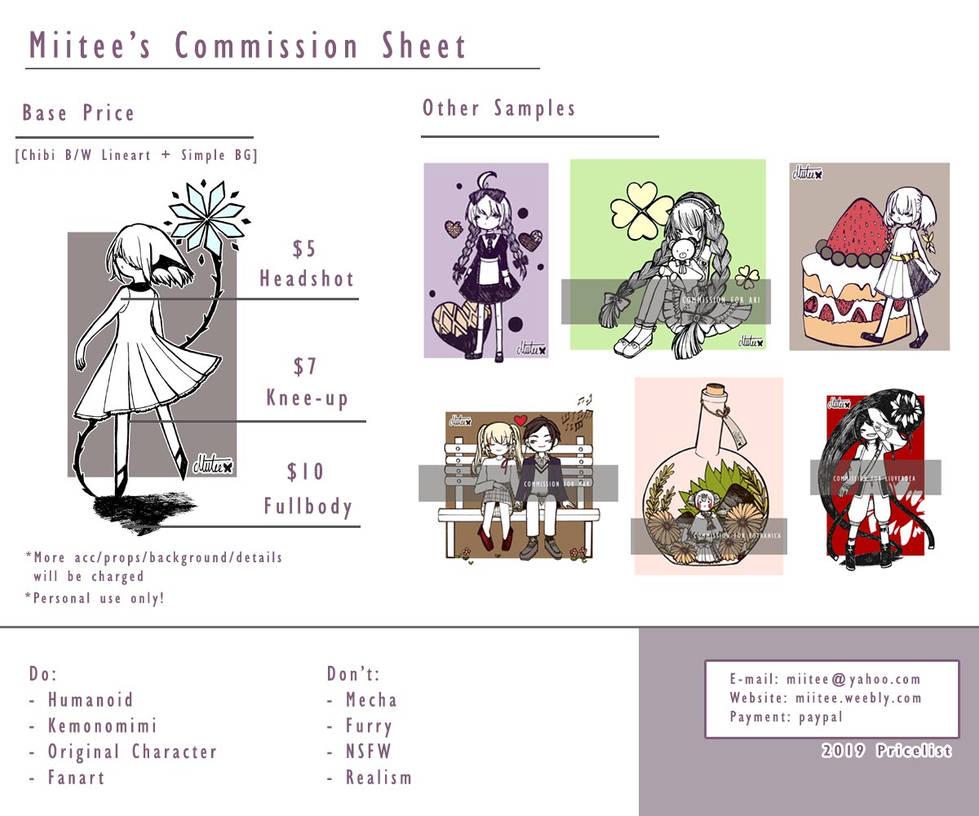 More samples / c
ompleted commission gallery:
miitee.weebly.com/completed-ch…
*If you want add more acc there will be additional fees.
*If your character is very detailed that will increase the time of work and a bit the cost of the commission.
*Accept couples (additional character: price
x 2
)
Steps by steps:
1.
Please sent me comment/note/e-mail with this form.
Username: Paypal address:Email
: (So I can e-mail the the file)
Type:
(commission type,
which one do you choose
headshot/knee-up/fullbody.)
How many character? Is it on one canvas/seperate canvas? [
ex: 1 character or 2 character, 1 canvas or 3 character, seperate canvas]
Character reference:
(your character reference (full color) / link of your character, *preferably fullbody reference)
Character personality:Additional info
/ Preferable Pose:
(anything specific you would like to add, i
f you have what i need to take notes or preferable pose, theme, background please do tell me
)

2. I will give you concept sketch
Please check your note so I can communicate about the concept.

3. Approved Concept Sketch and Payment
If you approved and want me to proceed into finished result please pay then I will start on the commission once money or points are received.

4. Waiting the result, Communicate.
- When I finished the sketch I will tell you the sketch so if there's something you want me revise, I will revise it.
*Only minor revision
*Revision only at sketch stage
- When I confused or need to ask your opinion I will note you, so please don't forget to check your note

5. Finished
- I will give you the JPG and PNG 300 dpi file via note/e-mail.


Slot: (0/5)
-
-
-
-
-
Important Note:

- Please tell me if you don't want your commission uploaded in my gallery or not (to public or keep in private)
- I only sent the digital version, I don't do shipping.

- I have rights to deny you (mainly if i cannot draw the character or not comfortable drawing it)
- You can ask me for the work in progress (wip) photos.
- About deadline:
- Please don't rush too much, I will finished the artwork, my work speed is about 3 days - 14 days depends on schedule (max: 3 month).
- If you have specific deadline please tell me.
Commission Progress:
trello.com/b/DPAFQvIa/commissi…
If you have any question feel free to question me!
Thank you very much~ >w<