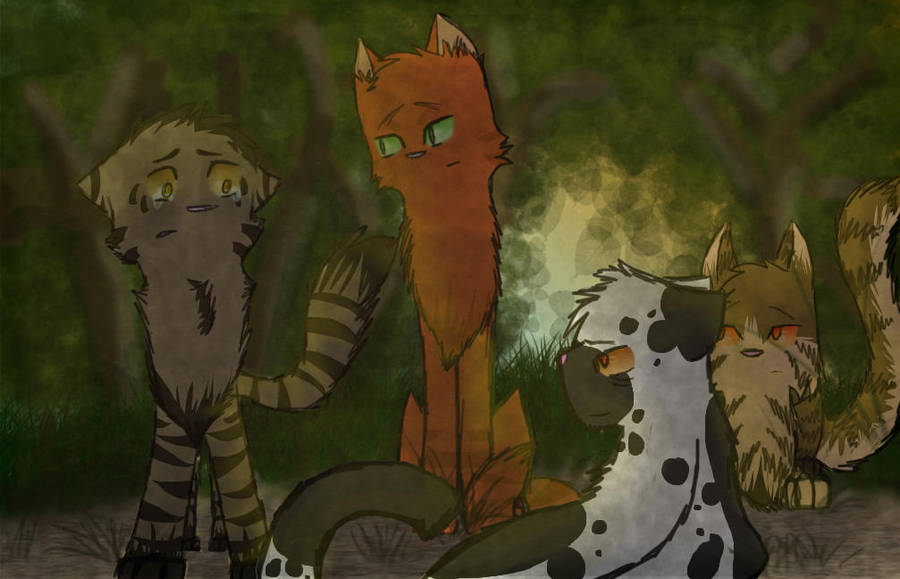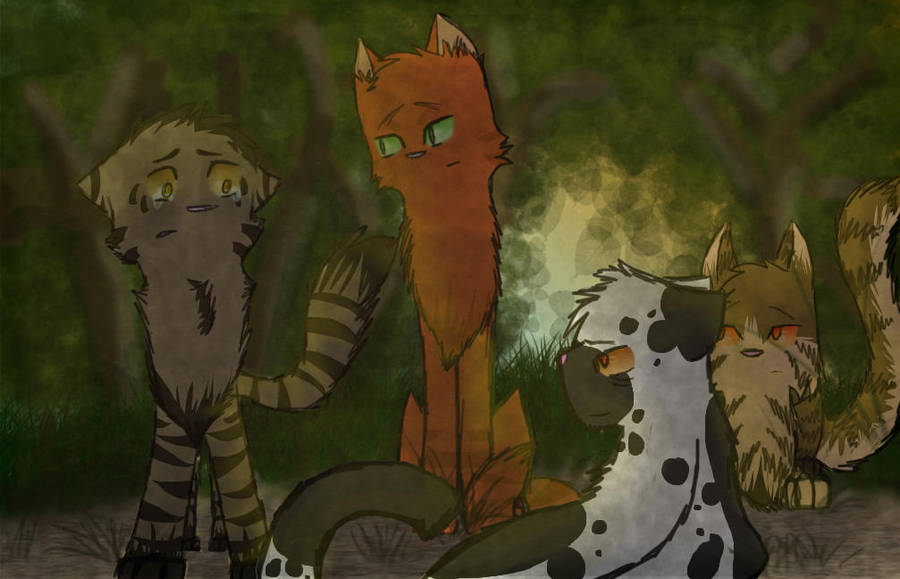 Watch
So, yesterday i was looking at my moms iphone on the way back to jax, annndd i re-read tallstars death (on the warriors app, YA they have an app for that XD always wanted to say that), so i thought "huh...i havent postred a warriors pic in a while and that might be a good thing to draw...WHY NOT!!!" =3 anyway, so, funny story, firestar and onewhiskers legs werent even lined untill the picture was entirely finished, idk why...i just never got around to it untill i realised "oh wait..their just floating bodied...maaaaayyyybbbeeee i should draw their legs....."....oh and may i add that i love how tallstar came out? sure he looks a bit more...active than a cat thats dying but....STILL!!

EDIT:: wow....this turned out to be ALOT more popular than i thought it would be.....COOL!!! XD and another side note- please excuse my horrid excuse (used that word twice now..) for line art on tallstar and erasing the shading around onewhisker, i did it at like...3 in the morning, and was running on nothing but coke (the soda o.o) and over tired-ness lol

EDIT::ffffff, i said it turned out more popular than i thought it would be but apparently its now my most favroited picture (im actually really happy about that, the last "most favorited" was really old and needs to be re-done...it also sucked XD idk why so many people liked it) so ya, YAY!!

oh, and the designs for firestar and onewhisker(star) ARE my official designes, the one for firestar was based off the manga version of him and one whisker..well...his stripes are blockish..and thats about it...XD

art (c) me
warriors (c) erin hunter
if you want to use anything in a video just ask me, and i promise i will say yes as long as you dont claim it as your, the only reason i want to know is so that i can see it XD i love it when people use my stuff!! ^.^

this is EXACTLY how I imagined it
Reply

can i use this in a video?
Reply

sure! and if you don't mind, id love to have a link to it when its posted! (I just get really happy seeing my stuff in videos)
Reply

Reply

Reply

same here ;.; course, this is coming from the person who cries at the death of all animals and just plain laughs at the deaths of humans (on tv/movies/books of course, not irl...thatd be scary ._.)
Reply

dude the other day i saw 3 river otters while tubing te were so cute!!!!
Reply

wow, random or what? XD and ADDAH!!! (its hard to spell stuff with a accent....)
Reply

Dude what is doctor who about.. i want to know!!!!
Reply

lol, yet another random post XD and its about this guy whos a alien (but dosent look like one, generally, the only physical diffrence is that he has two hearts) annnnndddd he pretty much goes around in his time travel maching (TARDIS) and saves planets and such with his copmpanion (the human that happens to be traveling with him) of course, that just the basics.. i highly suggest watching the show from episode one of season five (they have it on netflix =3 ) if your going to start watching it, cause theres alot to be explained, but its really funny and sad and scary and stuff like that


ps- DONT BLINK!! (its a doctor who thing...)
Reply

Omg bro thank you! And what happened today?! I would've asked but I didn't want you to kill me.
Reply

oh..uh...my dad decided to go back with a lady that hated me...and..well..he went back to her and married her today..hes being so selfish! she abuses me!! but ya..thats why i broke down crying in the rain...XD now that i say that, it sound so poetic! =3
Reply

Bro. Seriously go punch your dad in the face. Random wibbly wobbly timey wimey stuff.
Reply

bro. that is seriously legit
Reply

why did tallstart have to die i loved him so much

Reply