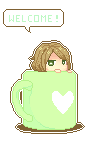 Hi, my name is Amber, but most people call me by Mifmemo, Miffy, Mif, Miff, Miffers and any other nickname based on my screen name.
I like cute things and nice people. feel free to chat~
Thanks for stopping by~<3
Current Residence: My own house! >D that's right!
Favourite genre of music: humor, techno or anime mostly
Wallpaper of choice: Kingdom hearts
Favourite cartoon character: Noda Megumi (Nodame)
So if you ever RP with me....
Babies everywhere. Probably the direction I will go. Yup.