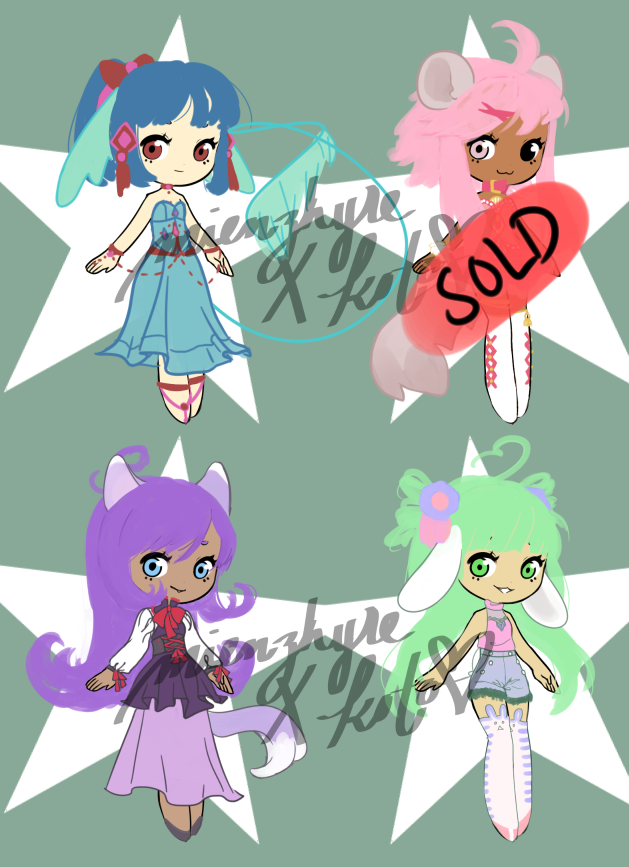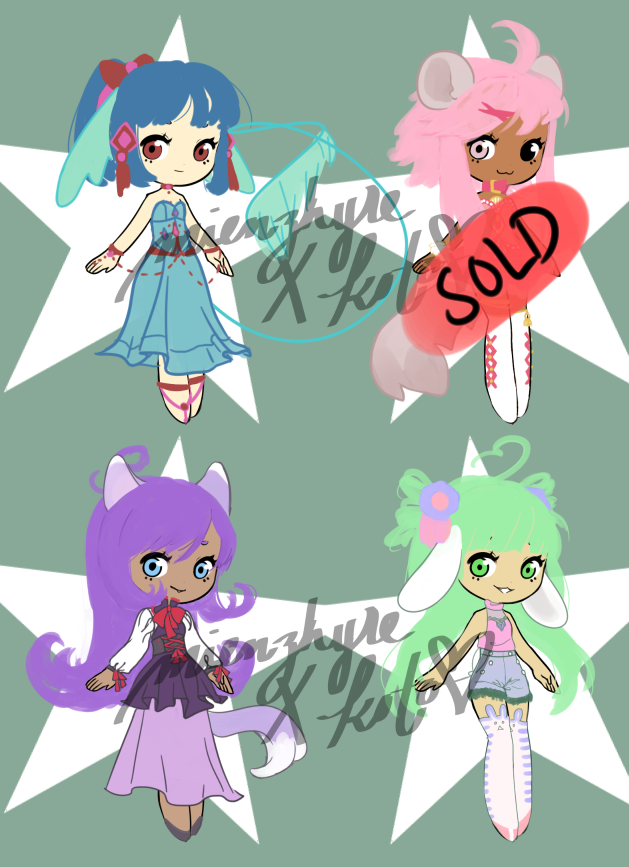 Watch
Hello again, everyone! This time I decided to pull my weight and make some kemonomimi chibis (without any particular animals in mind for the first two) myself, with some help from my co-creator/roommate
Koto
of course. I've hoarded quite a few bases at this point that are cleared for adoptable selling so I figured why not? Makes the whole process alot easier, but as a result we're selling these for less! The base used is
this one
by
Sarawrdopts
!
We hope you like them♥
Important Notes:
Please read the Terms of Service before attempting to purchase.
Paypal only, USD.
Comment or Note me, to claim and I'll ask you to give me your Paypal email address so I can send an invoice. At this stage, make absolutely sure you have read and agreed to our terms. I will know if you haven't.
Due to recent events, we will no longer hold any adopts. Payment must be within 24 hours of sending the invoice or the adopt will be made available again.
Once bought you may edit anything you want: gender, hairstyle, minimal changes to markings and colors, etc, just please keep it close to our original design;; We worked hard on these babs! Don't buy them if you're just going to change practically everything in the end.
You are allowed to resell them for purchase price or less, and to trade or gift. We must be notified after the transfer is completed!
You'll get:

1 separate high resolution png of the purchased adopt unwatermarked (1000x1100px)

[BUNDLE SALE]


Buy all 3 remaining designs for just $6 total!


#1 - Blue
SET PRICE: $4
Extra
Owner: [AVAILABLE]
#2 - Pink
SET PRICE: $6
Owner: Taribirb (merrcy @ TH)
#3 - Purple
SET PRICE: $4
Owner: [AVAILABLE]
#4 - Green
SET PRICE: $4
Owner: [AVAILABLE]