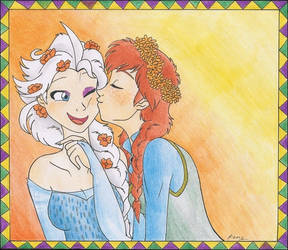 Frozen artworks
Fan art from Disney's movie, Frozen. Includes a lot of Anna and Elsa.
---

Crossover - Ice Queen Trifactor
Description
Starring from left to right, top to bottom:
Ice Queen, a boss from Spiral Knights:
wiki.spiralknights.com/Ice_Que…
Ice Queen from Adventure Time, or rather, Ice King's Rule63'd fantasy but whatever.
Elsa, who is, with all due honesty, an ice queen, she is a queen who can manipulate ice.
Image size
2365x3470px 2.33 MB

Ha! That's a really interesting crossover! I think it would be fun to see them interact. Nice work on the setting here.