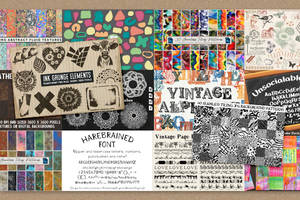 HG Designs Subscriber Area
Lots of high resolution goodies for graphic design including textures, photoshop brushes, seamless patterns and more.
---
Suggested Premium Downloads

Celtic Corner Frame Brushes
Description
This is my very first set of brushes. I kept it simple because I am still learning how to do this. They are made from a celtic frame font. There are a total ot 24 brushes.
I made them on Photoshop CS v.8 and I hope that someone finds a use for them.
Credit is nice, but not necessary, but comments will make me feel all warm and fuzzy-like and it would be nice to know if anyone likes them.

Edit: I don't have an image pack for these, but I can make one by request if anyone is interested...