Greetings, my dear audience! I'm mickeyelric11, and today I bring you exciting news: I have lost my virginity!...no, I don't mean I had sex, but that an asshole and deviantART fucked with me.
A couple of days ago, I got my very first report because of a "politically incorrect" fanart, and then I had it removed. Therefore, I'm going to tell you the whole story in this journal. So, get a comfortable chair, make some pop corn, and prepare to palm your face in shame for others.
I'm pretty sure many of you still remember my "controversial" work I made about Mabel Pines, right? I'm talking about my Toy Girls piece: "Toy Girls – Collectibles Series 10: Mabel Pines". It was a remake of the character from "Gravity Falls" for my project of Toy Girls, but, in that occasion, I was tempted with a risky theme: a panty shot. No, I didn't draw Mabel in a sexy pose, masturbating, or naked. The scene only depicted her being hit by a gust of wind and having her skirt lifted. That was it.
Even if I'm sick to death of the Extreme Left Wing, and how they hide their desire of censorship as fighting for the rights of the oppressed, I totally understand that sometimes it's important to either limit our opinions, imagination and creativity, or even used censorship if it's necessary; after all, all extremes are bad.
Like I have said in the past, I'm totally against sexualizing children in media: it's gross, creepy and plain stupid; and even illegal. Therefore, since the beginning, I found this as a very dangerous idea to share. However, a deep part in me told me to go on with this fanart. After all, art is there to challenge audiences and give a second thought to taboos.
So, I made the drawing, vectorized it by Photoshop, and uploaded in deviantART, ready to turn the other cheek; only having an initial discretion warning as a shield. However, what happened next surprised me a lot: the work earned a good reception.
I didn't receive any insults or threats because of it, the piece was favorited a great number of times, and even the comments published were about telling me I was overreacting and that the piece had nothing wrong. Even better: one of the most popular comments there was about seeing more innocence in the work than sexualization. Oh my God! I was speechless after all this; and I totally regret not having saved those beautiful comments in screenshots.
As an honorable mention, another user commented me how censorship with works like this was actually double-edged sword: for covering something irrelevant, it just augmented the perversion factor. Curiosity and mystery are the universal spices.
Therefore, all this totally made the fanart worth the effort, and I don't regret having published (or even making it). It made me realize how smart is my audience, and I even learned a lot because of it. I was so happy for having followed my instinct.
However, I knew the war was far from over. In the past, I got my first experience with a Social Justice Warrior because of a way more innocent work (yes, I'm talking about the incident with Penny), so, I was totally sure that an idiot won't take long to arrive.
As a result, I was ready with the Block Button and warming up my fingers for the harshest sarcastic replies, not for constructive criticism, but for trolls and cyberbullies' comments.
However, what came instead took me for surprise:
On March 18°, I received a notification from the deviantART Staff with the next information:

The message asked me if my fanart was sexualizing and underage character, and begged me to read the deviantART Policies in order to see if I had to edit the image so it could still be up.
Therefore, I did that, and, after carefully reading all the rules, especially the ones dealing with kid characters, I decided that the image didn't violate dA rules in any way. I have to add also that the message gave me the benefit of the doubt, and the choice to consider my work either appropriate or not.
To not let this little ember to turn into a giant fire, I contacted deviantART as soon as possible through an e-mail in order to ask for the forgiveness of my work. And no, I didn't make things worse by insulting or making a tantrum. I acted within respect and maintained composure. And you can see that here:
I had to send two messages, because I stupidly forgot to send the screenshot with the notification in the first one.
After this, I decided to continue with my life, having faith in easily winning this little issue.
However, tragedy stroke again, and I got this another notification in my Correspondence, and a note, all from the deviantART Staff. Here you can see the note I got: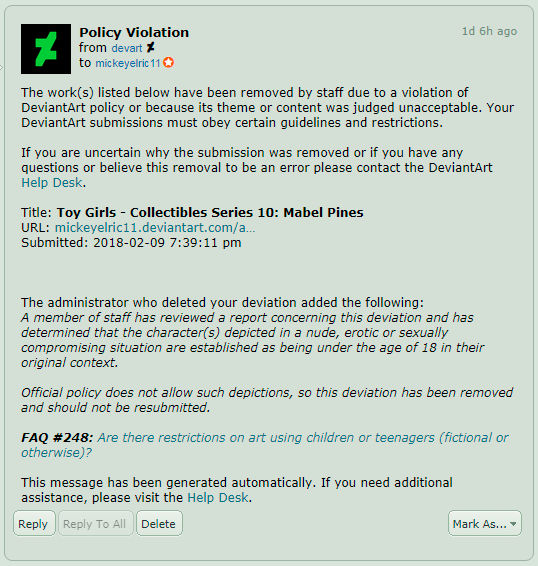 So now, the friendly warning became into an executed action, and my fanart was put in hold. The note finally revealed me that this all was caused because of a report, but I still had the right to defend my fanart, so I did.
I write another polite message to the Staff begging for my work to be pardoned, and I listed the reasons why it didn't break any of the rules of the site: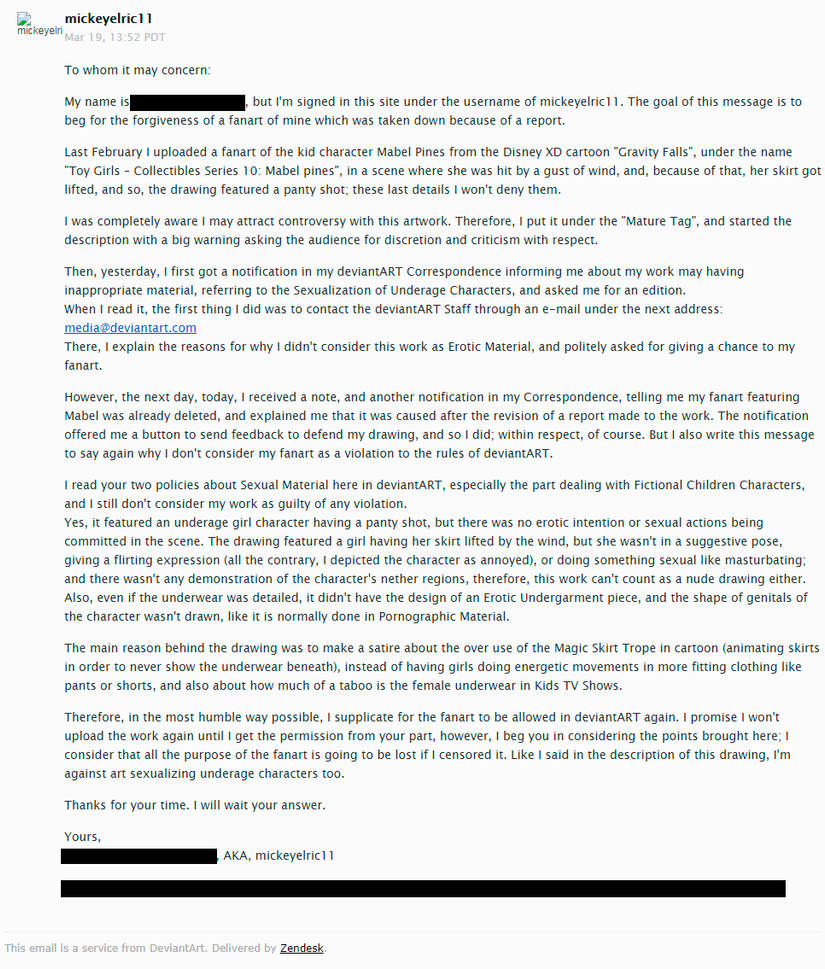 Then, I received a reply telling me my situation was being judged, and I was more relieved, however, now I had to wait day after day to see the final result.
But then, something came to entertain me a little. What happened was that I may have discovered the dumbass who reported me the work, and for the worst reason.
You see, a little after receiving those messages from dA, in my notifications, I found this comment in my Toy Girls Gallery: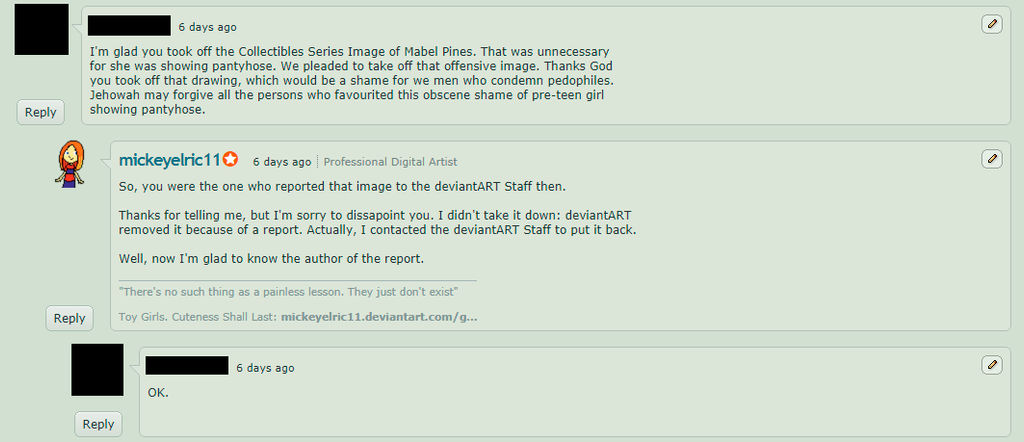 Apparently, one of my watchers, from which I never suspected anything fishy before, wrote me a pretty stupid message "thanking me" for having deleted the Toy Girl of Mabel Pines with the Panty Shot, because he considered "unnecessary". He said how he "pledged" for the removal of my work for being "offensive". And to top it all, he even ask for God's forgiveness to anyone who favorited the image. No, I'm not making anything up: he was that stupid.
I was actually very happy for this message. Instead of being totally clueless about the culprit, now I had a little hint. Alright, I didn't have solid proof of him being the one who reported the work; that's why I censored his name. However:
a) How did he know my work was removed?
Yes, I'm pretty sure many of us give a view to our Favorite Folder once in a while. But still, why was he so aware of the presence of my fanart if he found it offensive? If there's something more stalking than an obsessive fan, is a hater.
b) What did he mean with the "Pleaded" part?
I'm Mexican, so I looked for the meaning of this word, and what I could found was that it was when you either declare yourself innocent or guilty in a court, or when you ask for something.
c) Very good timing he had when he sent me that message, just a day or two after my work was removed.
d) When I replied him accusing him of being the one who made the report, he didn't even try to deny it. He just said "OK", and so my words still remained.
Even if I still give him the benefit of the doubt, I'm pretty sure this dumbass thought that, when he pressed the "Report" Button, a note would be sent directly to me to think about my sins and reconsider, instead of the obvious: warn deviantART about my work, and removing it so no idiots would be offended by it.
After all that, it was just matter of waiting. Every day I was sure to check as much my deviantART Account as my e-mail for new messages, with the hope of commons sense finally earning victory.
However, this time, I lost the battle.



I finally got a new message in my Correspondence about the issue, but this time telling me to go fuck myself. One of the members of the dA Staff reviewed my case, but this person decided to keep the work deleted, seeing that my fanart violated the Site Policies, which, I have already pointed out, it didn't.
No, I didn't make a tantrum or sent multiple poisonous messages to the site as revenge. I had to swallow my pride and accept defeat.
Because here in Mexico we have Liberty of Speech, I'm going to say right now what I feel about this: it sucks fucking balls!
I'm mad about this, but also very disappointed. My work, made in an Ecchi Tone, spiced with satire, was transformed into a disgusting and horrible thing because of the report of a stupid brat, and the site didn't help me.
First, let's repeat it again: the work featured a panty shot, but it didn't attempt to make Rule 34 in any way. Mabel wasn't masturbating, she wasn't in a sexy pose, she wasn't wearing sex shop lingerie, or doing any sexual stuff; and obviously she wasn't even naked. I did a running gag in Children Animes in that fanart. If I put the "Mature Tag", it was precisely to avoid any troubles, and warning any sensitive jackass from seeing the work.
Also, yes, it was an underage character, but it was a FICITONAL character. If I had used a real kid, then OK: I accept the site penalties and the legal consequences. However, my "victim" here was a bunch of pixels joint together to form an image.
However, let's point out the most obvious problem: the Double Standard Fallacy.
First, even if it's a big taboo to show the Feminine Body in media for children, especially of underage characters, it seems like Masculine Nudity and Undergarment are totally fine to demonstrate. I mean, we have so many female characters with skirts more magical than Harry Potter, but there's no problem to show butts of men and boys, or having male kids in their underwear, mooning someone, etc. Yes, let's not promote child porn while putting this boy totally naked in public.
Second, I'm not the first person to ever put a girl showing her underwear in this site; and I'm not going to be the last one. In all the years I've been here, I have stumbled with so many fanarts depicting girls exposing their underwear, and even worse: sometimes in an obvious fetish tone. Therefore, I wasn't the only idiot who committed this crime, but one of the few reported by a Social Justice Warrior Wannabe.
And Third, and the most important, in devainART there's even worse stuff than what I did.
I have made Naked Drawing in the past: of Pearl from "Steven Universe", of an OC of friend of mine, and of Vambre from "Mighty Magiswords". And yes, all of them were for Rule 34 Purposes; especially the one of Vambre. I let my hormones go wild and satisfied my sexual desires. Therefore, I don't blame other people if they also make Fetish Works. So, I have seen a lot of Vore, Characters Shitting on Diapers, Feet Licking, Sexbending, Bestiality, or even character plain fucking; and yes, many times featuring underage characters. However, they still manage to be uploaded.
Seeing this better, more than me screwing up, I just feel like the student caught passing notes in a class with spitballs, "Kick Me" Signs and wedgies. If this isn't hypocrisy, I don't know what it is.
In a nutshell, my work can't be back as it is. I totally hurt the feelings of a jackass who won't dare hunt real criminals in the Deep Web, and that's the final veredict.
OK, so my works was removed, and I couldn't do anything to save it in the polite way. So, after all this, what I'm going to do?
Easy: the very exact same thing, but WORSE. I lost this battle, but not the war. Don't worry, I will have my revenge, but without breaking any rules.
The first thing I'm going to do is to reupload my work of Mabel, however, to please the dA Staff, and the imbecile who reported me, I'm going to censor it. They just want panties out of the fanart, and that's what I'm going to do: where's the sexualizing of minors in drawing a girl being hit by a gust of wind. I worked too much in that fanart to just dump it as garbage.
Also, remember when I said about not being sure if I was going to ever make another Panty Shot fanart again. Now it's all clear for me: I'm not going to draw another Panty Shot Fanart…but TWO. I'm not going to say when or how, but, only for spite and caprice, I'm going to walk the tightrope again two times more. Don't worry, I won't go to Rule 34 Territory in neither of the fanarts. I just wanted to make a Panty Shot work, and I'm going to do that again, twice.
If you thought You Tube was the only unfair site on Internet, this proves otherwise. No, I don't blame dA for any of this, and I don't want to start any attack to this site and to all the great people working on it. This is a private site with its own rules, and it has to take care of its Public Relations. However, after seeing the good feedback from my removed fanart, I'm more than convinced that this was an injustice, and I'm not doing anything wrong in fighting back in this way.
However, to the little bastard who reported my work: FUCK YOU! You attacked me from behind, and therefore, I won't have any respect for you from now on. I opened criticism to my work since day one, and I even gave the option to delete the fanart myself if it caused more harm than good, but it's obvious you didn't read anything from my old description. Fuck you to the Hell and back! .l.
And again, even with all this, I don't regret having made this fanart. Like I have said since the beginning, it was an experiment to see what was going to happen, and I loved the results. I wasn't only congratulated, but I got so much experience because of it. It was like when I finally decided to upload a Naked Drawing in deviantART, or when I made my very first Incest Work; speaking of the latter, I want to make another one.
Well, it's everything for today, guys. Now I just give you the Comments Section to tell me your opinion. Don't worry: even if you don't agree with me in an aspect, or in a whole, I still want your thoughts. I won't report you

I'm mickeyelric11, and see yoU!