He's a pet for your tummy!
Cookie Cat! He's super duper yummy!
Cookie Cat!
He left his family behind!
Cookie Caaaaaat!"

I was advised to watch Steven Universe by a friend from University. I only seen brief images on the internet of The Gems and found the style interesting enough to watch.
I completely admit I found the opening really, really catchy.
And it got me completely pumped up for the episode.
After I watched Gem Glow, I felt...

To be honest as a first episode I felt that it could've been better.
My feelings on this episode hasn't really changed over time either and even cemented the
"Meh"
feeling when I realise the animation greatly improved over the course of the series. Sometimes the animation seems a bit weird.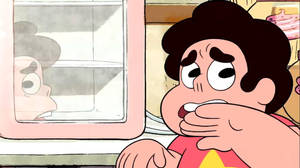 But I understand that first episodes are really hard to do anyway. Trying to set the tone, feel, characters, setting and plot is kind of part to set up in one ep. And as a first episode it doesn't do a bad job at all. It did its job.
We got Steven's personality. Who is completely adorable. (Happy, caring, wants to help).
We got the surrounding characters personality. Pearl's proper and precise. Amethyst is laidback and is fun loving.
We got the fact they fight monsters.

It just didn't feel very spectacular. And I guess my "Meh" feeling came from the fact I heard so many good things about the show I expected so much more. It's not great but not bad either.

6/10.

But my feelings changed in the next episode: "Laser Light Cannon"