My newest experiment with silk... and a needle. This is interesting way how to use painted silk, I love it!

It's for selling, but I'm not sure how it will be favourite, so I'm not doing the commission column right now, but you can send me a note if you're interested.
There you can see other side - yes, it's moon and sun on one.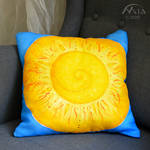 See also my: instagram

e-shop
Image details
Image size
900x900px 809.25 KB
Shutter Speed
1/125 second
Date Taken
Jul 30, 2016, 5:14:05 PM