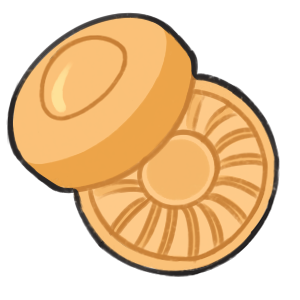 Coins resembling mushroom caps are the common currency among the islands; these coins often trade hands for various good and services across the many markets of the mhoat world. The concept for this system was brought forth to the island leaders by a circle of metalworking mhoats, and this group has since become the creators of these coins, collecting and distributing them at the end of each bi-annual festival where all islands congregate in one location. The end of this festival often marking a large shift in island wealth and the payments island leaders make to the circle determines how the wealth is redistributed among the islands for the months that follow. This entire process means wealth is evenly spread across the islands and means that most mhoats live in relative comfort as a result.
---
General Art Values
Sketch - 1 Cap
Lines - 2 Caps
Color/Flats - 3 Caps
Shading - 4 Caps
*Monochrome and limited palettes count for color requirements, solid color flats won't qualify
*Shading must be noticeable for it to count for the
*Bases earn normal value for the creators of the base
Backgrounds
Simple - 1 Cap
Complex - 2 Caps
*Complex backgrounds must have color and require enough detail to imply a physical location
Prompt/Event
Entry - 10 Caps
Extra Mhoat - 5 Caps
*Only one prompt/event entry counts for the full value, all other entries will earn caps as regular art pieces
Predetermined Values
Sketch Pages - 5 Caps
Reference Sheets - 5 Caps
*Sketch pages will must have a minimum of five bodies and can still earn art bonuses
*Reference sheets must be two fullbodies with color to count for this cap value
Exceptions
Ychs
Artist: 1 Cap per use (limit 3)
Buyer: 1 Cap per purchase (limit 3)
Other

*Headshot, Bust, and Halfbody - Removes 1 cap from total
*Sketches can earn full values, but will skip the line value
*Bases only earn value for flats, background, and any bonuses they qualify for
*Repeated linework in an image will only receive value for the first use
Art Bonuses
Group NPC/Mascot - 1 Cap
Extra Mhoat - 1 Cap
Gift Art - 1 Cap
Comics - 1 Cap per additional panel
*Extra mhoats are limited at three being qualified for caps
*Gifts apply for art trades, but not for purchased art
*Sketches don't qualify for gift bonuses
Commissions
Artist - 1 Cap
Buyer - 1 Cap
*Bases will be counted as ych values
Animation
Simple - 1 Cap
Complex - 3 Caps
*On ych, bonus given on first use only
*Complex applies to fullbody animations or those longer than ten seconds
Literature
500 Word - 1 Cap
*Limit of 5000 words or 10 caps
---
If you have any questions about caps then check here first to see if it has already been answered


I did debate on this for a while, but decided that while the group is still relatively small and low on activity that I would like to keep the art tracking as something the mods do directly. We do have everything set that at a later time a Caps tracker could be implemented if the job is too demanding on our end, thanks so much for taking the time to suggest this c:

ok, then, will old art count for the caps thing. Like you gain caps with art already done before this update.

The shop is still in the works, but eventually I'll be putting up a journal that details all the things available for purchase. Some of the things I have in mind are trait upgrades and myo slots, as well as other things I still have to work out.