Art, Now on your iPhone and iPod Touch
Art, Now on your iPhone.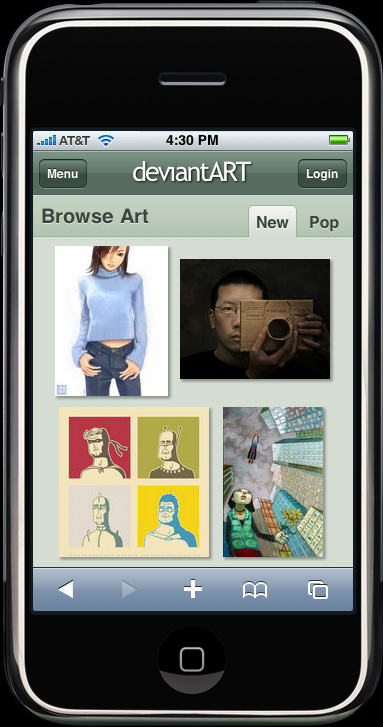 Ever since Apple launched those wicked little devices called the iPhone and the iPod Touch, we knew it'd be a fantastic place to display art. We couldn't wait to take what was already wicked, and make it a little devious too. Fast forward a few months and today we're proud to announce deviantART for the iPhone and the iPod Touch! Thanks to our incredible team of developers and designers, deviantART has been optimized to bring you the best hand-held mobile experience possible. Your favorite art, films, literature and collections are now browsable from the palm of your hand, any time, anywhere. Simply pick up your iPhone or iPod Touch and visit deviantART.com, and you'll automatically be treated to our fantastic new interface. This isn't the end of our work for this interface, either. Expect newer versions to include the new message center (when it launches) Forums, News and more.
Now you can enjoy artwork on the go in a fast and intuitive interface that is just as fun as it is easy to use. We've found that mobile deviantART brings art to every conversation wherever you are. Next time someone says, "Hey how about we go see llamas at the zoo!" you can very easily search deviantART's vivid database of beautiful artworks to illustrate any discussion!
1 Please do not browse on your iPhone/iPod while driving or performing an activity that requires your full attention. Pay attention to what you're doing and stay safe. Content on deviantART is highly awesome and completely addictive. Please take a break once in a while and smell real roses, don't just search for them. :P