Another Paralogos Snapshot commission for
SpeedyDVV
!
This time of their ol' Para, Controller! (Wii U specifically.)
Definitely an update from my old art here...!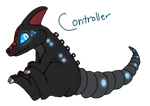 (It's been about 4 years since they were designed!!)

Snapshot Shop
Image details
Image size
1490x1512px 1.56 MB

Honestly, I may end up leaving the group and trading/selling off my Paralogos that I own..... I bought em with every intention of putting them to use and instead they've just sat collecting dust, and given the current challenges I've been dealing with, I dunno if I'll get to use them.
It's really sad, they're such an amazing and unique species and I've always felt very fortunate to have a couple, but it's just like, why do I even have them when I'm not DOING anything with ANY of my characters?! It's been the same way with all my closed species characters lately, I just don't use any of them and dunno why I'm keeping em around.
When I first joined and bought my first one, I was going through a big Dino loving phase that has sorta tapered off but is still there. These guys immediately caught my eye cause I LOVE the Parasaurs they're based off of! XD
In all seriousness, these guys are an amazing species and I feel really bad for not getting involved in it more. I don't necessarily feel obligated to but dang it, why go through all the trouble to get them if it all amounts to nothing in the end?
Sorry, just in a bit of a rough spot right now, reevaluating what I still might use and what I should get rid of and leave. Tough, but probably best :/