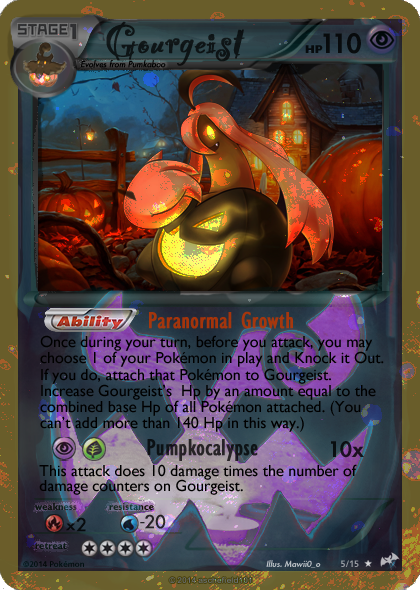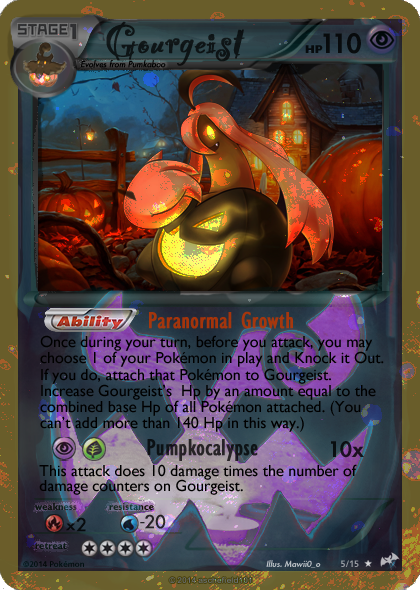 Watch
Maybe you where prepared for the zombie appocalypse, but are you ready for the even more terrifying Pumkocalypse?
Edit: Added a 140 max Hp boost in order to prevent broken numbers. What if players started to stack Wailords for example... That would be kinda hillarious however x) But 600 Hp+ would be totally game breaking.
A 250 Hp max still challanges many of the Mega Pokemon EX stats.
Edit 2 : Fixed some spacing which looked odd.
In game play, Gourgeist has the pottential of being the Pokemon with one of the highest Hp in the game if bulked up. It however comes at the Prize of knocking out 1 or 2 of your Pokémon in order to get this pumpkin going. So it's a high risk - high reward card. Gourgeist also has to take some damage in order to be able to do anyting to start with... Bench damaging attacks is a therefor a huge counter if Gourgeist gets stuck as active, considering it's high retreat cost.
Gourgeist is the 5th card in the set. Notice that most cards have special fonts in this set. 1 card will be released every day until the whole 15 card set is uploaded
Credits to
MawiiO-o for the awsome Gourgeist illustration.
and lso credits to
aschefield101
for the
XY Blanks - Stage 1 - Psychic
.
I then added a texture I made myself consistent of the green fog and the Spiritomb face covering the card.